Conor Murray hailed Johnny Sexton for keeping his cool for the match-winning drop-goal but was eager to point out that it wouldn't have been possible without the rest of the team.
Ireland put 41 phases together as they travelled slowly from their own 22 to just inside the French half, close enough for Sexton to land the winning kick at the death.
Knowing a knock-on or a bad approach to a ruck would have been fatal, not only for the game but for realistic championship hopes, Ireland refused to panic.
"I thought it was really clinical by us," Murray told reporters after the 15-13 win.
"On a dry day it's a lot easier to do that. With the conditions a lot of credit has to go to our forwards, to control the ball in greasy conditions, the line-speed [that] the French were bringing .
"I thought it was really impressive. You are just kind of in a flow situation, you've a good chat with the lads around you, we know what to do in that situation and I thought we executed it really well.
"Sometimes that doesn't work, sometimes the drop-goal goes wide or someone might spill it. Obviously, Johnny will get the plaudits and rightly so but the forwards, getting all those phases, deserve massive credit."
What it means is that Ireland's hopes of a Six Nations title are still alive and that they have an opportunity to build on the momentum for the visit of Conor O'Shea's Italy on Saturday (2.15pm).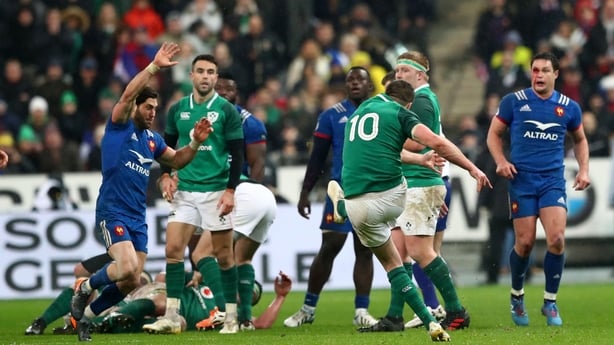 "It's huge," said the Munster scrum-half. "It's going to be a completely different Monday now. Doubts do creep into your head towards the end of the game.
"You are trying to stay focused and stay positive. This was really important for us to come here and get a win. We'll look at Italy and the games after that.
"Had we have lost here it would have been a different picture for the Six Nations, everyone knows that.
"Mindset-wise, it's great to sneak a win here and people will be a lot more positive coming in for the review, albeit there's a good few things to work on."