It may be a moment he'd prefer to let go but it's not something Robbie Henshaw can afford to forget.
Two years ago France beat Ireland 10-9, the only try of the game coming with 11 minutes to play.
Ireland, leading 9-3, were hanging on. Johnny Sexton had just departed and France had a scrum under the posts.
Maxime Machenaud picked the ball from the base and popped to Maxime Medard, Henshaw was closest but his approach was off. Medard scooted past and that was that.
"Yeah, I've thought about that," he says as Ireland gear up for another trip to Paris.
"I slightly lost my footing in that moment and slipped." Game over.
In truth, that try was coming, but it's the type of incident that players replay over and over in their heads – 'If only I'd done this, if only I'd done that'.
We'll never know.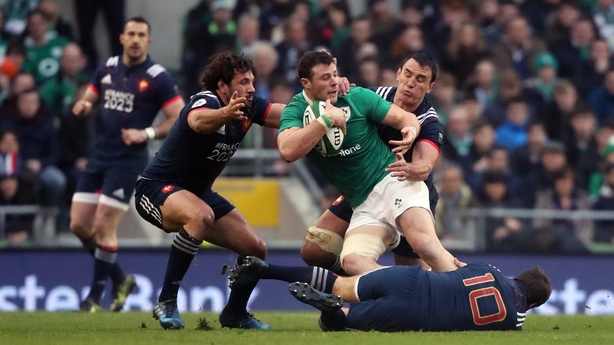 Henshaw played last season when Ireland recorded a 19-9 win in Dublin but this coming Saturday presents a perfect opportunity to make amends and eradicate the memory of the slip.
"We will look to change the picture this time," says the Leinster centre, who is likely to start in the Natwest Six Nations opener.
"We are well aware of their threats. We've done our homework and we know what they are going to bring to us
"We have looked at some images from what happened there two years ago, how it was an arm wrestle and we let it get away.
"We will go out there with our game plan and we will look to execute it.
"We will be physical in the midfield.
"We will look to find space in behind them as well. We will look to play smart, I suppose, and constantly keep them under pressure.
"We'll see what they throw at us and we'll hit them back."
"It is a really exciting feeling coming in, being more of a leader"
Since making his debut against the USA in 2013, the Athlone native has accrued 31 caps and been on tour with the Lions.
He's just 24 but is now considered a senior player as Joe Schmidt brings in new blood building towards a World Cup in Japan in 2019. It's a role he's comfortable with.
"It is a really exciting feeling coming in, being more of a leader," he added.
"We see different pictures every time you play. You are constantly learning every time you go out on the pitch.
"From when I started, I feel I've improved and gained more knowledge as I've progressed through my career.
"The game is constantly evolving. You have to constantly update your knowledge on the game."
Follow our live blog of France v Ireland (4.45pm kick-off) on RTÉ Online and the RTÉ News Now App, or listen to commentary from Michael Corcoran and Donal Lenihan on RTÉ Radio 1's Saturday Sport.