A bruised Ireland fell to their first loss to France in six competitive games as Maxime Medard's try 10 minutes from time gave Guy Noves' side a 10-9 victory in the RBS 6 Nations at the Stade de France.
Injuries to Sean O'Brien, Dave Kearney, Mike McCarthy and Johnny Sexton marred the defeat, and Joe Schmidt's side have now failed to win their last three games.
Three Sexton penalties had given Ireland a 9-3 lead at half-time, but crucially they failed to make the most of their first-half dominance and couldn't register another score after the restart.
It was an utterly dominant opening 40 minutes from Ireland, but the major disappointment was a lack of variety in attack and the visitors only led by 9-3 at the interval.
Both O'Brien and Dave Kearney were forced off in the opening 30 minutes, while a blood injury also meant McCarthy was absent for some time before he was stretchered off after 63 minutes following an ugly clash of heads with Jack McGrath.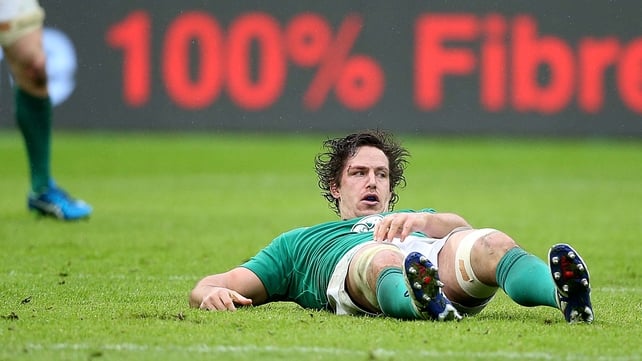 O'Brien, who was playing his first international game since the suspension handed down to him for an incident with Pascal Pape in the World Cup, would have been distraught to last only 20 minute when he limped off with what looked like a knee injury but Schmidt later said could be his hamstring.
Munster's Tommy O'Donnell – who was unlucky to miss out after an impressive display last week – was introduced for his 11th Irish cap and he was soon joined in the action by another replacement, Fergus McFadden, who was called in for Dave Kearney.
The junior Kearney brother was the victim of a thundering, high hit from French skipper Guilhem Guirado, which went unpunished by referee Jaco Peyper, but he picked up his shoulder injury at the next ruck he hit.
That blow from Guirado was not the only foul play that didn't receive the adequate punishment from the South African referee before the interval.

After 14 minutes, replays showed French second-row Yoann Maestri was guilty of an ugly, late shoulder charge on Johnny Sexton, but the penalty that allowed the Leinster out-half to give Ireland the lead was generous to the Toulouse lock.
The injuries were unsettling to Ireland, but they still managed to put the more impressive strands of play together.
In the 22nd minute a good outside break from Robbie Henshaw put Ireland on the front foot, but a knock-on in contact from CJ Stander brought a good move to an end.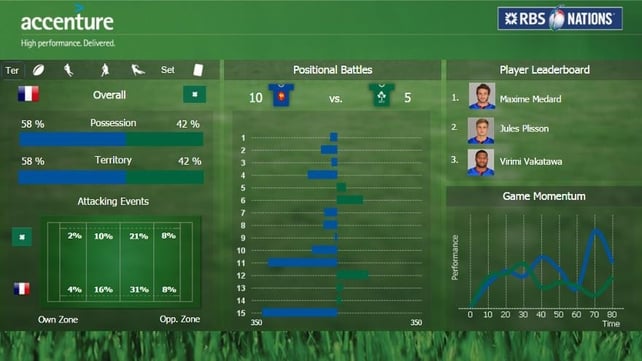 The French discipline seemed to abandon them midway through the half, and when Wenceslas Lauret was caught playing the ball on the ground in the 30th minute, Sexton made no mistake from the 10-metre line to give Ireland a 6-0 lead.
The margin of that lead was short lived, however.
Plisson halved Ireland's lead from the tee when Devin Toner was caught playing the ball while off his feet at the ruck, a score that the French hardly deserved considering their paucity of attacking opportunities.
The rain that pelted Paris for the hours in the lead up to kick-off meant a lot of knock-ons and unforced errors from both sides. The result was plenty of scrums, but Ireland fared very well on both their own and French ball in that facet of the game before half-time.
Two minutes from the break, a big shove from the Ireland scrum – in particular from Nathan White – on a French put-in drew the penalty and Sexton restored the six-point lead.
However, that advantage should have been trimmed to three at half-time. Straight from the restart Toner failed to secure possession, and while Andrew Trimble tidied up, he held on too long on the ground, but this time Plisson's kick drifted wide.
Ireland would have been thrilled with how their set-piece fared before half-time, but with props Rabah Slimani and Eddy Ben Arous to cope with for the last 35 minutes, Ireland's work was far from done.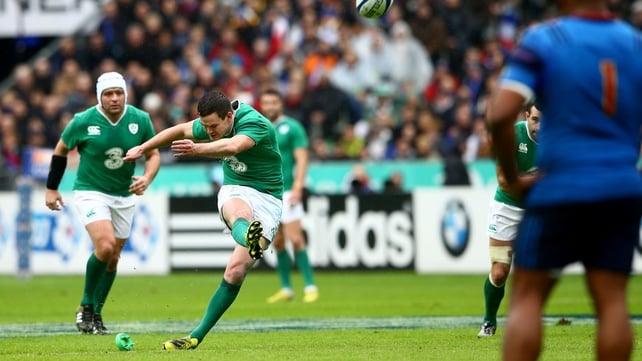 There was a hint at how dangerous France can be in broken play after 50 minutes, when a Rob Kearney off-load in attack was intercepted.
All of a sudden, quick hands from Sebastien Bezy and Virimi Vakatawa saw France break, only for a forward pass from Yacouba Camara to halt their breakaway.
France did start to gain some dominance in the third quarter and only a last-gasp hand from Trimble denied Medard a try in the 63rd minute.
The home side continued to turn the screw and after Damien Chouly was stopped on the line by a combination of Rob Kearney and Stander, the now powerful French scrum got a chance from five metres.
They forced three consecutive penalties, all of which were sent back to the scrum again, and after 71 minutes and the fourth scrum, some quick ball at the back for Maxime Machenaud – who made a real impact off the bench – sent Medard over behind the posts.
Plisson's conversion gave France the 10-9 lead and after Sexton went off with what appeared to be a recurrence of his neck injury, there was little in response from Ireland in the closing stages as France held on to move top of the standings.
For Ireland, a return of one point from two games means they can wave goodbye to three Six Nations championships in a row for the first time.
France scorers: M Medard try; J Plisson pen, con
Ireland scorers: J Sexton 3 pens

France: M Medard; T Thomas, M Mermoz, J Danty, V Vakatawa; J Plisson, S Bezy; J Poirot, G Guirado (captain), U Atoni; A Flanquart, Y Maestri; W Lauret, Y Camara, D Chouly
Replacements: R Slimani for Poirot (45 mins), E Ben Arous for Atoni (45 mins), H Bonneval for Thomas (45 mins), C Chat for Guirado (48-58 mins HIA & 74 mins), M Machenaud for Bezy (57 mins), P Jedrasiak for Maestri (63 mins), L Goujon for Camara (68 mins), J Poirot for Ben Arous (74 mins), J-M Doussain for Danty (77 mins)
Ireland: R Kearney; A Trimble, J Payne, R Henshaw, D Kearney; J Sexton, C Murray; J McGrath, R Best (captain), N White; M McCarthy, D Toner; CJ Stander, S O'Brien, J Heaslip
Replacements: T O'Donnell for O'Brien (20 mins), F McFadden for D Kearney (30 mins), D Ryan for McCarthy (35-half-time blood & 63), T Furlong for White (63 mins), I Madigan for Sexton (70 mins), R Strauss for Best (71 mins), J Cronin for McGrath (74 mins)
Referee: Jaco Peyper (SA)