Last week, Jordan Larmour was given the nod ahead of him for a first Champions Cup start. This week, long-standing Ireland team-mate Tommy Bowe announced his upcoming retirement. Just another week for the evergreen Rob Kearney.
Bowe's announcement that he will hang up his boots at the end of the campaign sees another member of Ireland's Grand Slam team bite the dust.
The Ulster winger aside, of the starting team in Cardiff on that dramatic night, only Kearney, Jamie Heaslip and Donncha O'Callaghan, who is also retiring at the end of the season, remain. Current Ireland captain Rory Best and Peter Stringer featured off the bench in the Welsh capital.
Kearney's longevity is facing increasing obstacles, both internally and externally. In recent years injury woes have greatly curtailed his involvement.
Two seasons ago, he mustered just 10 games for his province as he came off the back of a World Cup campaign, featuring twice in the following Six Nations. Last year he failed to get to double digits for Leinster, but Joe Schmidt's faith in the Louth native meant he missed only game in the Six Nations after a full run out in the preceding Autumn Series.
After two injury-ravaged seasons, disaster struck back in September when Kearney was struck down yet again with a hamstring injury in his first home game of the season.
He returned for the inter-provincial win over Ulster at the end of October, a game best remembered for Larmour's stunning individual try, and started the back-to-back European games against Exeter.
Larmour's performances over the festive period, including another try-of-the-season contender at Thomond Park, has ensured a Six Nations call-up, but those within the Leinster camp know just what his more experienced team-mate offers the team.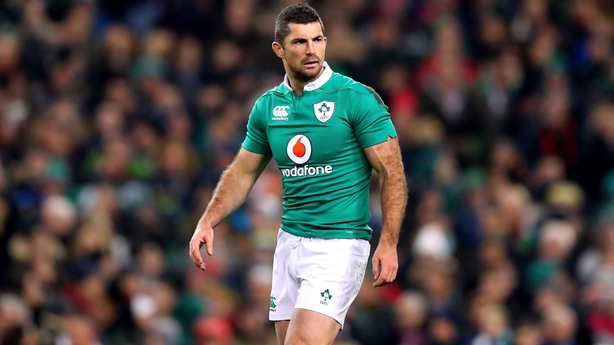 "He's an exceptional player," says backs coach Girvan Dempsey. "He brings a level of calmness and assurety at the back.
"He has different strengths to Jordan, but you'd have Rob in your team as well because he has that confidence at full-back. He manages the backfield. He has a really strong kicking game and is defensively very good."
Dempsey knows all too well the strengths of the full-back's game, witnessing Kearney's arrival on the scene during the twilight of his own playing career.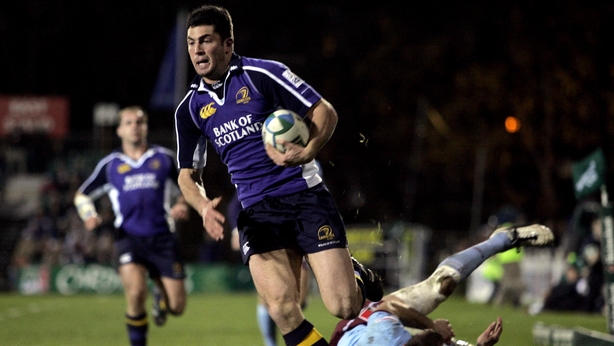 Former Ireland head coach Eddie O'Sullivan, who had Dempsey and Geordan Murphy vying for the 15 jersey at that stage, handed the callow back his Test debut against Argentina in 2007, and was quickly impressed by his attitude in a new working environment.
"You tend not to take punts unless you have to at international level," he told RTÉ Sport.
"He was always going to get capped...it was a matter of when, not if" - Eddie O'Sullivan
"He ticked all the boxes. He was exceptionally quick, strong in contact, very evasive, solid under the high ball and a good tackler. He did everything very well.
"He was a consummate professional and could play across the back three. He was always going to get capped...it was a matter of when, not if. The time was right in Argentina."
As it transpired, Gavin Duffy got the nod for the ill-fated 2007 World Cup as utility back-up, but O'Sullivan admits it was a decision that he didn't make lightly.
"He wouldn't have been far away. It was a tight call. He was always there or thereabouts."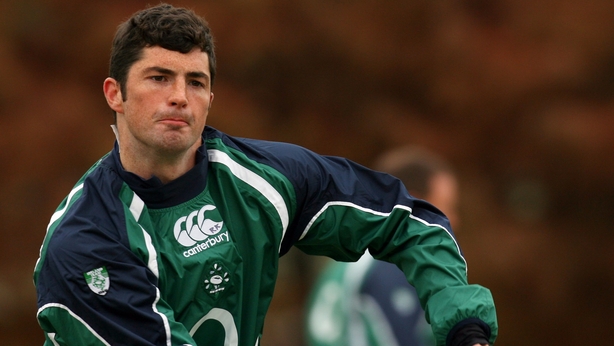 Since 2008, Kearney has been one of the first names on the team sheets for O'Sullivan, Declan Kidney and Joe Schmidt. Aside from missing the entire 2011 Championship through injury, Kearney has played in 45 of Ireland's last 50 games in the Six Nations.
Six Nations titles, Grand Slams and two World Cup campaigns have followed, not to mention a whole host of silverware during a decorated Leinster career, but injuries in recent years have opened the door for others.
"The problem for Rob," O'Sullivan explains, "particularly in the last part of his career, he's been dogged by hamstring injuries. The issue with that is that it has kept him out of the game and he hasn't been able to get a run of games. It's not something he has any control over.
"When you get older your rehab takes a little bit longer. He's never really played badly for Ireland, his form is always good, and it's just about getting an opportunity."
O'Sullivan references a "impressive" Autumn Series, starting in the wins over South Africa and Argentina in the Autumn clean sweep.
Against the Pumas, in a comfortable defensive showing, Kearney made significant inroads on the front foot, with 105 metres gained, two clean line breaks an eighth defenders beaten. It won't be forgotten by Schmidt and his team as they pore over selection dilemmas.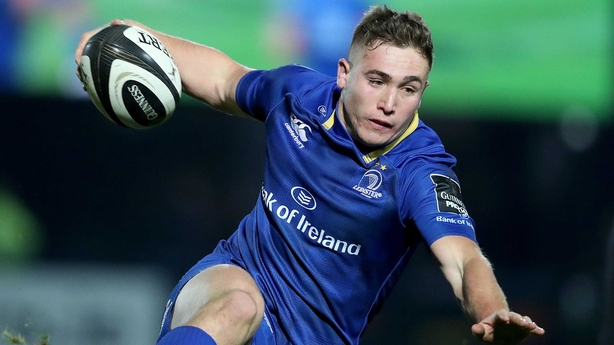 Larmour's form this season has made all rugby fans sit up and take notice and his inclusion on the wing against Montpellier this weekend, with Kearney restored to his customary position, could well be something Joe Schmidt will consider over the next two months.
It's worth remembering Kearney himself earned his stripes playing across the back three during the early stages of his career.
While Larmour's attacking play has been the main focus of attention, Kearney's eye for a space is still a factor. He may lack the 20-year-old's searing pace, but brings a different set of attacking qualities according to Dempsey.
"Rob showed prior to his injury his counter-attacking game and the evolution of that."
According to O'Sullivan, it is Kearney's defensive prowess however which remains his trump card.
"It might be a sensible approach for Joe Schmidt, for such an important game at the start of the Championship, to go with somebody at full-back that has the experience to deal with the pressure"
"Basically, experience," he says when asked where the player has a march over the young pretender.
"He has 78 Irish caps. Going to a place like Paris, it can be a very intimidating atmosphere. It might be a sensible approach for Joe Schmidt, for such an important game at the start of the Championship, to go with somebody at full-back that has the experience to deal with the pressure.
"Larmour has really lit it up, but he's only done it really at provincial level, albeit done it really well.
"I think that is his big ace card. His form for Ireland in the Autumn was very, very good. I think he was back to the best he has been in a while and that was because he got a run of games after clearing injury.
"That could be enough to get him a start for the Championship."
While injuries have plagued Kearney in recent seasons, age has also been used as a stick to beat the former Clongowes student, who will turn 32 shortly after the conclusion of the Six Nations.
Dempsey and Murphy were both 33 when they donned the Ireland jersey for the final time and fitness aside, and with Simon Zebo temporarily at least out of the picture, the 2012 European Player of the Year is likely to be at the forefront of Schmidt's thoughts until at least the 2019 Rugby World Cup.
Backing up what Brian O'Driscoll has publicly stated recently, O'Sullivan believes the increased competition is a good thing for Kearney and the Irish management.
"It's always going to happen that somebody is going to come through and put pressure on you. It happens in every position, but there is no doubt Larmour is a special talent. Whether he will be capped in the Six Nations is another issue, but he's putting huge pressure on Kearney.
"I still think the experience is on Rob's side and that might be enough to keep him in the driver's seat."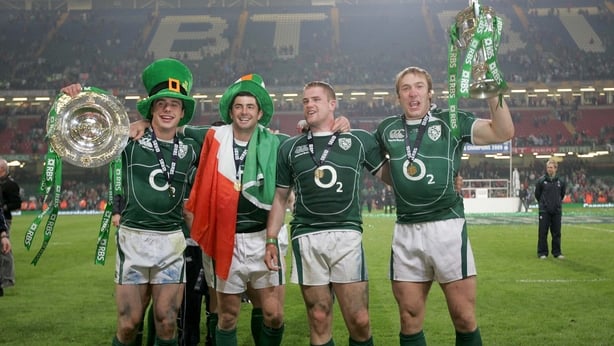 Ireland team v Wales, 21 March 2009
15. Rob Kearney
14. Tommy Bowe (retiring at the end of the season)
13. Brian O'Driscoll (retired 2014)
12. Gordon D'Arcy (retired 2015)
11. Luke Fitzgerald (retired 2016)
10. Ronan O'Gara (retired 2013)
8. Jamie Heaslip
7. David Wallace (retired 2011)
6. Stephen Ferris (retired 2014)
5. Paul O'Connell (retired 2016)
4. Donncha O'Callaghan (retiring at the end of the season)
3. John Hayes (retired 2011)
2. Jerry Flannery (retired 2012)
1. Marcus Horan (retired 2013)
Replacements
16. Rory Best
17. Tom Court (retired 2017)
18. Mick O'Driscoll (retired 2012)
19. Denis Leamy (retired 2012)
20. Peter Stringer
21. Paddy Wallace (retired 2014)
22. Geordan Murphy (retired 2013)