Jenny Murphy still feels the sting of Ireland's disappointing campaign in the Women's Rugby World Cup.
The Old Belvedere and Leinster player is currently taking a year out from international duty, but the progression of women's rugby in Ireland is a cause that remains close to her heart.
After such a promising build-up to a World Cup on home soil, the tournament yielded an eighth-place finish for Tom Tierney's side on the back of 10-point defeat to Wales.
Tierney subsequently resigned from his position shortly after the final whistle in that game, and his exit was followed by the retirements of some key players including Ailis Egan, Nora Stapleton and Marie Louise O'Reilly.
Murphy needs a break from the international game, but the outcome of Ireland's World Cup efforts is still a painful memory for her.
"It still sucks," she tells RTÉ Sport.
"There's a lot of things that we could have done better. Time kind of heals everything and it's already softened somewhat but to end with two disappointing defeats, that'll always weigh down. Prior to the World Cup, you'd always be thinking of what we're going to do.
"And now afterwards, eighth place is still in my head which is not what we envisioned at all. We have to build on that. It's not good enough."
In addition to the aforementioned retirements in the Ireland team, Sophie Spence also decided to call time on her career just before Christmas, after she was omitted from the Six Nations squad by the newly appointed head coach Adam Griggs.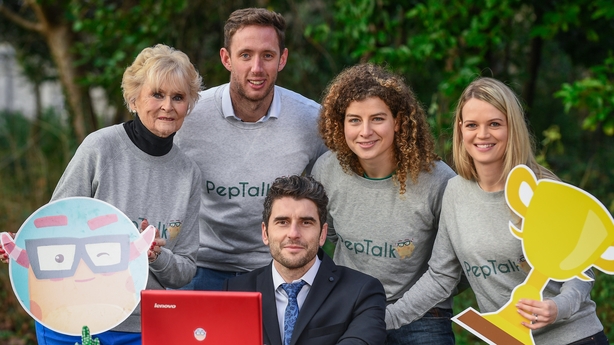 Speaking to the Irish Times this week, she reflected on Ireland's disastrous World Cup and lamented that perhaps the players could have followed the example of the Republic of Ireland women's team, and tried to bring about change before the tournament.
Murphy accepts Spence's position on the matter, but stresses that the players did what they felt was right.
"Hindsight is a great thing. I think at the time we did what we thought was best. Maybe looking back on it, we could have done something differently but we were just focused on the games at hand and what we needed to kind of implement.
"We were just taking each game as it came. It was Australia up first and there was a level of excitement and stuff. As the tournament got closer, it was not that we didn't have time to fix stuff but we thought that we'd be able to do better than we did.
"I know that's maybe not the clearest of answers but we genuinely as players did have chats and discussed it. We did what we thought was right at the time. Looking back now, maybe we could have made some better decisions."
Ireland's head coach Griggs has been appointed on a six-month part-time deal that will run until the end of the Six Nations. Murphy was critical of the decision at the time, and the advertisement was greeted with much disdain on social media.
A kick in the teeth for players. So much progress made by other nations and we take 5 steps backwards. https://t.co/vQIGZmRcTP

— Jenny Murphy (@jennymurphy045) October 17, 2017
Women's rugby is in something of a precarious position in Ireland, although the IRFU is currently conducting a strategic review of the women's game, as well as a review of the 2017 World Cup.
Meanwhile, equal pay has been achieved for the men's and women's sevens sides in Australia, as part of a collective bargaining agreement. The deal was struck between Rugby Australia and the Rugby Union Players' Association, and will run until 2020.
Murphy is envious of the progressive step that has been taken Down Under, but sees it as a positive development for the sport.
"I just see it as a good thing. I think it's about time. They're Olympic champions, they're one of the best teams in the World Series consistently for the last four years so it's brilliant that it happened, but it should have happened earlier in my opinion.
"It's brilliant seeing these kind of steps being made. Yes, I'm jealous but I'm also delighted for them, they deserve it. I think more teams on the World Series and in 15s rugby should be going down that line as well. You're only going to get better rugby from it."
Murphy suffered a concussion in November, which has kept her out of club rugby for the last two months. She also suffered the same injury during the World Cup, but the results of her scans didn't produce any worrying symptoms, and she's clear to resume playing again.
She's in the process of regaining her full fitness, but she feels now is the right time to take a break from the international game and sample other sports.
The 28-year-old is a former Gaelic Footballer and she also played football for a time before taking up rugby. Boxing is another option that interests her, but whatever pursuit she settles on, she insists that it is only temporary.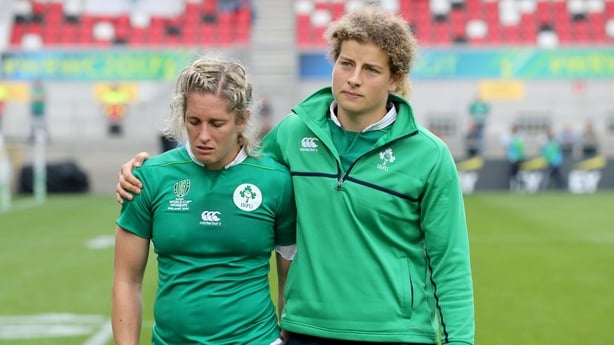 "After the disappointment of the World Cup and we had our break, I just found the motivation to get back on the horse just wasn't where it should be.
"I love playing for Ireland, I can say that until the cows come and all the girls would as well, it's a privilege. But you have to really want to be there 100% and it's not fair, I would nearly feel like I'd be taking up a space where someone else would kill for that spot.
"It's not a permanent step away, it's more of a sabbatical"
"I've been doing it since 2012 and I just needed to recharge the batteries and fall back in love with the game."
She added: "I want to explore other sports for the year and try something different and hopefully if I'm playing well enough next year, I'll put my hand up for selection. It's not a permanent step away, it's more of a sabbatical.
"I'm not ready to retire just yet."
Ireland will take on France away in their Six Nations opener on 3 February, followed by a home tie against Italy the following week. Although she's not directly involved with the panel at the moment, Murphy will still be supporting her team-mates throughout the tournament.
"There's an unknown for me, I don't know what's going to happen but I do genuinely believe that Griggsy and the girls can do well.
"It's going to be tough. They have France first up away, that's a daunting task in itself.
"When I see the girls play, I'll definitely be envious of them being on the pitch but at the same I'll definitely hit some high decibels encouraging them on."