CJ Stander is staying in Munster for the chance to bring silverware to the province and fulfil his boyhood World Cup dream with Ireland.
The South African-born back-row ended ended speculation about his future before Christmas by committing his future to Munster and Ireland until June 2021 with a fresh three-year deal.
He'd been linked with a huge-money move to Montpellier but Stander is staying put, and he revealed the prospect of 2019 glory in Japan is already a vivid, tantalising dream.
"There were a lot of factors," he told RTÉ Sport's Michael Corcoran.
"I think we can win something, some silverware with Munster, that was a big drive. And if I'm fit enough and healthy enough, the World Cup was a big drive for me to stay.
"We feel we're part of the city and part of the people. We're happy here."
"Growing up as a boy I wanted to be part of a World Cup team. It's the highest level you can compete at. That's one of my goals. I feel that if I'm healthy enough and if I'm picked then I can win something.
"Six years I've spent here. Castleconnell and Limerick, it's home for me and my family. We feel we're part of the city and part of the people. We're happy here."
Munster are back in Pro14 action this Saturday as they shape up for another inter-pro derby.
They slipped to a 24-17 defeat at Ulster on New Year's Day, with Sammy Arnold's red card a turning point.
This season they've accumulated three reds cards and 10 yellows, and Stander admitted that indiscpline is an issue that must be resolved.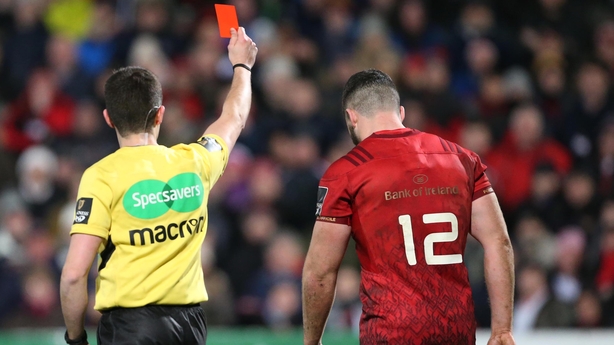 "It probably just comes down to individuals," he said.
"If it's a concentration thing then it probably needs to be worked on but I just think the game is evolving. It's getting physical, people are running into each other harder. Stuff is going to happen.
"It's the laws of the game; you just need to adapt yourself. It's a big thing. You need to discuss your discipline. You can't be ill disciplined at all. If you give up more than ten penalties in a game you're going to be in trouble, especially if you're up against a team with a good 10."
Connacht were also beaten on the first day of 2018 but emerged with a lot of credit from their 21-18 loss at Leinster.
It came on the back of a terrific 44-16 thumping of Ulster, and Stander is braced for a serious test at Thomond Park.
"They're playing very well. Against Ulster, they came out and you could see they wanted to play and they played well, put Ulster away quite early.
"Against Leinster, they played to the end and played very well. It just shows the quality they have. We know what they bring and what they do.
"There's small things we need to fix. We need to make sure we're on top of those problems."