It would have been an underwhelming way for Ian Keatley to finish his international career.
In February this year, the Dubliner won his fifth cap, coming on for the last five minutes of Ireland's facile 63-10 Six Nations victory over Italy in Rome.
Out-half Paddy Jackson had produced a flawless performance of nine kicks from nine and first-choice Jonathan Sexton was set to return for the next round against France. Keatley didn't make the match-day squad again for the rest of the tournament.
At almost 30, and with Joey Carbery newly arrived on the scene, he could have been forgiven for thinking his time was up.
"I remember driving out of here (Carton House) during the Six Nations and saying to myself 'that's probably the last time I'll play for Ireland'," he tells RTÉ Sport.
Fast forward nine months and Keatley is coming off the bench to kick two vital penalties and secure a 23-20 victory over Fiji.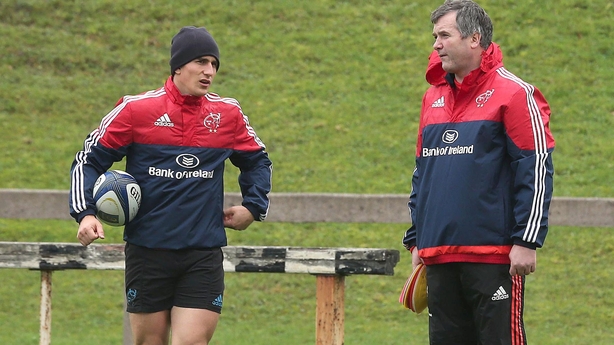 The Munster 10 attributes the revival of his international prospects to a new-found, more relaxed attitude to rugby, a perspective spurred on by fatherhood and the sad passing of Anthony Foley (pictured together above).
"A lot of players put pressure on themselves and there were times when I wasn't enjoying myself," he says.
"But then I said I'm going to just enjoy myself playing rugby from now on and funnily enough now that I am and playing better, another opportunity comes back to play for Ireland, which is great.
"It's trying to find that balance, where it can be fun but not funny.
"I went through a bad time with my place-kicking two or three years ago. I remember people asking 'do you not practice?' I was actually practising so much I was driving myself nuts.
"It was probably just relaxing when I was away from the game and trying to separate rugby from my personal stuff.
"What happened with Anthony last year puts a lot of stuff in perspective and with my family now, I just have different views on life."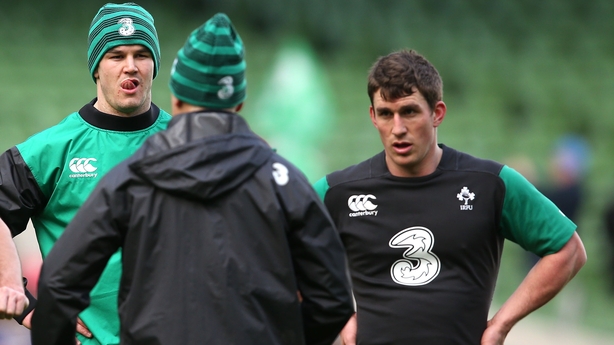 The broken wrist Carbery sustained against Fiji, and Jackson's continued absence as he awaits trial on charges of rape and sexual assault, mean Keatley is now Sexton's closest challenger.
"Obviously Johnny is No 1 but there's still a lot of competition," says Keatley.
"It's disappointing for Joey, and I was the first one to go up to him after the match. It's never good for someone to get injured but then it offers an opportunity for me.
"I'm prepared for no matter what happens. I could be on after five minutes at the weekend or I mightn't get on at all.
"I might not have that much international experience but I've racked up the caps with Munster and Connacht and I have a lot of European Cup experience.
"That's all I can do, is believe in that experience of those games and try to bring it into the international scene."