The IRFU has confirmed that Joey Carbery suffered a broken wrist in Ireland's 23-20 Guinness Series win over Fiji at the Aviva Stadium on Saturday.
The Leinster utility back, who was getting a rare run-out at fly-half as first choice number ten Jonathan Sexton was rested was in visible pain following a particularly big hit.
He was taken out of the game amid fears of a broken arm and on Monday the IRFU released a statement confirming a wrist injury.
"Joey Carbery suffered a fractured wrist and has been ruled out of the remaining fixture of the series," said the statement.
"John Ryan has returned to the Ireland squad having completed his rehab on a calf injury in Munster last week.
"The players who featured against Fiji presented with the usual bumps and bruises post match but are expected to be fit to train this week."
No time-line has been put on Carbery's return, but the 22-year-old is likely to spend at least six weeks on the sideline recovering.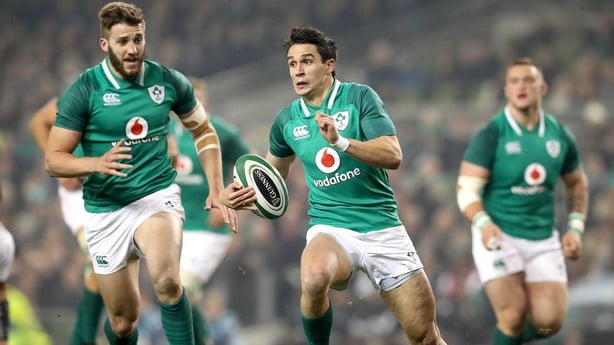 With Sexton first choice for both province and country, Carbery hasn't seen much game-time at out-half, though with Paddy Jackson unavailable he is seen Ireland head coach Joe Schmidt's number two and Sexton's successor.
His kicking against Fiji, both from the tee and out of the hand, started shakily, but improved during the 64 minutes he spent on the field.
But his running and passing were brilliant at times and Schmidt was full of praise for Carbery after the final whistle.
"I thought Joey was a bit special, the way he cut the line and got that pass superbly into the hands of Darren Sweetnam for the first try," he said.
"I thought his ability to organise others is coming along. That's one of the biggest responsibilities of a 10.
"His own game was really good, his cross-kick to Dave Kearney from his own 22 was pin-point perfect. His vision is really good.
"And the threat he poses at the line himself, he ducked and dived and asked a few questions of the Fijian defence.
"He's brave, potentially, to a fault because he takes no heed of who's in front of him."