Andrew Porter is hoping that his new-found versatility will help him force his way to the front of Joe Schmidt's thinking.
The UCD and Leinster prop recently made the switch from loosehead to tighthead in the front row and while he says the change wasn't easy, he thinks it might give him an edge over other players chasing a starting jersey.
Porter earned his third senior international cap in Ireland's nervy 23-20 win over Fiji at the Aviva Stadium on Saturday night, the middle of three Guinness Series games in November.
He got 55 minutes of game-time before Schmidt replaced the entire front-row and it marks another step towards where the 21-year-old wants to be - a regular Ireland starter.
"Yeah, it was a big step up," he told RTÉ Sport. "It's always good to get your first start and first game in front of the home crowd. It was a big honour being able to pull on the green jersey here at the Aviva."
Porter started life as a loosehead, but he was moved across to the far side of the scrum, where he wears the number three jersey and he has had to get to grips with a far more technical discipline and the intricacies of good scrummaging.
"I'm still learning," he explained. "It's still relatively new but I'm getting the hang of it a lot faster than I thought I would. Obviously, being able to play these big, high-profile games with some of the best players in the world really adds to my experience.
"At the very beginning it was kinda frustrating but (having) top quality coaches and top quality players to be scrummaging against week-in, week-out really helps.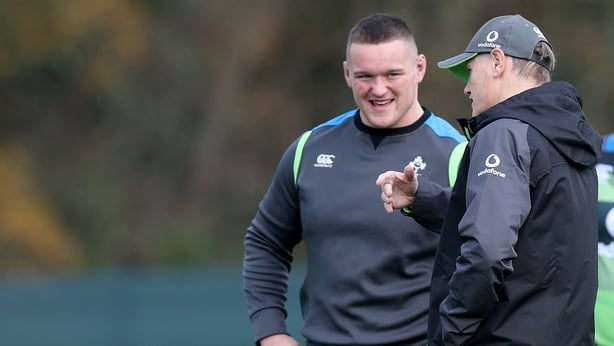 "I was quite hesitant at the very beginning obviously. But once I got a bit of game time under my belt and trained week-in, week-out, I started becoming more confident with it.
"It takes a lot more energy out of you during a game. You're more scrummaging against two people rather than one person like you would be at loosehead. It would take a bit more out of you in open play.
"It's something I really have to start working on, in terms of my conditioning and really getting used to hitting ten scrums in the first half, like it was against Fiji, and being able to get around the park as well.
"It's something I would like to bring to the table; I want to be one of those ball carrying props and not one that's just there to scrum. I would like to excel my game in that sense.
"It's really an international standard so you can't be a one-trick pony. It helps a lot being able to do both."
Porter's has been a rapid rise, having only made his international debut against the USA in June, and he was one of 13 changes Schmidt made following the record 38-3 win over South Africa in the first November test as the head coach attempts to build Ireland's strength in depth ahead of the 2019 Rugby World Cup.
"I was quite nervous when I got the call-up," said Porter. "But Joe and the other coaches and the other players really helped me to push forward with my confidence levels.
"We really gelled together as a group during the week even though there were a lot of new combinations. It really came together. But it's a performance we'll have to improve for next week."
Ireland wrap up the Autumn eries with a clash with Argentina this Saturday (Live on RTÉ 2).