This weekend's Leinster v Munster game will serve as a "stepping stone" and a "training" game for the Champions Cup, according to the two coaches.
It may still be a highlight of the domestic rugby season but the fixture now occupies a different plane than before. 
Even those involved candidly admit that eyes are on bigger prizes, with both former European champions bidding to get back to the top of the pile.
Selections in recent years ahead of big European games were the signal that players will be protected and if that meant not fielding your strongest XV, even against your main rivals, then so be it.
Even taking into account that a number of Munster and Leinster players are both Ireland and Lions team-mates, it is hard to fathom the blade being blunted to this degree.
It is all at odds with the advertising campaign urging fans to buy tickets, starting at €25, for an age old rivalry that has seemingly been reduced to a leg-loosener.
So much so that Munster captain Peter O'Mahony admits that the result of Saturday's Guinness Pro14 derby at the Aviva game is secondary. 
Asked if he'd prefer a win over a good performance, O'Mahony, who has played 93 times for Munster, paused before admitting that it's all about Europe these days.
"No, you'd take a good performance, yeah, 100%," the Lions Test captain said.
"Rugby is hugely about building momentum and we lost a bit of that last week against Glasgow. We've regained a little bit now after last weekend.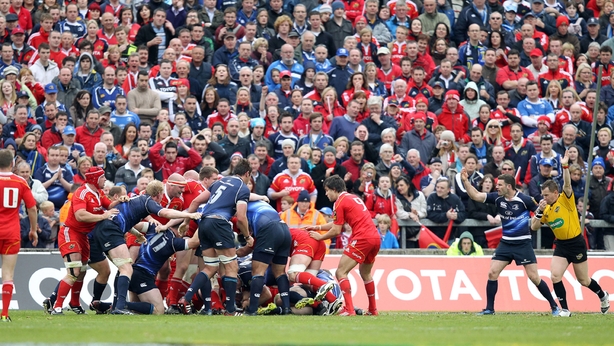 "A good performance is always something you can be proud of whether you win or lose.
"You can win ugly sometimes but if you can build on your performances it's the most important thing."
While the venue for these utterances - the Champions Cup launch in Dublin's Convention centre - must be taken into consideration, it still suggests a huge gulf between the provinces and fans, whose interest in the European tournament have possibly waned following recent TV deals and periods of French and English dominance.
Leinster coach Leo Cullen maintains the game is a platform to a European double-header against Montpellier and Glasgow.
"Munster is always a great stepping stone into Europe, a test for us in terms of where we are physically going into games," Cullen said.
Munster director of rugby Rassie Erasmus went so far as to call it a "training match".
"It's going to be a great training match with physicality and intensity and the pressure we will experience," he said. "Hopefully we can use that going into Europe.
"I see is as a perfect preparation for Castres away and then home to Racing so it's ideal."
But if the fixture has lost some of its spark it may be set to become about something else, something more from here on in.
Last year's fixture marked the last time Cullen met Anthony Foley, the Munster coach, who passed away at the age of 42 just over a week later.
"It's eerie," said Cullen. "Obviously with Axel last year, that was the last time I saw him alive so it brings back amazing thoughts really.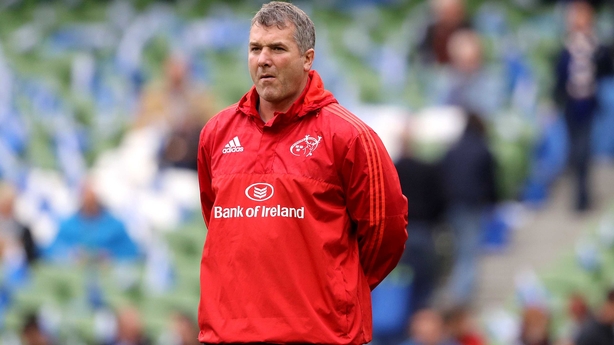 "Our thoughts are with his family at this time. It will always be the case when we come across this fixture that I'll think of Axel. He was someone I always looked up to.
"As a player I was always four years behind him in the cycle. He was number 8 in the '92 [Ireland] schoolboys, I was number 8 in the '96 schoolboys. It's hard to believe he's no longer with us."
For Erasmus, who is still unsure of his departure date for South Africa, the game will always stick with him.
"For me personally I would remember that game," he recalled. "There were certain things that happened during that week.
"Even after that game that we lost I remember things that he said to me so for me personally it will come back. But I think the players have got a real good way of keeping him involved."
The tie may have lost much of its cut and thrust but it will always mean something to everyone involved.
Listen to live coverage of Leinster v Munster, Saturday, RTÉ Radio 1, from 2pm