Rassie Erasmus believes it will take time for the South African sides to acclimatise to the demands of the Guinness Pro14, but said the positives of their presence "far outweigh the negatives".
The Munster head coach, 36 times capped for the Springboks, watched his team waltz past the Cheetahs 51-14 on Saturday, a week after Ulster eased past the league's new boys 42-19.
The Southern Kings have also endured a tough start to life in the Pro14, losing heavily to Scarlets, but Erasmus said they will come good, even if it may take a little time for the Kings particularly to settle in.
"The Kings are going home and then two teams are going to visit them at altitude in Bloemfontein," he told RTÉ Sport's Damien O'Meara.
"I think you'll see different results. They will get used to different things here.
"I know (the Cheetahs) are going to get it together somewhere."
"They might struggle in the beginning and they might might only find their stride next season to be honest, but I think the Cheetahs will surprise guys.
"Our players loved playing these guys today. They will want to go  and play games in South Africa, you experience different style and those kind of things. The negatives are so small compared to the positives.
"I know (the Cheetahs) are going to get it together somewhere. It wasn't today. They will have to adapt to the weather conditions and stuff like that, which they will. We got some things going that worked for us."
A second bonus-point win on the bounce hoisted Munster to the top of the Conference A table.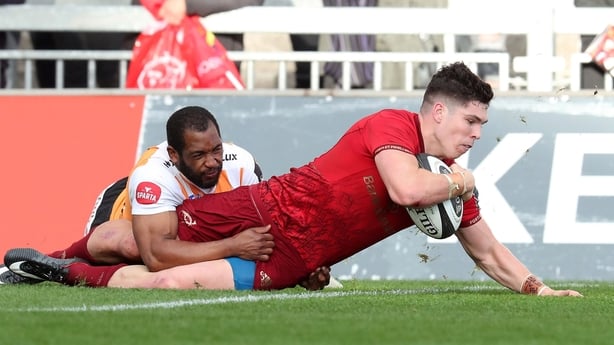 Alex Wootton crossed the whitewash four times in a spectacular performance, the 23-year-old winger emulating former Munster centre Mike Mullins (2001), Cardiff's Lee Abdul (2003) and Jamie Robinson (2004) and Glasgow's Tommy Seymour (2016) in scoring the most tries in a single game.
Erasmus praised Wootton's display and also took a lot of heart from the overall showing at Thomond Park.
"The scoreboard showed it was a nice, easy win, but they're the kind of team that, if one or two of their passes stick, like just after half-time, they could have ended us," he said. 
"For us, I think there was a little bit of progression in the attack, which was nice.
"We're building up slowly, which is positive. There's lots to work on.
"When you play at home it's always an extra motivation. The crowd get behind you, you enjoy it. The hunger to keep on performing was there.
"Selection headaches are wonderful to have. You need a squad of 40 guys who can step up to semi-final, final level.
"It's great for a guy like Alex Wootton doing what he did today.
"We're happy to get the ten points but we're not fooled to think that all of a sudden we're going so well. Next tough will be a really tough game and then it just gets tougher and tougher."