Rassie Erasmus says he was always honest in his dealings with the Munster players and is convinced the province will attract a "world class" coaching ticket such is their standing in the game.
The Director of Rugby, who led Munster to the Pro12 final and Champions Cup semi-final in his first and only season in charge, will return to his native South Africa to take up the position of director of rugby with the Springboks at the end of the year, joined by defence coach Jacques Nienaber who will also leave the province in December.
Erasmus has been linked with a return to his native South Africa from the start of the year, but while he admits it was always an ambition to work with the Springboks, he says nothing was confirmed until the summer.
Following the Pro12 final defeat to Scarlets, Niall Scannell revealed that the 36-cap South Africa international said he would be remaining in his role, but speaking at the launch of the Guinness Pro14 season, the South African insisted he was always clear about his intentions.
"There must be some supporters there that really don't like me now, but most of the guys I have come up to have said, 'It's a once in a lifetime opportunity'."
"I think Niall was caught a little off-guard in the media conference," he told RTÉ Sport.
"When I was asked if I would take the evolution further, I said yes, because at that stage I didn't engage with SANZAR. It was still the same message: 'I don't know if I'm leaving, one day we'll see'.
"In an online interview, Niall was told, 'Rassie just said he's staying here for the next year'. He just said, 'Yeah he's always been honest in telling us he's staying'.
"The players have been informed from day one. I'm sitting with them daily. They know what goes on in my head."
The 44-year-old says the reaction of the players upon hearing the news of his impending departure was deeply satisfying.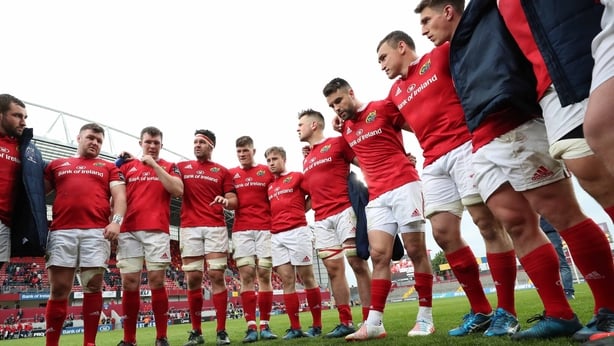 "It's a process that has been ongoing. All the speculation that was there generally… which was just speculation really.
"We have a monthly communications meeting where everyone [squad]  is involved. I said you've seen all the speculation and I can tell you it's not true because it is not true, I didn't even engage at that stage. People were just speculating.
"I made it clear to the players, 'As you guys want to play for Ireland, and the British and Irish Lions, I want to be involved with the Springboks'. 
"I said it was speculation but one day it might come.
"All the players that were there, there were only a few of the senior guys that weren't there as they were in Irish camp, they wished me the best. I'm glad when they play for Ireland and now they are glad for me. That's the mindset of the Munster players."
While admitting the current situation is "not ideal" – Erasmus has said this week that he will leave before December if Munster find a suitable replacement – the South African says that he has received widespread support from supporters alike as he realises a lifelong dream. 
"Supporters make the club, that's why Munster will easily get a world class coach in."
"There must be some supporters there that really don't like me now, but most of the guys I have come up to have said, 'It's a once in a lifetime opportunity'. Everybody is just so level-headed about it.
"I think people see the bigger picture and I thank them for that."I know there must be some thinking that I must be dropping them off during the season. I've never walked out of a contract, but I've never had the opportunity to walk out of a contract into a national job.
"Supporters make the club, that's why Munster will easily get a world class coach in."
Munster's Director of Rugby Rassie Erasmus speaks about the upcoming season and his impending departure to South Africa pic.twitter.com/wEzIXlbRas

— RTÉ Sport (@RTEsport) August 23, 2017
Connacht last season highlighted the difficulty in maintaining a high level of performance while the head coach plays out the final months in the job, but Erasmus doesn't envisage it being a difficulty, citing last season as a greater challenge than the current one facing the two-time European champions.
"The shifting timetable isn't really a problem for me. I never look too far ahead," he said."I have made my mind up with my wife and family that we're staying here as long as we need to. The planning side is just the children at school, but that's all sorted now so we focus now on getting the new coaching staff in place.
"It's not an ideal world but we went through much tougher days last year than we're going through currently."
Meanwhile Dublin will become the inaugural hosts of the Guinness Pro14 final next May.
It will be the second successive year that the Irish capital has got the nod after a record 45,566 attendance witnessed Scarlets dismantle Munster in last season's final, the first time the final was held at the Aviva Stadium.
With Cardiff's Principality Stadium out of the running due to a scheduling clash, Dublin was tipped by many as the most likely choice.
"Aviva Stadium is a world-class arena and that is one of the top-ranking criteria when it comes to deciding upon the venue for our showpiece game," Martin Anayi, CEO of Pro14 Rugby, said.
The 2017 final will take place on 26 May.