Johnny Sexton and Owen Farrell can play on instinct for the British and Irish Lions after five weeks "joined at the hip" in New Zealand, according to Andy Farrell.
Lions boss Warren Gatland has paired Sexton and Farrell as dual playmakers for Saturday's second Test against the All Blacks in Wellington.
The tourists must win at the Westpac Stadium to rescue the three-match series, following last weekend's 30-15 first Test defeat.
Ireland star Sexton and England playmaker Farrell will start together for the first time on Saturday, but assistant coach Andy Farrell insisted the pair have struck up a natural understanding on the training field.
"They train a lot together, they've been joined at the hip for the last five weeks," said Andy Farrell of his son Owen and Ireland fly-half Sexton.
"They are constantly talking about rugby, they room together.
"So they live and breathe rugby and their partnership will be seamless, I'm sure.
"They are very similar characters. They are both obviously big students of the game and have won a lot of things along the way as well.
"More than anything it's how they make people feel, how they make the people around them feel; the energy that they bring."
England centre Ben Te'o suffocated New Zealand talisman Sonny Bill Williams last weekend, despite the Lions' loss at Eden Park.
The Worcester star has been demoted to the Lions' bench however, with Gatland pushing the attacking envelope in a bid to turn the Test series on its head.
Defence coach Farrell insisted his son Owen can handle Williams' muscular threats through the 12 channel, however - and backed the Lions to boast an extra attacking edge in Wellington too.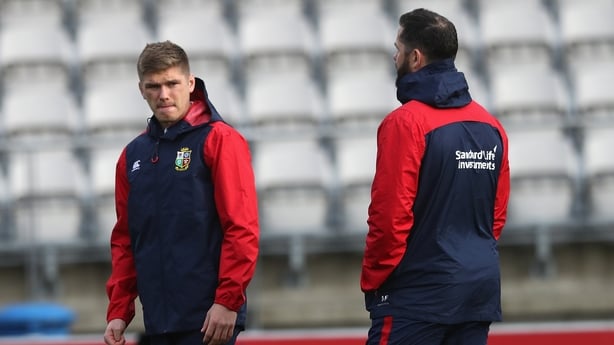 "You talk about Sonny Bill and physicality, but it's time and space that allows that to happen," said Andy Farrell.
"And these guys are pretty good on line speed as well, never mind the attack.
"And it's not just about the 10-12 axis, it's about the combination of the whole team. Having another voice, having another vision out there, so that it's not just all on the nine and 10.
"Some teams do it, the All Blacks do it with Israel Dagg, he'll come onto the short side a lot and join the attack there quite a bit.
"Most teams need two guys who are able to do that and that's what we've gone with this week."
Insisting the Lions have not had to recalibrate their defence for Williams in Te'o's absence from the starting XV, Farrell continued: "It's been seamless; there's a lot made of the 10-12 axis, but it's about the bigger picture.
"It's about having another experienced voice, eyes and ears out there and how they make the team function. So it's been seamless.
"These boys (Sexton and Owen Farrell) are strong, they've been tight from the word go and enjoying each other's company."
Andy Farrell also warned the Lions not to expect the All Blacks to play the same way on Saturday as they did last weekend in Auckland.
"If I just concentrated on one player or one way of playing that the All Blacks played I'd be a fool," said Andy Farrell of his role as Lions defence specialist.
"They are masters of not doing the same thing twice. We've got to be ready for all outcomes." 
Join us for our New Zealand v Lions match tracker on RTE.ie and live radio commentary on RTÉ Radio 1 for the second Test in Wellington (kick-off 8.35am).