Johnny Sexton has been tipped to fill the void if Owen Farrell misses the British and Irish Lions' first Test through injury.
Flanker Sean O'Brien said his Ireland team-mate Sexton will be unfazed by Farrell's injury scare, with the England playmaker fighting a quadriceps strain.
Farrell is a serious doubt for the Lions' first game against New Zealand in Auckland on June 24, but O'Brien believes the tourists can cope even if they lose one of their top stars.
Sexton will start Saturday's Maori All Blacks clash at fly-half and will be itching to prove his Test-match mettle all over again.
Head coach Warren Gatland has hailed Sexton for regaining his "mojo", and O'Brien agreed his Leinster team-mate is edging back towards top form.
"Johnny was really sharp against the Crusaders and it was probably a difficult game to come into as well off the bench, but he was up to speed straight away," said O'Brien of Sexton's fine showing in the 12-3 Crusaders win.
"He did look sharp and he was crisp again, and bossing us around like Johnny does. You know he's on it when he's giving out to you a lot.
"You give Johnny a bit of a cuddle sometimes and he perks back up and gets his head back in the game.
"He's a competitor, and someone who doesn't like losing, and that can be tough. As someone said he probably puts pressure on himself at times, but I wouldn't have him any other way. I'd rather him barking and yapping at us than not saying a word.
"I don't know if it (Farrell's potential injury) would be a major blow to the squad.
"You've a lot of lads there who can cover that kind of 10 to 12 position and Johnny obviously would be pulling the strings"
"Obviously possibly losing somebody to an injury and he's not up for selection is obviously a blow for the wider picture but with the calibre of player we have within the environment, there are other lads to fill the void.
"You have Ben (Te'o), Jon Davies, you've Robbie (Henshaw) and you've a lot of lads there who can cover that kind of 10 to 12 position and Johnny obviously would be pulling the strings.
"Owen (Farrell) obviously has a lot of experience and has been playing very, very well, and he's a good leader for us.
"He would be a loss obviously but with the quality of lads we have, someone else can fill that slot.
"You'll get the normal Johnny against the Maori. Nothing changes for him.
"He's one of these guys who's a perfectionist, that's how he'll want it at the weekend. He'll prepare as normal, he's excited about what's ahead too."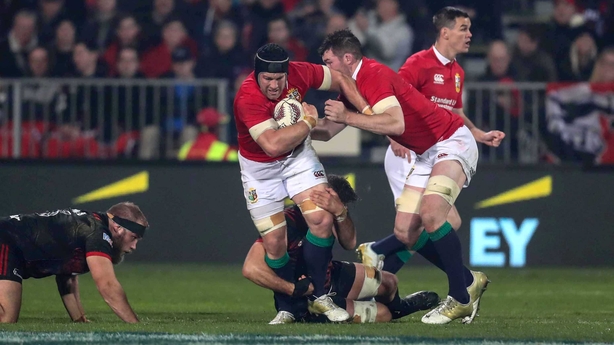 Leinster flanker O'Brien has a fine chance to put himself at the front of the queue for Test match selection if he produces another top performance against the Maori in Rotorua on Saturday.
O'Brien believes the Lions must now cut out sloppy penalties in a bid to keep the referees on their side ahead of the Test series.
"We've got to make sure we're controlling all the controllables," said O'Brien.
"Ideally we don't want the referee on our case too much this week, and have ideas in his head leading up to next week.
"That's probably a natural thing for referees too. They might have a perception about certain areas of the game that they'll be keeping a close eye on, and we want to make sure that we're managing that as best as possible and not leaving it up to him to make a decision.
"We want to be tidy in all areas."
We'll have a live blog on RTE.ie and the News Now App on Japan v Ireland from 5.45am on Saturday morning (kick-off 6am) followed by live blog and live radio commentary on Maori All Blacks v Lions (kick-off 8.35am).