Jack McGrath insists the British and Irish Lions would stomach more losses in New Zealand if that meant toppling the All Blacks.
The Lions slipped up 22-16 to the Blues on Wednesday, with Sonny Bill Williams setting Ihaia West free for a stunning late winning score.
Head coach Warren Gatland believes the Lions will benefit from facing the country's toughest Super Rugby sides before the three-Test All Blacks series starts on June 24.
And, asked if the Lions would swap midweek wins for a first series triumph over the All Blacks since 1971, Ireland prop McGrath replied: "I think so. This is another building block for us.
"They are a tough side - there are a lot of internationals in the team.
"To get it right further down the line and lose maybe one or two on the way, we (would) definitely take that, yeah."
"We're not looking at it as a daunting task, we're looking at is as an opportunity"
The 2017 Lions tour has been dubbed one of the toughest of all time, due to shortened preparation time and a 10-match schedule against New Zealand's finest.
The Lions must now move on to face the Crusaders on Saturday - a side boasting a perfect 14 wins from 14 Super Rugby matches this term.
But McGrath claimed, where others see dread, the Lions only visualise rich - albeit hugely testing - opportunity.
"We always knew the tour was going to be tough; we're not looking at it as a daunting task, we're looking at is as an opportunity," McGrath said.
"(Wednesday's match) probably says the opposite but in areas we did well - it's just our discipline. We are confident we just have to move on."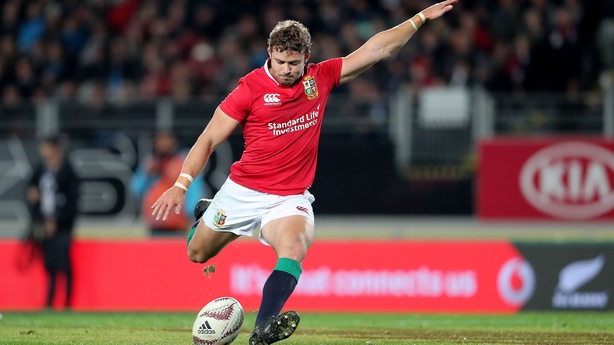 Leigh Halfpenny, meanwhile, stressed the Lions were not interested in simply boosting their performance levels as they seek to acclimatise to Super Rugby opposition.
The Wales full-back claimed the Lions would not accept heroic showing in defeat at the Crusaders on Saturday, vowing Gatland's men were now targeting victory above all else.
"We play this game to win, we're judged on results and we take the field and we prepare each day to win, so that'll be the focus for the next game," Halfpenny said.
"It was a great bit of skill from Sonny Bill Williams to get that offload. But maybe we could have broken off the line a bit harder.
"Even though it was great skill, we have to react to that. If they make a line-break, we have to react, and we probably didn't react as well as we should have.
"These teams are quality outfits, and we can't afford to be as indisciplined as we were. That's cost us.
"So one thing going forward is we have to improve that at this point."