Brian O'Driscoll declared Ireland has everything required to "put on a phenomenal show" as he delivered the country's formal bid to host the 2023 World Cup to World Rugby's HQ in Dublin.
O'Driscoll, the Bid Ambassador, was at the heart of a colourful march from the Aviva Stadium to Pembroke Street today to hand in the 990-page submission.
Ireland are up against France and South Africa to host the tournament, and will discover their fate in November, but O'Driscoll has no doubt Ireland would prove a popular and hugely successful choice.
"We're quietly confident but at the same time realistic that the competition is fierce in France and South Africa, two countries who've hosted it already and who have experience," he told RTÉ Sport.
"The welcome that you're guaranteed in this country... you might not be guaranteed any sort of weather, but one thing that is certain is the welcome that you'll get in the 32 counties.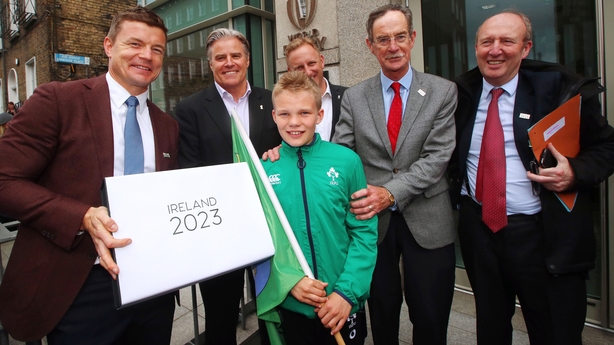 "We saw back in 2003 in the Special Olympics, how the country embraced that. This is a considerably bigger competition, probably the biggest the country is ever likely to host.
"You can just envisage towns and villages embracing a second team as their own. I know there'd be a carnival atmosphere and we would put on a phenomenal show."
O'Driscoll, who hung up his boots in 2014 after a glittering career for Leinster and Ireland, said the Emerald Isle's positive reputation is a huge advantage.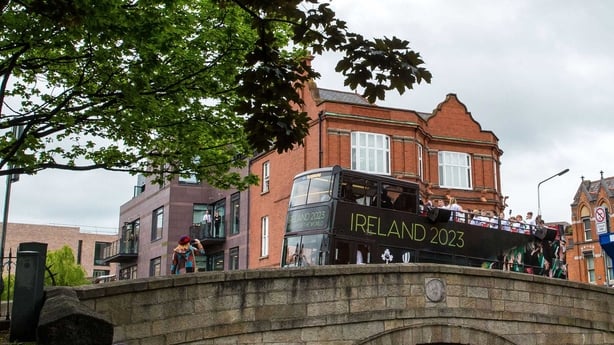 Having battled against the finest players on the planet, he's confident the world's best rugby-playing nations would relish strutting their stiff on in Ireland.
"We've delivered a phenomenal effort," he said. "No stone has been left unturned. It's not a case of now or never, but we really feel that we're ready for it now. We just need that little bit of fortune.
"We feel as though anyone who has come to Ireland, any teams that have come here, have enjoyed playing here.
"They know what tough, physical, uncompromising rugby they get but what welcome they get from the people, the crowds, the atmosphere.
"Our stadia are exceptional, they're all very much near city centres as well. All that lends itself to us being a perfect host nation.
"I think the offering we've put together and delivered to World Rugby is exceptionally good. We've put our best foot forward in everything we've done."
We need your consent to load this Facebook contentWe use Facebook to manage extra content that can set cookies on your device and collect data about your activity. Please review their details and accept them to load the content.Manage Preferences