Warren Gatland is to draw up a standby list for his British and Irish Lions, but he will keep its contents private so as to avoid becoming a hostage to fortune.
Gatland is expecting the usual attrition rate of six to 10 players being ruled out of the 10-match tour to New Zealand, which culminates in a three-Test series against the All Blacks.
Once the domestic seasons have been completed in a fortnight, the head coach will identify 12 to 15 names who could be called upon when injury strikes.
"We're waiting for the club games to finish before we formalise a reserve list," said Gatland, who revealed that captain Sam Warburton will lead the Lions in their tour opener against the Provincial Barbarians on June 3.
"For some positions, we've spoken about one or two players. We'll let the players know they're on standby and we'll let their unions know, but we won't publish a list.
"The reason we won't publish a list is because we may want to change our minds - we don't want to back ourselves into a corner with a player who is right at the moment but maybe isn't later on.
"The best example of a player who was unlucky not to be picked in the original squad is Garry Ringrose, but if in the last week the weather forecast says it will be pelting it down, it could be that someone else comes in instead of him.
"In our minds we have players who we will notify for standby, but we also have to be flexible."
Ringrose was one of the players who was considered unlucky not to make the original squad, which contians 11 Irish players, though it would appear that he is still in the head coach's thinking.
Gatland has picked a muscular squad, leading to predictions he will seek to bulldoze opponents into submission - a view shared by All Blacks head coach Steve Hansen. But the Kiwi insists the 2017 Lions should not be pigeon-holed.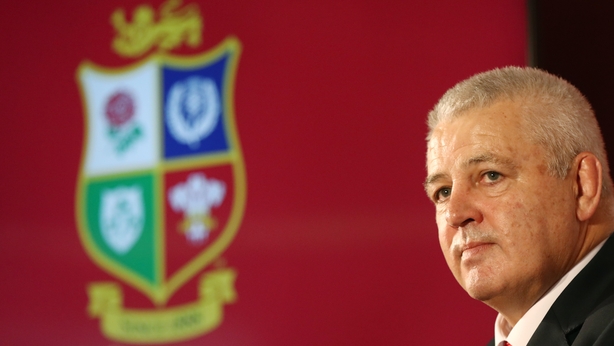 "I find it interesting that people think we've picked a big side," he said. "There's some real talent in the squad and some real skills and footwork and genuine pace as well. There are some guys who play quality rugby.
"On skill level, this is the best team I've seen put together for a long, long time.
"It's a lot stronger than 2009 and 2013 in terms of potential, depth and the difference that some players bring.
"It definitely wasn't a case of picking the biggest and ugliest brutes that we can and trying to beat New Zealand into submission. We're going out there thinking, 'Let's play some good rugby'."