Italy head coach Conor O'Shea sees parallels between the country's struggle to establish itself in the Six Nations and Ireland's late 20th-century malaise.
The Italians have won just 12 of their 86 games (14%) since joining rugby's premier European competition in 2000 and have never finished higher than fourth, which they managed in 2007 and 2013 - the latter the year they first beat Ireland in the tournament.
Ireland went 18 years without winning a Triple Crown or Championship until 2004, and O'Shea believes that in both cases, promising players were let down by the structures around them.
"There are so many good young players over here," he told Shane Horgan in an exclusive interview ahead of Saturday's Six Nations clash between Ireland and Italy (Live on RTÉ2 from 1.30pm).
"That's the bit I can't get my head around. But if I tell you, 'you're rubbish' all the time, it seeps into your mentality so there is a change in the mindset that has to happen.
"That's what Ireland finally got, they got a group who went 'I've had a enough of this"
"We have to support these guys and give them systems. Think of the good old days in Ireland when we were punching well below our weight. Because the support structures that were there were not good enough for the unbelievable players that were being produced.
"We need fighters, like (flanker Maxime) Mbanda. And that's what Ireland finally got, they got a group who went 'I've had a enough of this'. That group still had some pretty bad days on the way but got there.
"We're at a different stage of the cycle. In six, seven years time, when Edo (Padovani) and Carlo (Canna) are at their best, around 30, we have to make sure that mentally they're still able to do it. Because if they're being thrashed they won't be.
"If we get that right there will be a significant change. I don't see bad rugby players, I see incredible talents."
We need your consent to load this Facebook contentWe use Facebook to manage extra content that can set cookies on your device and collect data about your activity. Please review their details and accept them to load the content.Manage Preferences
After the Azzurri recorded a first ever win over South Africa in just O'Shea's fifth game in charge, expectations were raised but last weekend a half-time lead over Wales quickly turned into a 26-point defeat.
He admits that improving the mental strength of Italy's players is one of his biggest challenges.
"7-3 at half-time to us, people will say 'the same old Italy, 50 minutes and it's out the window'. But it wasn't against South Africa.
"You have to teach people how to deal with emotional let-down within matches, how to ride tough times and then identify the people that are mentally strong enough. I'm unbelievably certain we can grow this thing.
"If we get the growth and experience into this group of players and get them better people around them we can create a completely different mindset. If we arrive and in two and a half years time we're 7-3 up against Wales at half-time with this group of players, we won't go away."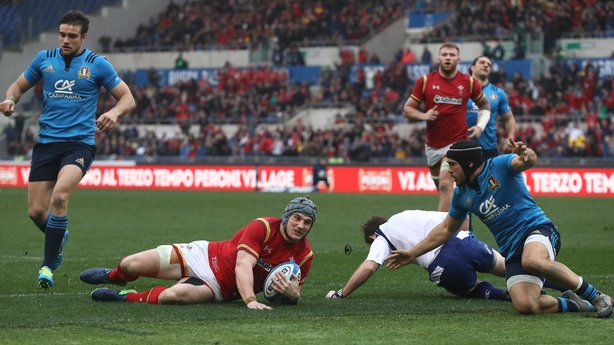 The Irishman is realistic about Italy's immediate prospects of winning silverware and sees his job more as laying the groundwork to make them more competitive in the long-term.
"You have to understand why you get up,"  he said. "Why am I here? We're not winning a Six Nations, we're not winning a World Cup. Italian rugby is at a crossroads and we have to make sure we make the right decisions.
"Our job is to create a pathway because there are good young players in this country. If we've finished and there's a legacy of great wins like South Africa and we've created something tangible they can believe in...
"I can see growth. I know when we play our best and everyone else plays their best, we lose. That's a fact. I can't get away from that. I'm not going to stand in front of the team and say we are better than England, Scotland, Wales, France and Ireland. We're not, at this stage.
"If we play to our best, we have a chance. If we get a bit of luck, we have a chance."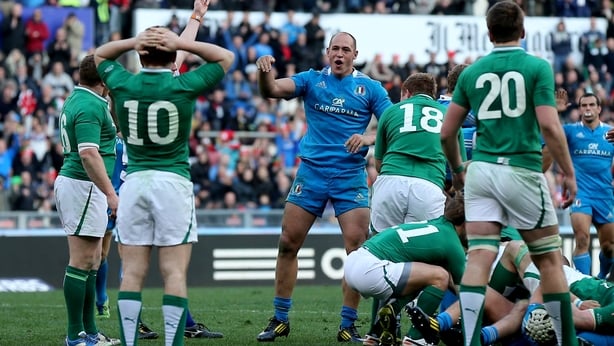 As for his hopes against his homeland tomorrow, O'Shea's ambitions are modest.
"What I'd like us for the players to go off the pitch, having earned respect," he said. "I think if you talked to the Welsh players, they would say, even after 33-7, that that was a different threat that was coming at them.
"Over the next while I want these players to get a bit of self-respect back.
"That's what hurt me last week, the final score. Anyone who looked at that would say it wasn't reflective of the final result but that tends to happen with Italian sides.
"I want them to walk off against Ireland having done everything they can."
Watch Ireland v Italy live on RTÉ2 from 1.30pm Saturday, listen live on Radio 1's Saturday Sport and follow our live blog on RTE.ie/the RTÉ News Now app