Ryan Crotty and Ben Smith insist the All Blacks are determined to learn from their historic loss to Ireland ahead of the sides' second autumn meeting in Dublin on Saturday.
New Zealand's first ever Test defeat to Ireland in Chicago 10 days ago has whetted the appetite for an Aviva Stadium showdown that raises the scarcely believable possibility of back-to-back Irish victories over rugby's kingpins.
A lengthy video analysis of that defeat on Monday has primed the wounded world champions for the rematch.
"We've got to give Ireland a lot of credit for the way that they played and the way they performed. They beat us to the punch," full-back Smith told RTÉ Sport.
"There are a few areas where Ireland really tested us, so we've looked at it as a team. We've spent a bit of today looking at how we could improve that.
"They used quite a good variety with their catching game and put us under bit of pressure and I'm sure they'll be looking to do that again. They were really accurate with that so we've got to come up with ways of countering that."
Rugby was put in perspective for the New Zealand squad over the weekend with news that a 7.8-magnitude earthquake at home had killed two people.
Ryan Crotty's hometown is Christchurch, which was devastated by a quake in 2011.
"My house is safe, and all my family and friends are all safe," he said. "It was pretty stressful yesterday when you're trying to board a flight here but you're not really sure what's going on back home. You get different reports and stuff.
"I woke my partner up, our house is probably a little bit too close to the beach so I sent her to her mother's house because there was tsunami warnings and stuff like that. Everyone was a bit nervous. I'm glad those people were safe, but it is sad to see the loss back home."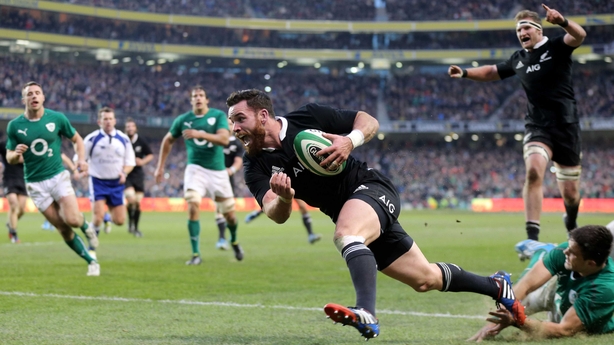 The centre was forced off with injury early in the game and missed last Saturday's 58-point victory over Conor O'Shea's Italy.
Crotty's hamstring injury isn't as serious as first feared though and he is hopeful of playing a part this weekend, at a venue where his late try broke Irish hearts in 2013.
"It was going to happen eventually," he says of that maiden victory. "It's just disappointing for us that it happened a couple of weeks ago.
"It's a proud moment for an Irish team and a lot of Irish people, you can be very proud of your team.
"We just got a few things wrong and Ireland played really well. We can take some learning from that, it's important that we do that and put it into play this weekend.
"There are a couple of learnings from the last 10 minutes that we can take in to this game. The All Blacks always believe that, no matter what the score, if there's a minute or two left we can get the job done."
Watch Ireland v New Zealand (kick-off 5.30pm) live on RTÉ2, listen live on Radio 1's Saturday Sport and follow RTE Sport Online's live blog