The funeral of Munster head coach Anthony Foley has taken place in County Clare.
Stars of rugby, past and present, were among the hundreds gathered to pay their respects at St Flannan's Church in Killaloe.
Foley, aged 42, died in the team hotel in Paris, just hours before his side were due to play Racing 92 in the European Rugby Champions Cup.
We need your consent to load this SoundCloud contentWe use SoundCloud to manage extra content that can set cookies on your device and collect data about your activity. Please review their details and accept them to load the content.Manage Preferences
Members of the great Munster teams who played alongside him during his career, as well as the current Munster squad and former Munster and Ireland rugby coaches lined the pathway into the church in a moving and silent show of strength.
His coffin was carried into St Flannan's to the Toreador Song from Bizet's opera Carmen, adopted by Munster for the club anthem Stand Up And Fight.
Foley's widow Olive delivered a moving eulogy and referred to her husband's time at the helm of his beloved province, saying: "The last two years were very stressful for Anthony but he took that job as head coach and he gave it everything with the same passion that he had when he pulled on his jersey and won two Heineken Cups.
"There were very rough days during the last couple of years. But, despite the pressure and hurt during that time, I've no doubt that Anthony now can smile down knowing that he gave it everything."
Away from rugby, she paid tribute to his role as a husband and father to sons Tony and Dan.
"Anthony trusted me with everything, with the children, their schooling, the house, everything," she said.
"And I intend to honour that trust and I'm going to make sure that our two adored boys will grow up decent, solid men, full of integrity and honesty, just like their dad.
"He was a very hands-on dad. Every day after work he'd come in and he'd always sit down and have a coffee. He wouldn't have that much chat, but he'd sit there. He was happy enough, he'd just let me ramble on.
"Then he'd say 'get the hurleys lads, we're going for a puck'.
"Now I'm going to have to pick it up a notch or two with the hurling. But I'm going to get a hurley and go and do that.
"He just took an interest in everything they did in sports and never missed an old blitz or a training session."
Revealing her final conversation with her husband, she said: "My last conversation with him was on Saturday evening. He had been ringing all day because he was a ringer. He rang and rang and rang, 20 times a day he'd ring.
"Every time there was a bit a lull he'd decide to ring Olive and he'd say nothing, sure, but I never bothered ringing him back because I knew he'd get me eventually.
"But I rang him back that day and I sat down and we had a few minutes and we chatted. And of course our chat was about the lads. How the athletics went that morning. How the javelin was going with Tony and he had a little chat with him. It was a lovely conversation. I didn't expect it to be my last."
Despite the heartbreaking nature of the eulogy, there were moments of levity too, with Olive generating laughter when she recalled: "I am ashamed to say that I said a prayer on the way over in the plane. I said 'Please Jesus, let him have shaved'."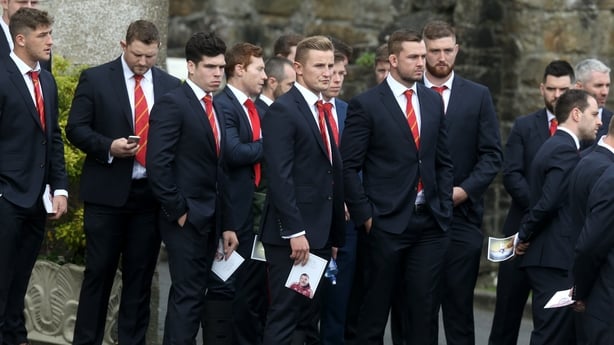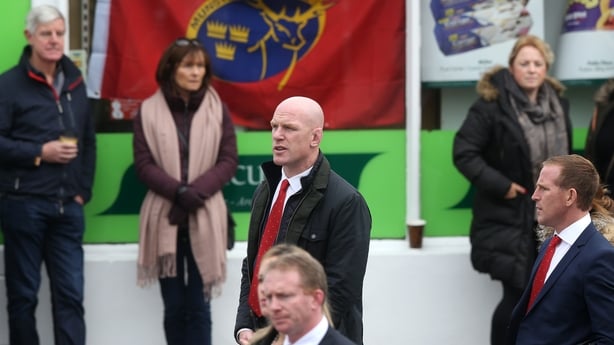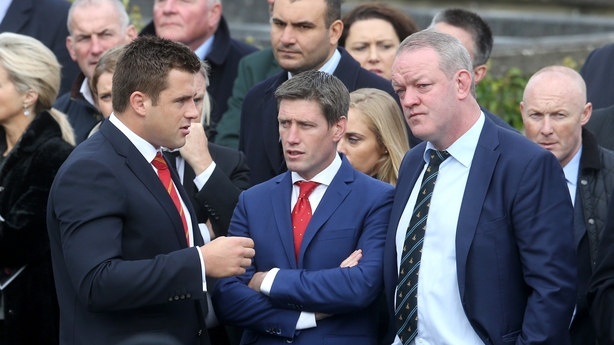 Chief celebrant Fr Pat Malone, a close friend of the Foley family, said it was their wish that his funeral provide prayer, reflection and a quiet space in which to mourn him.
"It is fitting that we celebrate with dignity the life and achievements of a man who lived life with great dignity and personal and professional integrity," he said.
He spoke of Foley's love for his wife and their two young sons.
"His family meant all to him," he said.
"Olive, you were his true love, and how good you were together.
"One could sense the strength of your relationship, the warmth of your love for each other, and the ways you supported each other through the easy as well as the difficult moments of life.
"You complimented each other so well, yin and yang in perfect valve with each other.
Fr Malone said the couple were second to none as parents and spoke about Foley's love for his children.
"He was silently assessing their temperament for future sporting engagement."
In some of the most moving tributes, the priest praised Foley's open-hearted nature.
"What touched me most in all the statements I heard or read about Anthony in the past week is the amount of care he offered to so, so many different people," he said.
"He had that great human capacity to sense or notice those who were struggling in one way or another and the ability to reach out to them and include them in a sensitive and caring way.
"That outreach made all the difference to these people.
"He offered people hope when they felt hopeless, confidence when they were deflated and simply wished them on when they were unable to do it themselves."
Fr Malone added: "His presence was reassuring, his ability to care, his sheer support, his sense of camaraderie, made all the difference and - to borrow from from another famous football anthem - knowing Anthony's presence, you knew 'You'll never walk alone'.
"Anthony 'Axel' Foley made many a mark in his 42 short years of life.
"Just look around and see; the indelible, warm, affirming marks he left in family, friends, colleagues, sports fans, this local community, rugby wherever it is spoken."
Fr Malone referenced the "incomprehensible darkness" Foley's widow had spoken of since his death.
He said Foley's love should shine a light on the family's grief.
In a brief moment of levity, he added: "I am fairly certain God could do with a top-class number eight."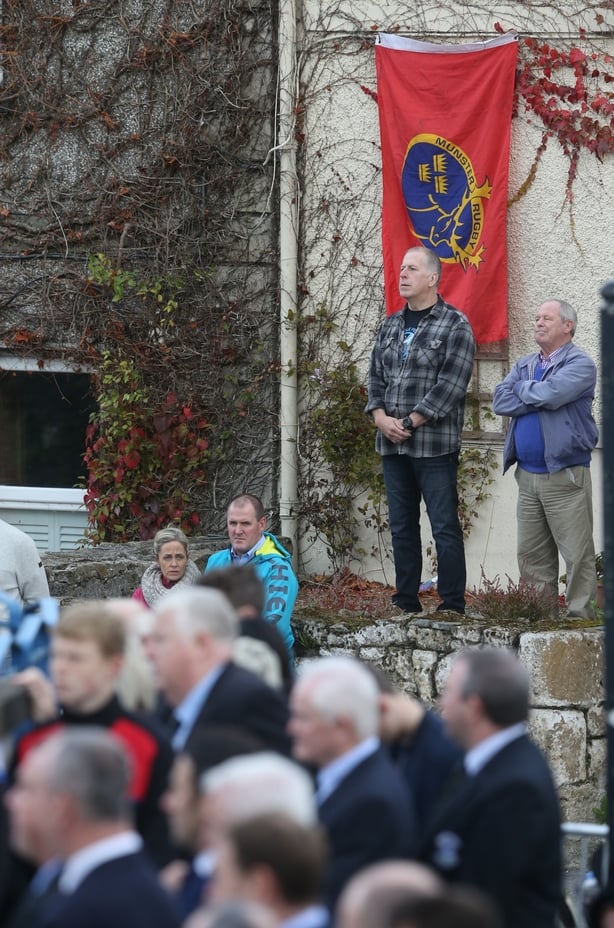 Yesterday evening, thousands waited patiently to bid a final farewell to the Munster and Ireland great as his remains reposed in the church before spending a last night at the family home.
Current Ireland coach Joe Schmidt and captain Rory Best joined the throngs that descended on the town on the River Shannon to say farewell yesterday.
Leinster, Ireland and Lions talisman Johnny Sexton also paid tribute along a number of his provincial team mates. Connacht coach Pat Lam also travelled.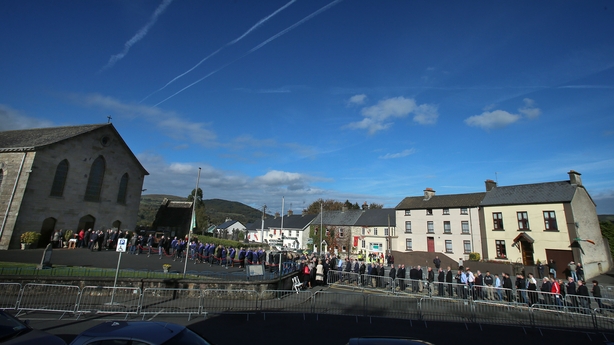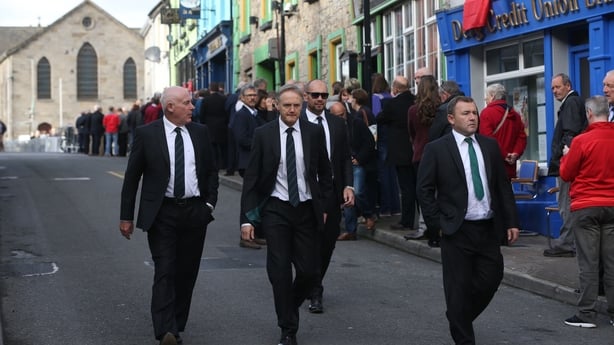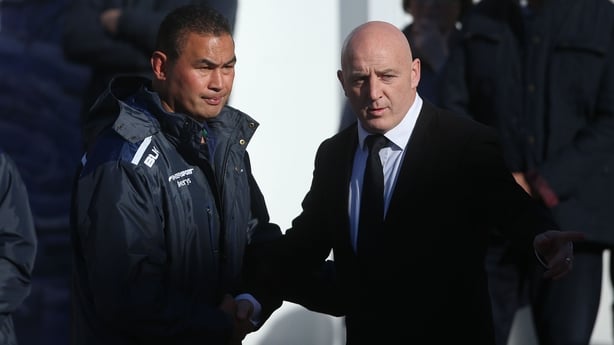 Former Munster, Ireland and Lions star Keith Wood, a close friend of Foley, was among the first to queue outside the church on Thursday morning.
Foley died from a build-up of fluid on his lungs as a result of heart disease.