Joe Schmidt admitted his players could be overawed by the Newlands Stadium cauldron in Cape Town, and urged them instead to feed off the atmosphere of "one of the most fantastic stadiums in the world".
Ireland take on South Africa in the opening Test of their summer tour on Saturday afternoon stripped of some big names.
The head coach has shuffled the deck with the likes of Rob Kearney, Simon Zebo, Luke Fitzgerald, and Jonny Sexton unavailable, though he's relishing the chance to pit his charges against the Boks in such an iconic stadium.
"It's one of the best (stadiums) without a doubt," he told RTÉ Sport. "123 years old, it's iconic. There's a fantastic cauldron effect because the stands go up pretty quickly, it's completely surrounded.
"The supporters tend to get quite vocal and it reverberates off the sides. I've no doubt the players will be a little bit overawed but there'll be a lot excited by the type of atmosphere that gets created in that stadium. For me it's one of the most fantastic stadiums in the world."
"We've tried to put a few combinations together that will hopefully be as cohesive as we can make them."
Schmidt named Jared Payne at full-back on Thursday to fill the void left by Rob Kearney. He revealed he toyed with other options but gave the nod to the versatile Ulster player because of his relative freshness.
"We're always looking to get the most cohesive group as well as the best players in current physical fitness on to the pitch," he added.
"We've tried to put a few combinations together that will hopefully be as cohesive as we can make them by Saturday.
"Luke Marshall has really impressed us this year. He's probably been the unsung hero of that Ulster back line. We did think about putting Robbie (Henshaw) back to full-back. I think he's such a big strong character in behind the line, a very good defender, his speed is very good.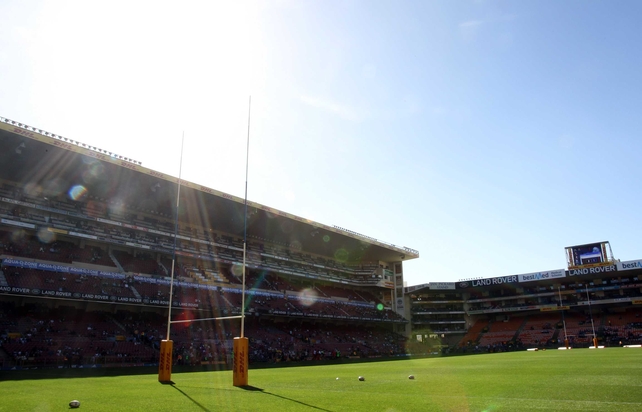 "But the problem we felt we had was Jared came into camp nice and fresh. He trained in all three and a half training sessions whereas Robbie, we gave him a lot of time out last week because he'd played more minutes than any other Irish player during the season and he played in a number of really big games, obviously during the World Cup and during the Six Nations.
"It's the reason we decided to leave Robbie in the midfield with Luke and put Jared back to full-back. Jared is a smart player, he reads the play well. He's well able to be physical and he's skilful."
The New Zealander also praised Paddy Jackson's development over the last year, highlighting his evolution as a top-quality playmaker, and backing him to improve even more.
"Paddy's been going really well for the last 12 months but I think one of the things that's impressed us is how he's started to not just be good on his individual game but bringing other players into the game and directing the team around the pitch. He's really grown in that regard.
"As a ten you're the pivot, a lot of things are swinging around what you're doing. I think Paddy has really done a good job with that in the back half of this season."