Joe Schmidt believes his side will "find a way" to shine in South Africa despite the quadruple injury blow that has ruled the Kearney brothers, Johnny Sexton and Luke Fitzgerald out of the summer tour.
Leinster fly-half Sexton has undergone surgery to repair a shoulder injury he picked up in his province's Guinness Pro12 final defeat by Connacht at Murrayfield last weekend and looks set to be out of action for up to three months.
His provincial team-mates Rob Kearney [hamstring], Dave Kearney [calf] and Fitzgerald [knee] will also be kicking their heels for the three collisions with the Springboks, but Schmidt refused to lower the bar in terms of what the visitors are trying to achieve in the coming month.
"It certainly doesn't change expectations," he said. "Expectations are never based around results, as much as that's how we're judged, because we can't control invariables around the result.
"My expectation is the players will work hard, they'll unite really effectively under Rory's leadership and we will be competitive. Whether that's enough, we'll find out on the 11th, 18th and 25th of June."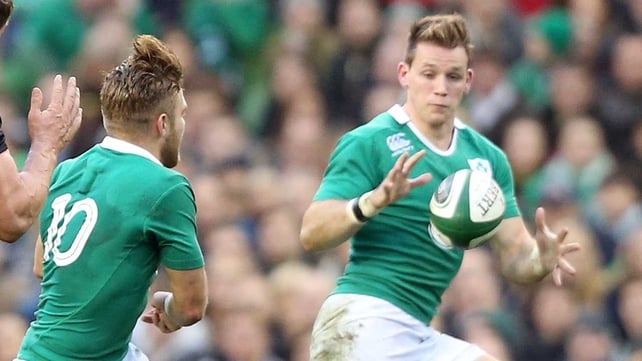 Ian Madigan comes in as Sexton's replacement, with Craig Gilroy [above] and Matt Healy filling the void left by Dave Kearney and Luke Fitzgerald, and Tiernan O'Halloran getting the nod in Rob Kearney's absence.
Schmidt focused on the positives the arrival of such fresh blood can have on a panel as he accentuated the weight of expectation likely to fall on the hosts' shoulders.
Considering South African minister for Sport and Culture Fikile Mbalula's warning for new head coach Allister Coetzee upon his confirmation as the successor to Heyneke Meyer in April - "South Africans are not very loyal. If you get beaten by the Irish, we are going to start digging up things we never knew about you" - it's fair to say Ireland can turn the screw.
4 Changes to squad for @Springboks tour #ShoulderToShoulder https://t.co/ow0ZXPtguB pic.twitter.com/7zV8TcV4wJ

— Irish Rugby (@IrishRugby) June 2, 2016
"If we can stay in the game as long as possible I think that can potentially unsettle them, because the pressure does fall on them as little bit. They've never lost to Ireland at home, and I know that their motivation is going to be very, very high.
"When a new coach comes in the established players are going to want to demonstrate that they should be there and deserve the right to remain there, and there's going to be some new players.
"The selection that Allister Coetzee has made is a real mix with some fantastic experience and at the same time some really exciting new players.
"Whatever we try to do will be in the context of the motivation they have and what they put together and hopefully if we can stay in contact with them for long enough in the game, the players that we have will potentially find a way."