Connacht captain John Muldoon has revealed how hard it was for Robbie Henshaw to leave Connacht this summer and that he believes the Leinster-bound Ireland centre will return to his home province in the future.
Henshaw confirmed the switch earlier this year after much speculation about his plans, and Muldoon, speaking at RTÉ 2fm's live Game On event in Galway, claimed the final call was put off a number of times as the 22-year-old star came to terms with leaving his home province.
"A lot of people think it was an easy decision for Robbie to leave but it was a very hard decision for him and on him," Muldoon said.
"Ultimately, the fact that Robbie grew up watching Leinster having so much success, he probably wanted to be part of that and it was probably difficult this time last year for Robbie to see that we could come this far and get a trophy.
"The success and the hunger that's inside him wanted him to leave and go to Leinster and that it was a good option for him to go and try and win some trophies.
"I've no doubt in a few years' time Robbie Henshaw will be back in the green of Connacht."
"I know from speaking to him that it was a very difficult decision throughout the year. I think he said three times that 'I'm going to make my decision at the end of the World Cup', 'I'm going to make my decision by November', and ultimately he didn't make the decision until near the end of January.
"That's how hard it was on him to leave."
Henshaw did at least go out with a bang, taking home a Pro12 winners' medal as Connacht convincingly defeated his new side in last weekend's final at Murrayfield.
The Athlone man was understandably overcome following the occasion, but Muldoon insisted that day would not mark Henshaw's final game for Connacht. 
"Robbie was quite emotional the other day when we won, he was quite upset, and he was delighted to hear the other lads telling him they would love to have him back and that this is his home.
"I've no doubt in a few years' time Robbie Henshaw will be back in the green of Connacht."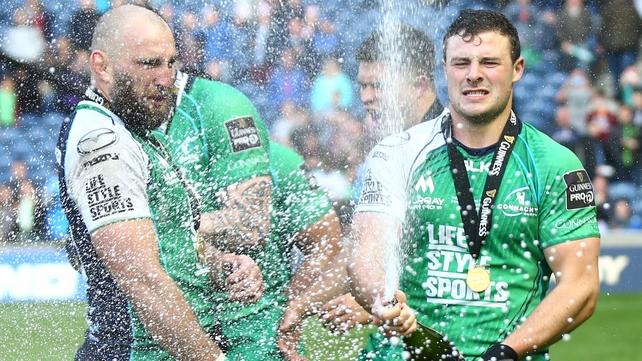 For Muldoon, the league title is the reward for over a decade's loyal service to the province, although he admitted that there were several points in his career when he seriously considered leaving himself.
Ultimately, though, the power of home proved too strong, and the 33-year-old has now completed 13 seasons and shows no signs of slowing down, picking up the man-of-the-match honours in Edinburgh on Saturday.
"At times you lose a bit of faith, and you think right, I'm moving now and I'm gone. I'd be lying if I said I never thought that. 
"There's been times when thought that when my contract's up, I'm not staying, but then something would happen by the end of the next season and you'd be saying 'how can I leave?'
"This is my club and this is where I'm from. It's my family that come in here and my friends that come to see me play and ultimately something keeps you.
"I've another year to go at least," he added of his contract status. 
"I sat down with Pat [Lam] just before Christmas and the conversation was quite short and quite easy.
"'Do you wanna stay?' ... 'Yeah. Do you wanna keep me?' ... 'Yeah. Are you happy?' ... 'Yeah.' ... 'Sound.' We shook hands and it was pretty easy.
"There's a lot of young lads in the squad and I get the slagging for bringing the age profile up, but it's very easy to keep going when there's a lot of immature individuals in the squad who keep you quite young."