Pat Lam didn't spend any time celebrating Connacht's historic Pro12 semi-final win over Glasgow Warriors on Saturday night – he went straight home to prepare for the final.
The Connacht head coach had a quick shower and then departed the Sportsgrounds following the 16-11 win to set his sights on Leinster in next weekend's final at Murrayfield.
"It's a short turn around," he said. "We'll be back on Monday so I have to have my work done.
"We want to highlight the positives and work on the game-plan for Leinster because Monday is our big day. That's when we always make sure that guys leave on Monday clear on the plan – that's what we do."
Connacht have enjoyed their most successful season ever and are through to their first Pro12 final, where they will face table-toppers Leinster in Edinburgh on Saturday (kick-off 5.30).
The atmosphere at the Sportsgrounds against Glasgow was nearly as intense as the rugby on the field and the relationship between team and players continues to grow.
Lam acknowledges the part that the home crowd plays for them and he explained what that backing means to the players and management.
"Immensely proud," he said. "I am so lucky to work with this group and represent the west of Ireland.
"We know that everyone couldn't get into the ground and we want to acknowledge all the people watching on television, gathered around big screens, in Sligo, Roscommon, Mayo, Leirim, Galway.
"It's great that we're here and a great day for the west of Ireland. It's a great day for Irish rugby with a final between ourselves and Leinster next week.
"I told the guys 'if you channel what this team and this province means to you, man, you can achieve big things'."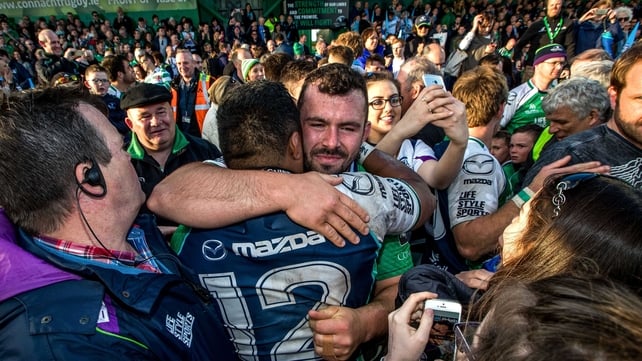 He continued: "When we got top six we reset our goals and went hard. We said, look, we believe we can win it, so we wanted to win those next games to get a home semi-final.
"They play with a lot of passion and that comes from the stands – the atmosphere here is great." - Glasgow head coach Gregor Townsend
"We got the home one and the reason why we're undefeated, bar the Ulster game in the last minute, is the crowd. They drive us on and that's why we're so proud to give them that extra game."
Glasgow head coach Gregor Townsend was once again blown away by the atmosphere Connacht's fans created and he's backing them to give favourites Leinster a run for their money next week.
"Any semi-final is hard to lose," said the former Scotland international. "We didn't play at our best and that's probably as disappointing as losing a semi-final. Even if we sneaked a try at the end and won, we would have been disappointed with the way we played.
"They play with a lot of passion and that comes from the stands – the atmosphere here is great. It creates a frenzied game that really suits them.
"Their rugby is full on and they will always put defences under pressure the way they set up to attack. You can tell the energy the crowd create has an affect.
"Connacht have earned a shot at this by how they played all this season. They have shown that they can handle the pressure – they will have a real go at Leinster."