Connacht are in the depths of an injury crisis ahead of their back-to-back European Challenge Cup clashes with Newcastle Falcons.
The Pro12 league leaders were beaten by Cardiff Blues in Wales on Friday night and they paid a heavy price in terms of injuries.
"It was a disappointing outcome; more in the sense of injuries," admitted head coach Pat Lam afterwards.
"We took some pretty big knocks, so I'm proud of the way the guys hung in there. 
"When you lose your two scrum halves after 42 minutes it means a bit of readjustment."
Connacht lost Craig Ronaldson, Ian Porter, Kieran Marmion, Quinn Roux and Eoin McKeon early in the game.
This leaves their back division decimated and Connacht played nearly half of the match in Wales without a recognised scrum half.
Lam fears that Quinn Roux may have suffered a broken bone in his leg or foot, though this has yet to be confirmed.
With Ireland star Robbie Henshaw already on the sidelines for six weeks due to a broken hand, Connacht will be stretched in the coming weeks.
"It looks like Quinn might have broken something down around the ankle," noted Lam."It's a worry. We came into this game with Cardiff with 16 injuries it looks like now that we're going to be adding to that list."
"We didn't want to get into a dog-fight, but we brought it on ourselves by not being clinical enough earlier on," said Lam.
Connacht take on Newcastle in Galway on Friday with the return leg in the north of England the following weekend.
The province's eight-game unbeaten record in all competitions, and seven matches in the Pro12, came to an end in Cardiff.
They pushed hard and had chances to win it at the end before going down on a 20-16 scoreline which was good enough to secure a losing bonus point.
"We didn't want to get into a dog-fight, but we brought it on ourselves by not being clinical enough earlier on," said Lam.
"We knew if we could keep ball we could put pressure on them, but at times our execution wasn't just right and we tried to force the pass when it wasn't on.
"We knew on that pitch, which is pretty tough, we needed to hold the ball and be clinical. We did that at times, but we coughed the ball up at others."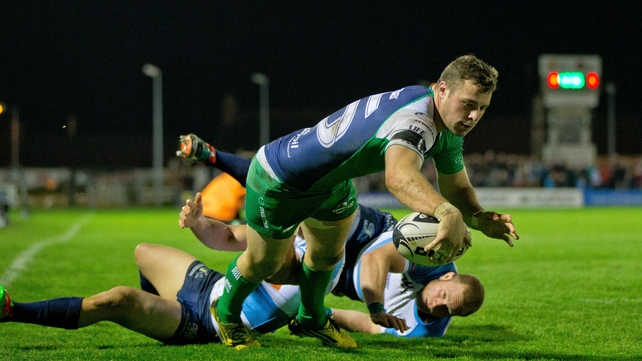 Prop Ronan Loughney knows that the next two weekends will be massive for Connacht and how their season eventually pans out.
He said: "Two massive games coming up.
"It's disappointing that run has come to an end, but it's up to us to put on that healthy pressure on ourselves now. We love cup rugby and it's a massive challenge.
"We've set our sights high in the Challenge Cup and that's a massive game at home next week. We have that home record we want to protect."