Watch a special feature in which Dr Rod McLoughlin of the IRFU explains how the organisation approaches the issue.
Alan Quinlan, Paddy Wallace and Brent Pope debated the issue after the feature - watch or read the transcript, and let us know what you think in the comments.
Brent Pope: "This is going to gather and gather and gather. We're not doctors so we can't go into the medical....What I would like to see, and there has got to be a mixture of both is....the parents that I see are saying that players are trying to emulate senior international players in the way they play the game. You go to every gym in the country now, young players, it's all about bulk. It's not about appreciation of space any more.
"Things like players becoming tired, their technique goes, this leading (elbow), trying to offload, the high tackling. All these things have to be looked at as well because oung players will look at the senior players, they will respect the likes of Brian O'Driscoll and say 'he goes in hard, he tackles, that's how I'm going to tackle'. You've got guys like Bastareaud running down the 10 channel, the guy is over 20 stone."
Daire O'Brien: "But Brent, and Paddy how do you manage this? We heard in the piece, Rod saying that 50,000 people in the stands are doctors. A million people at home are doctors. We don't still know what concussion is, it's such a broad definition."
Paddy Wallace: "It is. The tragedies, the Ben Robinsons, has really highlighted the problem with concussion and one thing that is coming out of this which is a positive is that players are educating themselves more. It is a gladiatorial sport and you'll try and stay on as best you can, but there will be something in the back of your mind that will say maybe it's not worth it, you know, the risk."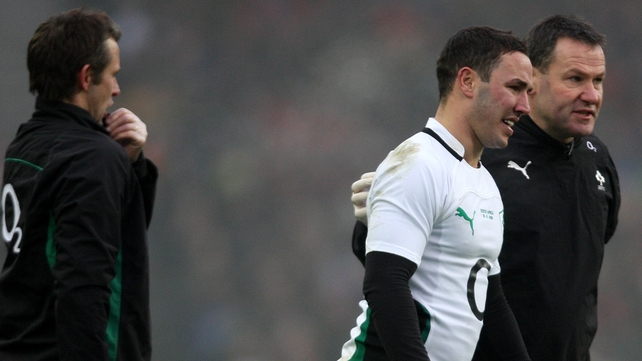 Daire O'Brien: "Well when did that happen to you, I mean you got three in a row didn't you?"
Paddy Wallace: "Yeah I got four one season. It was down to bad luck more than anything. I think the more frequency that you get bangs to the head. I'm not sure the medical...."
Daire O'Brien: "I know but tell us the symptoms."
Paddy Wallace: "I felt I was more likely to get a concussion after the first one or two. I took a complete break. To be fair to the IRFU I was looked after very well. I saw Professor Lynch down in Dublin, I saw a neurologist as well. We did cognitive testing. I took a 12 week break from the game. All my cognitive testing shot up after that."
Daire O'Brien: "Was it physical pain or did you just notice yourself feeling weird."
Paddy Wallace: "It was blurred vision, it was just the slightest tap on the head, my vision would go and I'd get headaches."
Brent Pope: "Interesting enough I was back home (in New Zealand) at Christmas and I picked up an old sporting annual, I think 1965. I must show you the article back because someone wrote about it then and said that rugby is akin to a boxer, on the number, and Paddy's right. I've been concussed..."
Alan Quinlan: "The stuff that's changed Popey is the education is out there. If you go back to November, Eanna Falvey, Dr Eanna Falvey, goes on to the field and he makes a decision to take Conor Murray off. Conor Murray clearly wants to stay on. That's sending out a message to everyone in the country at all ages."
Daire O'Brien: "Take the grey area out...."
Brent Pope: "That's great, but the game has become too physical."
Alan Quinlan: "What's the solution?"
Brent Pope: "I don't know the solution, I don't have the solution. The solution is....the way teams are playing the game."
Alan Quinlan: "The solution is the education. There are videos there now that every amateur, coach and parent in the country can go on. The IRFU have received criticism. The videos are there. At least educate yourself."
Daire O'Brien: "For kids, I agree. But if Bastareaud is watching those videos is he going to take any notice? I mean, his strength is his strength."
Brent Pope: "There you go."
Paddy Wallace: "Exactly, and kids will see that. And that's why they are in the gyms at 14."
Alan Quinlan: "What's the solution? I think we can just protect and educate as best we can."
Brent Pope: "And look at the laws, and be more ruthless on the penalties for foul play. You're right it is education."
Paddy Wallace: "But it is always going to be an impact sport."
Alan Quinlan: "It is being highlighted more and more. The George North incident (for Wales) was a mistake. The Welsh Rugby Union held up their hands. The week after, they put a third doctor in the stand to watch every player that the camera doesn....at least there are positive steps being taken."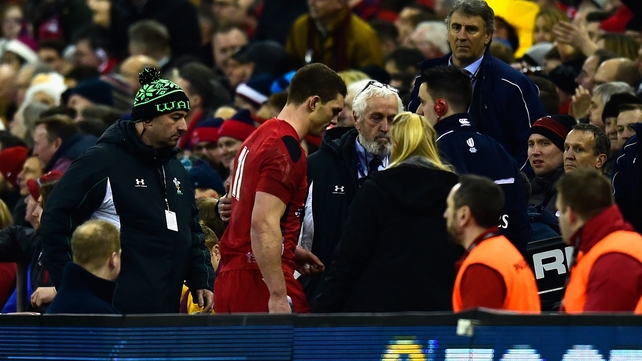 Daire O'Brien: "It is about managing imperfection. It will always be imperfect...."
Alan Quinlan: "It is not about scaremongering. I've a little boy who is playing rugby as well so I'd be concerned. We're all concerned. But I think just taking those positive steps..."
Brent Pope: "But can't they look at the game on an overall structure and say, OK...we saw Anthony Watson counter-attacking for Bath, nobody got near him. It was this wonderful way of playing the game. People talk about Super 15, and I'm not saying it is any less physical. But we've got to move away, as Paddy said and I agree from selectors or managers selecting the guy because he is 18 stone and saying to the other guy....I heard of a young player who came back from Australia to one of the academies and they just said, 'look, you're too light to play'."
Daire O'Brien: "So we have protocols, the IRFU are being proactive, at the moment, pat on the back for them. And then long term..."
Alan Quinlan: "There's a big think tank after the world cup to look at the laws of the game and that'll be part of the concussion as well..."
Daire O'Brien: "...in terms of the laws of the game and the way the game is played and maybe reducing part of the physicality. We are going to come back to it."
Go to www.irfu.ie/concussion for videos and more information.
Against The Head is shown on Mondays at 7pm on RTÉ 2.