Former captain Fiona Coghlan has said she was surprised by the lack of criticism over Ireland's World Cup exit in August and that she wants women's rugby to get as much TV coverage as men's.
Coghlan led Ireland to an unprecedented semi-final spot at this year's World Cup in Paris in August.
However, after a hugely impressive win over New Zealand in the group stage, Ireland were thrashed 40-7 by eventual champions England in the semi-final.
Speaking to RTÉ Sport, Coghlan, who retired from rugby after the competition, said the coverage Ireland's women's side had received in the media had been predominantly positive over the past two seasons, and that after the game against England the media had "gone very lightly on us".
"It was a dark dressing-room the next morning, and the video analysis [on] ourselves was very tough" - Fiona Coghlan on Ireland's World Cup
She dismissed the idea that this was insulting to the team, saying it was more a question of journalists getting to know the team and where they were in world rankings.
"I hope in the next couple of years, as the game progresses more, that they will know more about the players and what they're capable of."
However, she agreed that if Ireland's men's team had won against New Zealand in a World Cup and then gone on lose in a manner similar to how the women's side lost to England, they would be heavily criticised. Coghlan said the players had been unsparing in their own analysis.
"It was a dark dressing-room the next morning, and the video analysis [on] ourselves was very tough. You had to stand up and take the blame for where we went wrong.
"It wasn't written about in the paper, and I was surprised it wasn't, because we had a good following in the papers and on TV, and they were positive about it, which I was shocked at."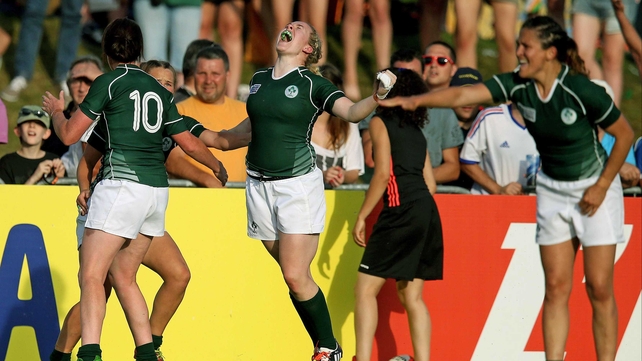 Coghlan also spoke about the ongoing struggle faced by women's sport in general, and rugby in particular, in securing higher levels of TV coverage.
"For ten of my 11 years involved we didn't have TV exposure, and then for the last year and a half it kind of took off.
"It's changed the game. You have more kids playing as a result, and I think in the long term it'll drive the game on even further."
She agreed that women's rugby still had to fight for coverage, but said the issue was a wider one.
"It's women's sport in general - it's not just rugby - or any minority sport, really. You always want more. The more you get you still want more and you want to be up there on par with people who are getting as much TV coverage, as, like, the men."
Coghlan agreed coverage of women's rugby had increased significantly, saying "It's incomparable to when I started playing. Even [the number of] supporters at games: [when I started] it was probably just your close family and friends, and now you genuinely have supporters out watching you."