By Tadhg Peavoy
What Ireland did to South Africa on Saturday was the definition of the old line by Leonardo da Vinci that 'simplicity is the ultimate sophistication'. 
Their gameplan was simple and effective and focused on keeping the error count low and closing South Africa down in defence.
They had a high line that ensured their opponents couldn't gain the crucial space needed in attack to use their dangerous wide men.
The most remarkable aspect to the victory at the Aviva was the calm and confidence in Joe Schmidt's team. The head coach spoke of mana – a Kiwi word for aura, presence, authority and respect – this week when describing his captain Paul O'Connell.
And the second row was the embodiment of everything Ireland did, solid in his bread and butter roles, but equally brilliant in leadership and getting around the pitch. But the team should also be labelled with that mana, for it was their calm confidence in everything they did that was the bedrock of the win. That comes from unity within the squad, but also from being supremely well-drilled.
Given that they only had a couple of weeks together as a squad, credit must go to Joe Schmidt and his coaching team for binding this side so effectively in such a short period of time. The next challenge for Schmidt and his team is to build on this. Georgia are next in the firing line and represent, one would imagine, a chance to experiment with some changes in personnel, while tightening the set piece, defence, and putting some fresh offensive plans into place.
Low error count and solid defensive structure
It's often said that errors win or lose rugby matches, and Ireland were very good at reducing them on Saturday. Often in the past a curse of Ireland teams was profligacy and playing themselves into trouble. But that was not the case on Saturday. They were ruthless in defence, playing that hard line I mentioned earlier, which suffocated the Boks of space and forced their opponents into errors, often handling ones, as the away team attempted to force passes that were not on in an effort to get the ball into space and attempt to go around Ireland.
This rarely works as the team attempting to spread wide tends to become flat in the face of the defensive line. It was evident the Boks were guilty of doing this after just ten minutes when a pass wide to Cornal Hendricks was played merely for the sake of getting it across the line rather than get it to the winger, having drawn-in the defence, for him to exploit empty space in front of him. South Africa finally did this for JP Pieterson's late try, but at this stage it was too little, too late.
Credit here must also go to Conor Murray at No 9. His decision making and pass from the base was world class, while opposite number Francois Hougaard simply failed to deliver in either of these aspects.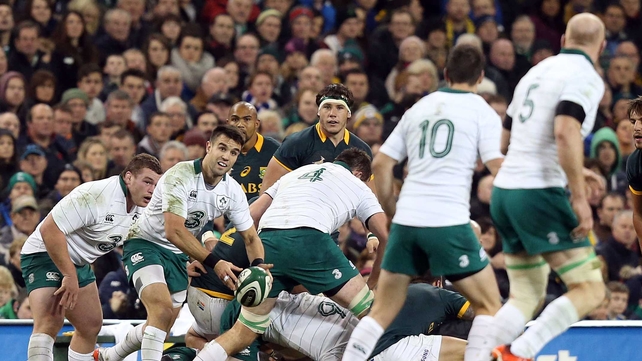 Since the 2013 Lions tour, Murray has done this on a more consistent basis than any scrum-half in Europe. Add in his size in adding ballast around the base, and Ireland have at this moment in time, one of the best nines in the world. Adding more of a snipe around the base would be nice, but with or without this quality, he has become crucial to Ireland's backline success.
Fullback battle won by Kearney
Alongside Murray, another man that delivered one of his better performances in green – or white as it was on Saturday – was Rob Kearney. One, he cut the line with lines of running that we have not seen enough since his being named European Player of the Year in 2012. The pace he showed was like of two years ago, and perhaps more importantly he had the confidence to back himself to make the break.
There was one area that could improve this aspect to his game – offloading in the tackle. He has always been more inclined to go to ground having made a break, but to maximise his danger in open country he needs to look to feed off his shoulder more often and bring the loose forwards or supporting midfield players into the game.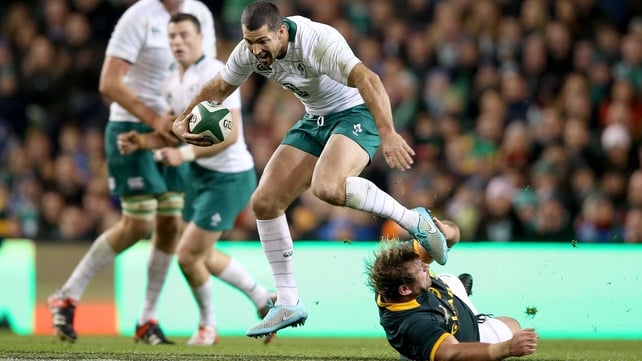 In defence he was the epitome of consistency, fielding high balls with ease. By contrast, Wille le Roux at 15 for South Africa was often caught out of place in defence, none more so than when Robbie Henshaw pinged towards the corner just after half-time.
Le Roux was wide left and allowed the first centre all the space needed to drop the ball into the corner, leaving the Boks fullback scrambling across to clear under pressure from Irish men.
Using possession wisely
Although one would like to see Kearney using men off his shoulder more consistently, the use of possession in general by Ireland must be commended. No side is likely to dominate possession against South Africa given their ability to disrupt in the scrum and line-out and force teams to cough up possession under duress from big hits and big men.
But on Saturday, Ireland used the ball wisely, not panicking but instead taking very clever options. Joe Schmidt was famed for creating a team at Leinster that could outwit and 'out-flair' every other team in Europe. At Ireland he is crafting a team that prides itself on the basics and using grunt to get into positions of danger to the opposition.
The tries were evidence of this. Henshaw kicking for the corner in the first instance, before using a simple peel off the maul by Rhys Ruddock when the Boks seemed to expect Ireland to spread to the midfield.

For the second try, a solid scrum, one phase, followed by a chip to the corner is Munster-like in its tactic.

However, with Georgia to come on Sunday, and Australia in two weeks, one might feel now that Schmidt's Ireland has set a platform of stability, which the head coach will continue to mould. We may also now begin to see the master tactician at the heart of this side begin to instruct his side to add more flair to what has become a platform of ruthless efficiency.