Jared Payne could miss Ireland's autumn Test against Georgia next weekend after suffering a suspected foot sprain in the 29-15 victory over South Africa.
Debutant Payne forged a gritty defensive centre pairing with Robbie Henshaw as Ireland claimed their fifth consecutive victory on Saturday.
Rhys Ruddock and Tommy Bowe grabbed the tries that undid the hugely-physical but error-strewn Springboks at Aviva Stadium.
Former New Zealand Under-21 star Payne will undergo further tests on Monday after hobbling out of the latter stages of Ireland's first win over South Africa since 2009.
"Just chatting to Jared and the doc, we think he might have sprained his foot," said Ireland boss Joe Schmidt.
"He's had an X-ray that's clear so it's a step in the right direction, not that he's probably taking too many rampant strides at the moment.
"But I'm hopeful that it will be okay, but we won't know until probably Monday evening or Tuesday, because I think there's some scans booked for Monday, just to get a better picture on that foot."
Schmidt refused to consider 79-cap veteran Gordon D'Arcy despite the Leinster stalwart recovering from calf trouble in midweek.
D'Arcy's absence, coupled with Brian O'Driscoll's retirement, meant Ireland switched from 212 combined midfield caps at the end of the Six Nations to a paltry total of three against the Springboks.
Connacht's 21-year-old battering ram Henshaw slotted into the inside centre berth to face South Africa skipper Jean de Villiers, conceding 99 caps in the process.
Former Leinster coach Schmidt believes his new centre pairing proved their Test class against one of the most formidable international outfits.
"They did well. I think all week we knew it was a tough ask, and we talked about it on Thursday, and I know it's been a topic of discussion," said Schmidt.
"And I know in the end people will make their own minds up.
"We'll review the game, but coming cold in reflection I thought they both did incredibly well, there was some really physical defence from both players.
"Robbie gave us a real gain-line threat, and played intelligently.
"Jared ran a great support line of Rob Kearney at one point and was very quick to get onto that.
"That's the sort of intelligence you want in your backline, because we are very used to having the very best of intelligence in our midfield.
"The two of them combined did a really good job for us."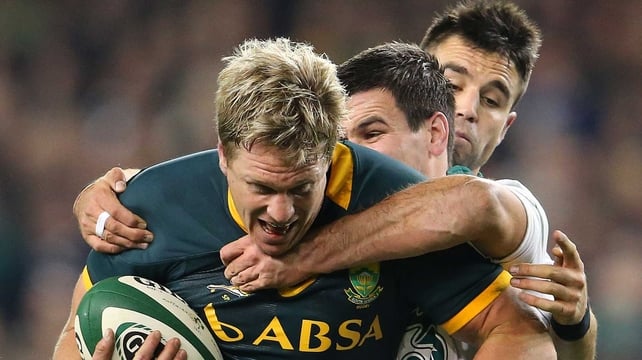 Marcell Coetzee capped a driven maul with a try for the Springboks in the second half before JP Pietersen claimed a consolation score at the death.
Replacement hooker Adriaan Strauss' yellow card for upending the airborne Rob Kearney proved the turning point, with Ireland exploiting their extra man for Bowe's try.
Frustrated South Africa captain De Villiers slammed his side for a string of elementary errors when in try-scoring positions that led to the defeat.
Only last month the Springboks edged out world champions New Zealand 27-25 in Johannesburg, inflicting the All Blacks' second defeat since 2011.
De Villiers lamented his side's "step back" and called for immediate refocus ahead of next weekend's clash with England at Twickenham.
"We lacked basic, grade-one rugby: catching and passing," he said.
"It's not that we played badly, it's just that we couldn't catch and pass.
"You've got to give credit to Ireland for the way they played.
"They were well-prepared, but for us it is a step back and we've got to work hard for next week.
"We as players need to take responsibility for this performance because it wasn't good enough for the Springbok jersey.
"That was way below the standard we set for ourselves.
"But I want to reiterate, Ireland played really well.
"We'll be hard on each other for a couple of days."