New Zealand plan to run the legs off Argentina with their high-tempo game in the Rugby Championship in Hamilton on Saturday and do not want to be dragged into an "arm wrestle" with the Pumas physical forwards, said All Blacks captain Richie McCaw.
The world champions are well aware of the challenge the South Americans pose after it took them more than 60 minutes to pull away in their clash in Wellington last year.
Santiago Phelan's side were hammered 73-13 by South Africa in the first match of this year's Championship but went down just 22-17 in Mendoza two weeks ago.
"Any time you play Argentina, if you hold the ball for a long time and put ball into space and get your decisions right it's hard for teams to defend for long periods, so that's certainly what we're after," McCaw told reporters in Hamilton on Friday.
"If you allow it to be a stop-start affair and go set piece to set piece it becomes an arm wrestle."
"If you allow it to be a stop-start affair and go set piece to set piece it becomes an arm wrestle.
"Traditionally, that's probably the way Argentina have enjoyed getting stuck in, so we've got to make sure we don't allow that to happen."
McCaw said the Pumas had enjoyed some success against the Springboks in the second game by breaking up the play.
"That's probably where they got a bit of reward in Argentina against South Africa," he added.
"They managed to disrupt the breakdown ball and also to slow the game down in that regard, not let the Springboks get flow on."
The All Blacks will be looking to fly-half Daniel Carter (below) to ensure their attacks flow after the world's leading points scorer returned to the side from a calf injury.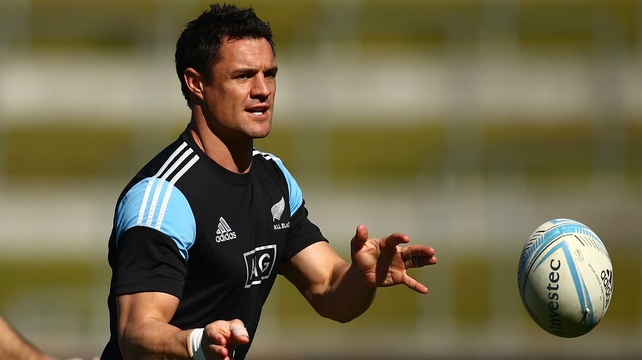 The experience of Carter, who is playing his 96th test, and centre Conrad Smith (72nd) should ease the debut of inside centre Francis Saili, who is the 17th player to be given a test debut by All Blacks coach Steve Hansen since he took over from Graham Henry following the World Cup win in 2011.
"You've got a couple of old heads just keeping him calm and he's getting them excited," Hansen said earlier this week of Saili's debut after they chose to give Ma'a Nonu's injured ankle more time to heal before they face the Springboks next week.
"He's not the finished product, and nor is anyone having their first Test, so he's no different from anyone else," he added.
"We think he's going to be a very, very special player and it's the beginning of something we could see a lot of.
"You can tell he's pretty excited and we've just got to keep him calm till Saturday, then let him rip."
Saili is a renowned line breaker at Super Rugby level with soft hands and good distribution skills, though is prone to try too much at times.
He has been given a simple brief -- run fast, straight and hard at the Pumas centres Marcelo Bosch and Santiago Fernandez.
"I've just got to take it as it comes and embrace it pretty much, not over-complicate things," Saili said after he was named in the team on Thursday.
"I know it's the biggest game of my life so I just have to embrace it."