by Bernard Jackman
The IRFU announcement that Declan Kidney will not have his contract renewed does not really come as a surprise.
The win ratio during his tenure was low and getting lower, with results declining over time - he finishes with a winning rate of 51% in Tests, and 42% against other Tier One sides. His predecessor Eddie O'Sullivan had a winning rate of 64%.
A strong Six Nations was always going to be hugely important in deciding whether his contract would be renewed. Losing to England at home and Scotland and Italy away meant he was under immense pressure.
It must be said that Kidney was desperately unlucky with the injury list in the tournament just gone. But overall, it is the fact that we never really built on the success of 2009 that has cost him in the end.
With Declan and all the coaching staff out of contract, and given the fact the we are mid-Rugby World Cup cycle, if the IRFU felt that a change was needed then this was the time to do it. The timing works in that they will not have to pay off contracts and can make a clean break.
Personally, I have to say I have huge time for Declan Kidney and he is one of the most thoughtful and decent men I worked under in rugby.
Kidney: Big picture thinker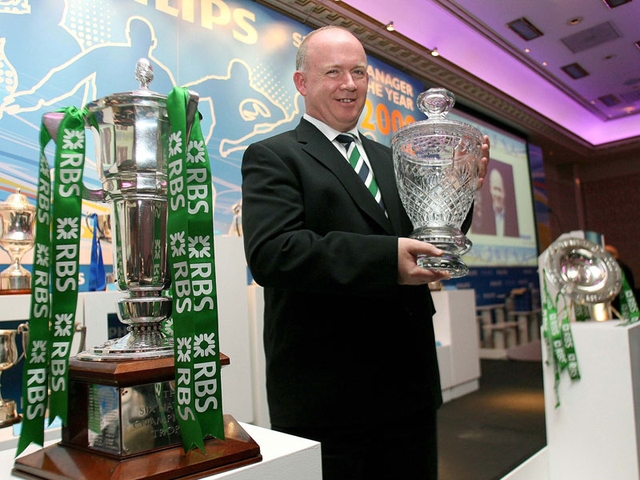 He always thinks of the person and the bigger picture, not just of the rugby player. After the Grand Slam in 2009, he made sure that I, along with other players who had travelled as cover for matches in that tournament, received a Six Nations medal for our efforts. A small but much appreciated gesture.
He is a humble man and I also remember the way he deflected the spotlight from himself in 2009, giving thanks to all the juvenile coaches that had worked with his players. He himself was one of those coaches, having worked at underage in Pres Cork before starting with Dolphin.
His greatest strength is his ability to create a happy dynamic in the squad and since he took over in 2008 there have been very little or no rumours of player unrest. That is worth taking note of given that results were not always at the level expected.
At Munster, he built his reputation on the Heineken Cup and along with two wins, he coached teams that were involved in some of the greatest matches in the history of the competition.
I hope this isn't the last we see of him in Irish rugby. He has a huge amount to offer whether it's in pro coaching, administration, elite player development or even coach mentoring.
"He is a humble man and I also remember the way he deflected the spotlight from himself in 2009"
Looking forward, the IRFU have appointed Les Kiss as interim head coach for the summer tour to the USA and Canada, with Gert Smal and Anthony Foley set to assist him. Given it coincides with the Lions Tour, it will be a relatively low-key affair and should not be too arduous.
Ireland's next game after that won't be until November, which means the IRFU have lots of time to carry out a thorough recruitment process.
Finding the right man is crucial.
The people responsible for the selection process are Tom Grace, Pat Whelan, Martin O'Sullivan, Philip Browne and Eddie Wigglesworth, the members of National Team Review Group (NTRG).
All are very experienced committee members and administrators and will tap into that experience and their vast list of contacts in the game to help make their decision.
Despite the fact that Ireland have slipped to 9th in the IRB world rankings, the job is very attractive for any coach that has ambitions to work at international level, not least because the IRFU invest heavily in the national team and no expense is spared to try and achieve success.
The Irish provincial teams can compete with any in Europe and the vast majority of our top players are under contract to the Union, which means that it's much easier to organise training camps and player management programs.
The current favourite with the bookies is the Australian Ewan McKenzie, who has announced that he would not be staying with the Queensland Reds after the current Super Rugby season as he wants to coach an international team.
McKenzie's Reds: 2011 Super Rugby winners
The Reds won the Super Rugby title two seasons ago and have played an exciting brand of rugby on McKenzie's watch.
Fabrice Landreau, my boss here in Grenoble, worked as his assistant at Stade Francais in 2008 and speaks very highly of him. The Australian players we have here, three of whom played under McKenzie, do as well.
The Lions series could be the crucial factor in deciding where he will end up. I would imagine that McKenzie has his eyes on the Australian job and if the Lions win the Test series this summer, Robbie Deans may well be sacked. If that happens, McKenzie will be the obvious replacement.
But if the Australians win and Deans survives, McKenzie could be on his way to Ireland. On the other hand, if McKenzie gets the Australian job, could Deans then become a candidate for Ireland?
There are plenty of other contenders.
Conor O'Shea and Mark McCall are the two indigenous coaches being mentioned while Joe Schmidt and Vern Cotter are also in the conversation. All four of those are under contract for at least one more season with their clubs and that could complicate things.
Mike Ruddock also deserves to be considered a candidate as he already works for the IRFU as the Ireland Under-20s coach and was a Grand Slam winning coach with Wales in 2005.
There will be lots of debate and speculation over the coming weeks and months as to who it should be. For now, I think that the group appointed will find the right man for the job.
If pushed, my money would be on McKenzie to get it in the end, though not at the odds of 1/2 at which he is currently trading with the bookies.