Hugo Keenan has admitted that nerves got to him in the week before Ireland's World Cup win over South Africa.
The fixture was made almost three years ago and by the time it came around it matched up the top two teams in the world; number one ranked Ireland against the defending champions.
While neither team could have been knocked out, the hype built steadily coming up to kick-off.
Between Rassie Erasmus's 7:1 bench split gamble and taking to the field without a recognised Test-match goal-kicker, and Ireland's 15-game winning run on the line, it lived up to its billing as a blockbuster, and turned into a ferocious contest that was as compelling as it was thrilling.
RTÉ's audience peaked at 1.4million as the game entered its edge-of-the-seat finale.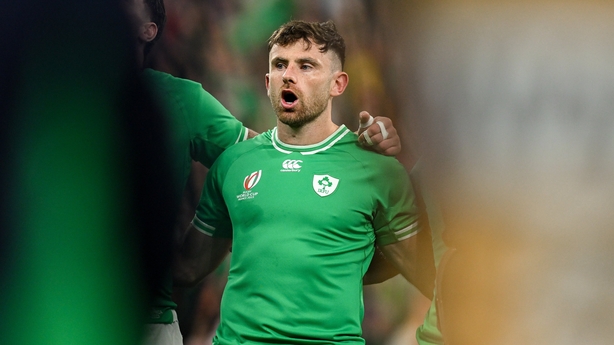 Asked how big it felt, the Leinster full-back said after the game: "Probably the biggest wasn't it? It's been in the pipeline. God, I was nervous this week, I met my girlfriend briefly this morning and she thought I looked sick.
"I felt good once I got out there, it's a pressure environment.
"Stade de France hasn't been kind to us in the past, there's a pressure lurking that we were keen, personally and as a team, from that loss to France two years ago and learn from that.
"Jeez, that support was incredible. The Irish crowd are amazing, the numbers, the amount of people who made the effort to get over here and support us - it made some difference."
An original estimate of the expected Irish crowd came in at around 30,000 but the travelling Springboks supporters were vastly outnumbered among the 78,542 that eventually filled the St-Denis venue.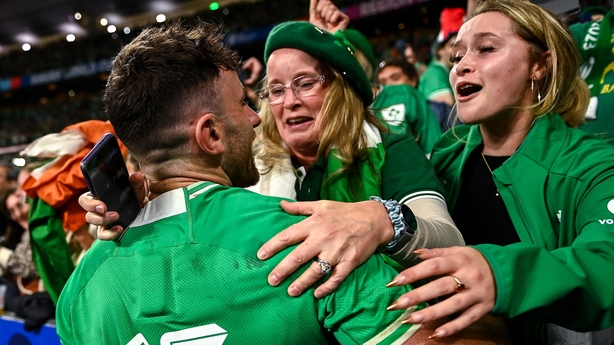 "You need to harness it at the right times and I think the forwards did," said the 27-year-old of the incredible noise made by the Irish fans.
"I'm sure South Africa felt under the cosh at times when the 60-odd-thousand Irish fans are cheering for us, it does make a difference.
"There's times you have to ignore it during play and just do your job, but you also have to embrace it and make the most of it.
"The walkaround after the game was incredibly special, I saw some familiar faces which makes it extra cool."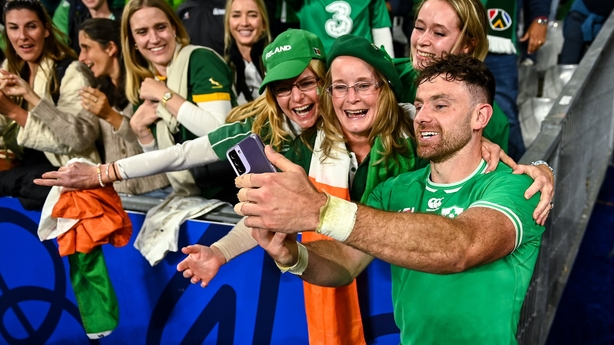 There were never more than four points between the teams until Jack Crowley's penalty in the 77th minute put Ireland 13-8 up.
Keenan laughed when he was asked if there came a point that he believed they had the result in the bag.
"No, to be honest," said the Dubliner.
"It was such a tight affair, both teams were making mistakes, both had opportunities and we both didn't take them, it could have gone either way.
"Defensively, we were very good and that was pleasing.
"Lads fronted up, the forwards and the lads off the bench were involved in that. They were brilliant, weren't they?"
Keenan, who has scored 10 tries in his 34 caps almost added another but was stopped short after a 30 yard run in the first half.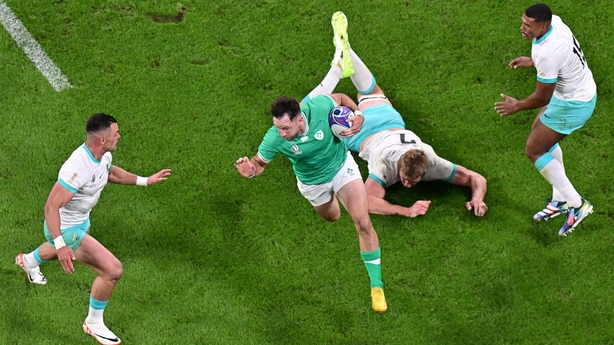 "We left a few tries out there alright, it was annoying I didn't carry three metres further," he added.
"I was too far [to reach out], you have to be careful of the double-movement, be patient and not greedy. They're big moments."
Ireland are back in camp today and Keenan said he was looking forward to enjoying some time off. The squad originally assembled in mid-June to begin World Cup preparations.
"It's nice, got a couple of days off so I'll chill with the girlfriend and catch up with my parents," he said.
"I'll do a night in Paris [on Sunday], then head back towards Tours.
"It's a nice thing to have, a little escape, nice to get a bit of recovery in but we'll definitely be looking at the game, reviewing it and getting the body ready for training this week. [We] Won't be completely switching off."
Listen to the RTÉ Rugby podcast on Apple Podcasts, Spotify or wherever you get your podcasts.
We need your consent to load this YouTube contentWe use YouTube to manage extra content that can set cookies on your device and collect data about your activity. Please review their details and accept them to load the content.Manage Preferences
Watch live coverage of Japan v Samoa (28 September), Argentina v Chile and Fiji v Georgia (30 September) and South Africa v Tonga (1 October) on RTÉ2 and RTÉ Player.