It wasn't long after the final whistle that a WhatsApp message arrived.
There was Eben Etzebeth's giant frame held aloft in the loving arms of James Lowe, the duo's faced transposed onto the bodies of Johnny and Baby from the 1987 hit movie Dirty Dancing.
The giant African lock was certainly not having the time of his life.
Nobody puts Eben in the air and holds him there.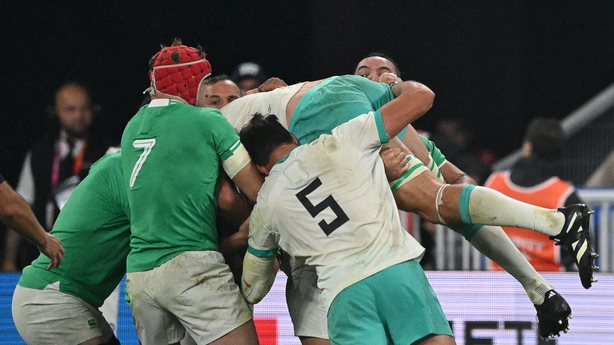 So while the meme battle was won by Lowe's tackle (above), and Rónan Kelleher's early big hit on Damian Willemse was also a highlight, the war was won on the ground.
How do you counter a team with such defensive speed, bulk and ferocity? Never mind Lowe, go low.
Ireland lost the dominant tackle count on a score of 30 to seven but they had defenders waiting in the short grass at Stade de France.
They made 120 tackles in total, missing 23 for a 84% success. They turned over Jacques Nienaber's side nine times.
In recognition of South Africa's superior strength, it appears to have been a deliberate tactic - all players weigh the same lying on the ground.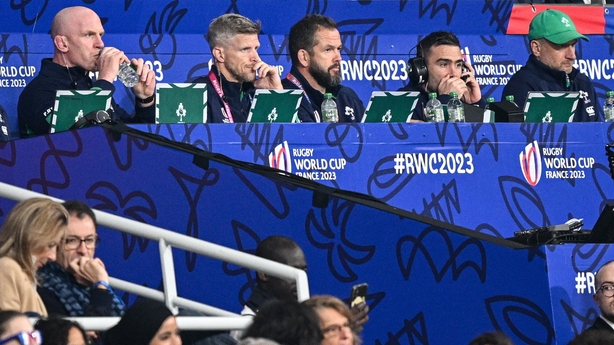 It's hard to recall Simon Easterby missing a tackle during his playing days and a huge amount of credit should go to the defence coach.
The low tackle, some simple chops, played a huge part in the winning of that game. Many of them were as part of a double hit, ranging from hip to knee to ankle, time and again, the early low hit immediately stopped the ball-carrier.
There were 20 of these tackles in the first half and 21 in the second and they led to multiple knock-ons, turnovers, and penalty concessions.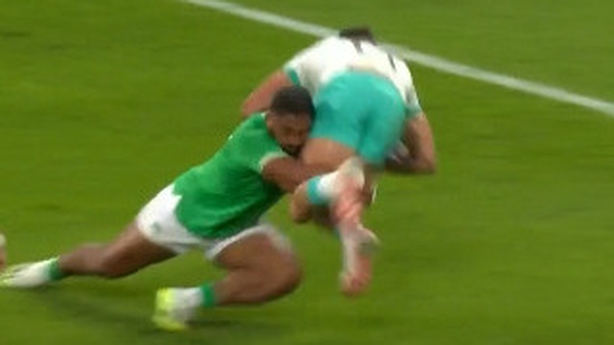 In the first half Bundee Aki made a text-book tackle to deny Jesse Kriel on the line (above), halting the centre's progress at the point of contact. In that instance trying to win a dominant tackle would more often than not allow the attacker to power over.
Immediately prior to that Damian de Allende had bashed past Johnny Sexton and only Robbie Henshaw's low tackle on Pieter-Steph du Toit, as part of a double-hit, stopped a certain try.
When Ireland cleared after Caelan Doris snapped up Siya Kolisi's knock-on off the Aki tackle, the ball was turned over when James Ryan and Tadhg Beirne both went low on the Springboks captain and the combination forced a fumble.
Five of six tackles credited to a possessed Finlay Bealham, in a 16-minute run-out, were around the ankles or as good as.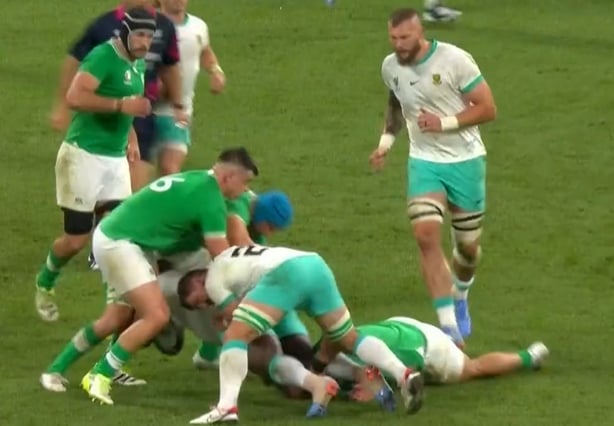 One, in the 73rd minute, on Trevor Nyakane (below), brought the prop to ground so quickly that his landing position made it difficult for the support to secure the ruck.
There was only a tiny window but it allowed Doris to counter-ruck, the sloppy presentation led to RG Snyman knocking on and Beirne was smart enough to boot it downfield.
The chase was on and Josh van der Flier's waist to knee capture of Kriel (below) led to another turnover. Moments later Jack Crowley kicked Ireland five clear, forcing the champions to go looking for a try to draw or win the game.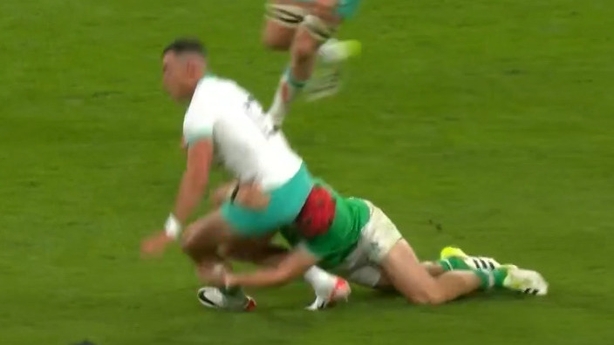 Ireland came into the match with the quickest ruck speed in the tournament but South Africa were better in that department in Paris.
Their average ruck speed was 4.08 seconds to Ireland's 4.83. However, the well-laid out plan may have ceded an advantage there but once the defenders were in sync, it paid off. Ireland turned the ball over nine times to South Africa's three.
Save for a couple of low tackle attempts that were missed, the success rate was huge.
While the low tackle generally allows the ball-carrier to place the ball back securely, Ireland's tight defensive line and having everyone on the same page worked out.
Ireland's disciplinary record has been unmatched over the last two years and it's another benefit of going low, reducing, as it inherently does, the chances of a late dip by the ball-carrier leading to head contact.
There's a bit of irony in Ireland's embrace of this tackle technique and World Rugby's largely fruitless attempt to get teams to go low. The benefits are clear to see and that it's is not being embraced by more coaches is baffling.
It may not be as spectacular as sweeping Eben Etzebeth off his feet but it sure is effective.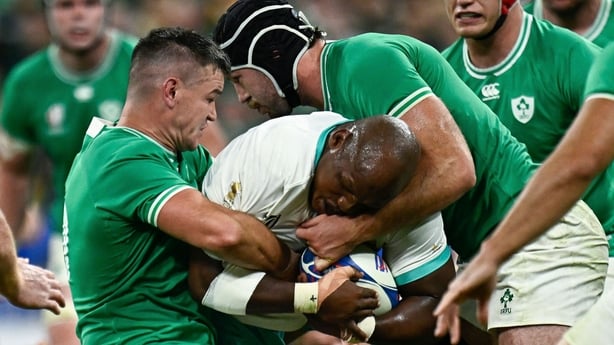 Meanwhile, special mention for Sexton.
Goal-kicker, game-manager and also maker of 11 successful tackles, just two short of Doris' 13 in the charts.
"He's just a beast. I love the guy. He's a role model, I look up to him so much," Ryan Baird told RTÉ Sport when asked about his captain's defence on the night.
"That just shows his mentality. Whatever he has to do to win, he'll do. Simple as."