Iain Henderson says he was like a kid on his first day at school returning to Ulster training this week.
The towering lock admits he was desperate to get back to the province after an intensely challenging couple of months in Ireland camp.
The Rugby World Cup, it's fair to say, did not go to plan.
Henderson doesn't shy way from the fact that the exertions in Japan fell well short of where the team, and supporters, hoped and expected Ireland to be. The 46-14 quarter-final hammering to New Zealand was a chastening end to a tough experience.
Now, he's back with Ulster, and having been named the captain back in July - taking over from Rory Best - he's straining at the leash to finally lead the side out. He may well do so at Thomond Park this Saturday evening in the Guinness Pro14 derby.
"Things didn't go our way (at the World Cup)," Henderson told RTÉ Sport's Damien O'Meara at the launch of the Heineken Champions Cup.
"We're delighted to get back home, it was a long time away for everyone from their families. That was the only up side to going out early - getting home and back to normality. Things have been good since. I'm looking forward to getting back into the white jersey.
"I was over the moon (to get the captaincy). It's a massive privilege. Ulster is the team I grew up watching from no age whatsoever. To be asked, be given the honour, of being captain was massive."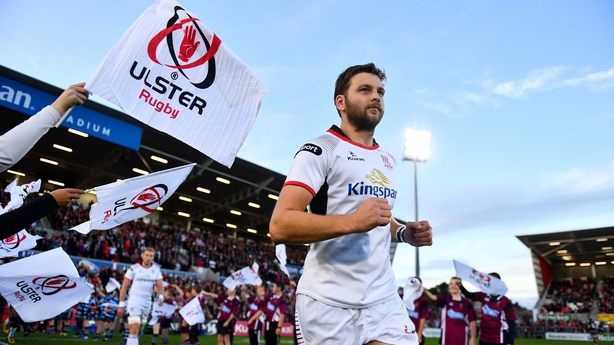 Henderson is keen to move on from the huge disappointment of the autumn, welcoming "the distraction of provincial rugby".
"Everyone will reflect to a certain extent on what happened, but I think it's well put to bed for me now," he adds.
"It's something that's incredibly frustrating, one of those things that everyone will deal with differently. You can't expect one person to deal with it exactly the same as another.
"We'll welcome the distraction of provincial rugby around Ireland to get us back into the swing of things. It gives players the opportunity to not only play rugby again but to start performing again.
JOHNNY SEXTON'S WORLD CUP REVIEW
"Obviously... the fans share our upset as well. It's not something they wanted to happen and it's not something we wanted to happen. I think there's a bit of a mutual understanding between everyone there. There were things we did well, but not the things that matter."
Henderson is still just 27 and, barring injury, should be key to Ireland's hopes in the 2023 World Cup in France. With Joe Schmidt now gone as head coach, a new era is upon us.
Still, Henderson refuses to get look too far down the road.
"It'd be ridiculous to rule out the Six Nations between now and (the next World Cup), and all the Autumn Internationals and all the important summer tours that you have to challenge yourself against the southern hemisphere teams.
"It was incredibly frustrating and extremely disappointing. It wasn't to be this time.
"It is a process. We can't start working towards something so far away now. Everything changes."