Ireland Inc. may be under new management but Johnny Sexton is sticking with the old company line.
For the last few years, under now departed head coach Joe Schmidt, Ireland have operated in a "bubble".
Media criticism never got through, he maintained, water off a duck's back.
So even when Schmidt arrived back in Dublin airport last month he thoroughly rejected the notion that something went badly wrong in Japan.
He went into list mode – that zone where the detail-driven Kiwi goes to counter criticism, drilling into the minute detail of a play or a pass to counter the assertion that his game plan was dated.
It was always the small things that went wrong. He threw out Keith Earls' support line prior to New Zealand's third try as an example of the tiny margins.
But with Schmidt, the small things have always been the big thing. They all went right in 2018, all wrong in 2019.
Now, more than ever, the media consists of former players, men who have battled for Schmidt in the trenches, who reeled off the same lines when they were on duty.
So when Brian O'Driscoll says Schmidt "failed to evolve the team when he needed to", "we ran out of ideas", and that some of the players are in "the winter of their career and it creates a nervousness, Conor Murray, Johnny Sexton, Peter O'Mahony's body looked pretty beaten up", it carries weight.
Isa Nacewa says Ireland became too conservative.
Gordon D'Arcy reckons that the bubble mentality is so consuming as to make players feel like they can't speak their mind. He wants the IRFU to do an anonymous review to get to the bottom of why "psychologically something went awry".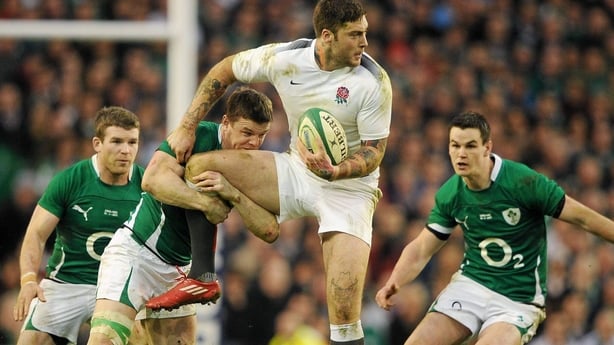 The list goes on. Stephen Ferris after the Russia game: "Mentally they are a little fragile."
Alan Quinlan after Japan: "A lot of psychological damage." Keith Wood: "We looked jaded."
Donal Lenihan: "You have to evolve and it's clear that Ireland haven't."
Even the international outsiders chipped in. "Predictable," said Justin Marshall, who had forecast that New Zealand would, "put some points on them and win quite comfortably."
But speaking at the Heineken Champions Cup launch today, Sexton gave one of his first post-World Cup interviews, still clearly hurting from the trauma without wanting to acknowledge (publicly anyway) a wider malaise in a year that brought five defeats, each one seemingly worse than the last.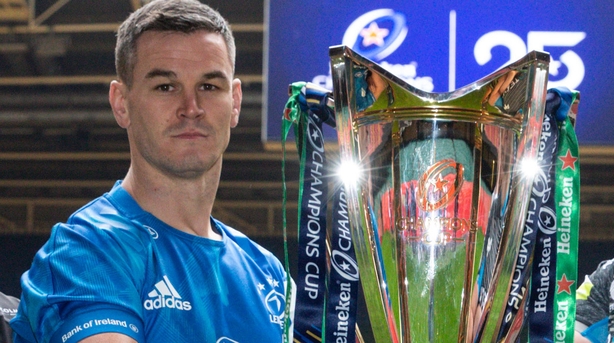 The 34-year-old has said it before and knows the line is wearing thin.
"You probably think this is what we are told to say or regurgitating out, it's not," he told RTÉ Sport's Damien O'Meara.
"It's what I believe to be true. We just didn't do the basic things well enough at key moments.
"We thought there was that big game in us and then we were hoping that we were going to have to try and live up to the expectations of the New Zealand game the following week, that wasn't to be.
"We just didn't do the basic things well enough, we made some schoolboy errors.
"I think it was clear the effort was there and it's just the key moments where we didn't execute against New Zealand will hurt for a long time. During the week [in training] we were sticking them [passes].
"It is small margins. A key example for that would be against Samoa I kicked a penalty right into the five-metre line, we scored off a maul. Against New Zealand we're 10-0 down and I go for it and I kick a perfect kick and an unbelievable piece of skill by them keeps it out, a turning point in the game.
"We can take some solace in the way we prepared, it couldn't have been better but that hurts as well."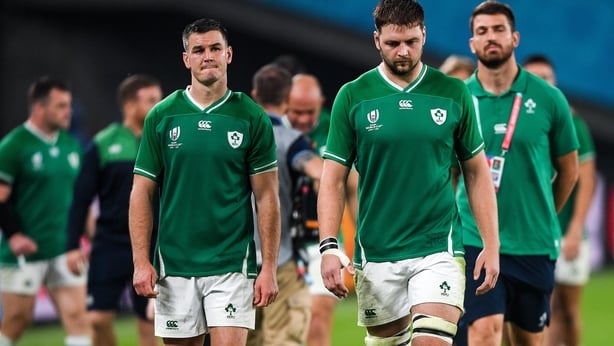 Those points are all valid, of course, but they are superficial, symptoms of an illness. Finding out why those things happened is the key. Even in wins over Italy in the Six Nations and Russia in the World Cup, it was becoming clear that all was not well.
A World Cup quarter-final had been on Sexton's mind for quite a while. He missed both the 2011 (Wales) and 2015 (Argentina) games.
Off the cuff, he hints that he intends to hang around until 2023.
"It will take four years [to get over it]," he says, not pretending for a moment that a Pro14 or Champions Cup win will ease the pain.
"Nothing will make up [for it]. You've got one chance at it. I missed that last two quarter-finals with not being picked and one injury.
"Personally I felt I was building into it. I felt I was playing quite well. I thought this is a big moment for me and the team and it just didn't happen the way we wanted it to.
"It's going to hurt, you can't get away from that and bouncing back against Treviso is not going to make up for it, bouncing back against Lyon is not going to make up for it, against Connacht.
"The next time we get to put on an Ireland jersey will be when we get to put a little bit of pride back in the jersey."
We need your consent to load this rte-player contentWe use rte-player to manage extra content that can set cookies on your device and collect data about your activity. Please review their details and accept them to load the content.Manage Preferences
The next time, of course, comes in the Six Nations clash against Scotland at the start of February.
It may be just 12 weeks away but you get the sense that for someone of Sexton's disposition, it's going to feel a lot longer.
"I mull over things more than I should so this has been no different," says Sexton, who has 94 Ireland caps.
"You go back and look at day one of pre-season; you look at what I could have done better, if anything and I've sort of gone through that for the last couple of weeks. The sooner I can play a match the better really just to get something else in my mind. It's hard.
"It's something that we worked incredibly hard for and we thought after we had the setback against England [In Twickenham] that we could bounce back, which we did for four or five games and then we had the Japan game and that sort of put us in the draw with New Zealand.
"We knew if we didn't get things right on the day that we'd lose and we didn't get things right. We prepared unbelievably well. I don't think we've ever prepared for a game like we did that week."
Perhaps it's just that Sexton is incredibly loyal to a group of players and friends that he has soldiered with over the last 10 years, applying that same famed single-mindedness that works on the field to the defence of the bubble.
However, the bubble encourages group-think and a new approach is vital under Andy Farrell.
If the Ireland review concludes that the team needs to keep doing the same thing and hoping that one day it comes off then it will go down as a missed opportunity and we'll be back here in four years' time scratching our heads.
"There are people that won't feel sorry for us at all," adds Sexton, whose Leinster team face Lyon, Northampton Saints and Benetton Rugby in Europe.
"They'll think that we let people down and they have a right to their opinion."
Surely some of the experienced ex-players and managers who came out with such strong views on what went wrong might be on to something. They can't all be wrong.