Munster coach Johann van Graan has paid tribute to Joe Schmidt despite the Kiwi's tenure as Ireland coach ending in ignominy in Tokyo on Sunday.
Schmidt's native New Zealand outclassed Ireland 46-14 in their Rugby World Cup quarter-final at Ajinomoto Stadium as an Ireland side on a downward trajectory plummeted to a new, if not unexpected nadir.
Ahead of his province's home clash with Ospreys on Friday in the Guinness Pro14, Van Graan took the opportunity to salute the man who for so long looked placed to orchestrate a first-ever knockout win for Ireland at the World Cup.
"It's obviously disappointing when you finish up and you know that's your last game, and you end it with a loss," said the South African.
"It doesn't matter at what stage of the competition - some teams didn't get out of their pool, some teams lose in the quarter-finals, some teams lose in the semi-final and some teams lose in the final.
"Joe's been fantastic towards myself, to Munster and to Irish rugby.
"He's a brilliant coach and he drives such high standards. I'm sure he's disappointed, but we wish him well and he's had a massive influence on Irish rugby."
The Munster boss opined that the added time the Springboks and the All Blacks had ahead of their quarter-finals afforded them a significant advantage, with South Africa having wrapped up their pool matches on 8 October and New Zealand enjoying an even longer break ahead of their quarter-final due to the weather-enforced cancellation of their intended clash against Italy.
France and England also benefited from the cancellation of their pool decider.

"The extra week that some teams had made a big difference," the 39-year-old insisted.
"South Africa finished their campaign pretty early, so they had a decent break.
"You could see that the French were pretty fresh, leading in their quarter-final, the All Blacks certainly were very fresh and the English were very fresh.
"If you just look at it from that point of view, the extra week in that schedule makes a lot of difference.
"Also, if you look at the history of the tournament, the tournament hasn't been won by a team that has lost a pool game.
"Currently, three of the four teams still in the World Cup haven't lost a game."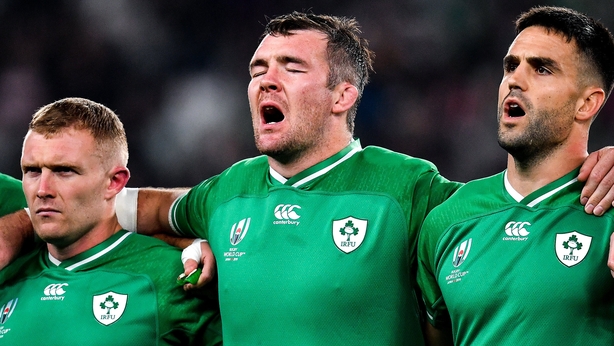 A dejected Ireland squad touch down on home soil on Tuesday.
Revealing how he will reintegrate the 12-strong Munster contingent to his squad, Van Graan said: "We'll assess them as they come back and take it on an individual basis.
"Certain guys have played quite a few minutes at the World Cup and a few guys have only played one game, so we'll just take it on an individual basis.
"From a Munster point of view, I've been in touch with them throughout the World Cup, wishing them well, and they'll be back in a few days time and we'll take it day by day.
"The game where they will become available is the Ulster game at home (9 November) and we'll look to play as many of them as possible, starting them or from the bench, because the next week it's the Ospreys in Europe (16 November) and then Racing at home (23 November).
"For continuity, it's going to be a challenge, but it's just one of those things that we've got to adapt to as quickly as we can and make the best use of the limited time that we have.
"We've got 12 brilliant individuals coming back to Munster and they love being at Munster.
"We'll definitely support them, both mentally and physically, and make sure that when they're ready to play we'll put them back on the field."
Follow the Rugby World Cup semi-finals this weekend via our live blogs on RTE.ie/Sport and the News Now app, or watch live on RTÉ2.