Stephen Ferris argues that none of Ireland's pool displays would be good enough to win a prospective quarter-final against either New Zealand or South Africa.
Ireland's 47-5 win over Samoa in Fukuoka this morning secured their place in the World Cup quarter-final but they aren't clear yet on the identity of their opponents. 
If the Japan-Scotland game is cancelled, as has been threatened by the arrival of Super Typhoon Hagibis in the Tokyo-Yokohama area, then Ireland will meet defending champions New Zealand in the last eight next Saturday. 
If the game goes ahead and Scotland beat the hosts then Ireland will top the pool and play South Africa the following day. 
Either way, former Irish back row Ferris contends that none of Ireland's performances in the competition to date would sufficient to reach the semi-final.
"If we play like we did in any of the pool games, we're not going to win," Ferris said on RTÉ's post-match analysis.
'If we play like we did in any of the pool games, we aren't going to win but I think they have more in the tank' - The panel look ahead to quarter-final #IREvSAM pic.twitter.com/M9z4mcuHig

— RTÉ Rugby (@RTErugby) October 12, 2019
"But I do believe this Irish team has a little bit more in the tank. And I do feel they're capable of a one-off performance. 
"Are they capable of three? Quarter-final, semi-final, final? Johnny Sexton to probably play 70-80 minutes in all three of games. I don't believe they are. But if Ireland are to make a World Cup semi-final, the lads would come home absolute heroes. So, everything on the line next week."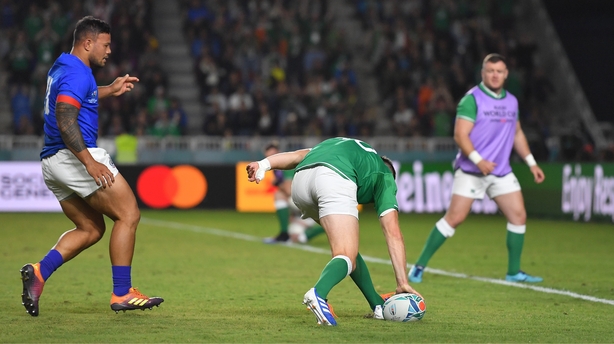 Eddie O'Sullivan was somewhat alarmed by the period in the second half when Ireland were camped on the Samoan try line and took an inordinately long time to add a score.
"I'd like to have seen us pull the trigger on a few times. We seem to go wide when we've got the advantage in the bag rather than going wide to make something happen.
"That 17 minute period was frustrating. We were dominant, we were on the goal-line, we were pounding away. The Samoans kept tackling. That's probably not going to be good enough against anyone we meet in a quarter-final. 
If we go up against New Zealand with this attritional game... a lot has to go right for us
"When we meet a better team in the semi-final and we need a score at some point in the second half, can we go into this trench warfare to win the game? I don't know if that's going to be a solution."
Jamie Heaslip anticipated an enormous battle in the quarter-final but acknowledged "a lot has to go right for Ireland" to win, particularly if New Zealand are the opposition. 
"The players are there to win it. There's a lot has to go right. If we play New Zealand for example, they're the number one attacking side across all the major attacking stats. Granted, we're the number one defensive side. That's going to a big battle.
"But if we go up against New Zealand with this attritional game... a lot has to go right for us."