Joe Schmidt says Bundee Aki's sending off is "hard to argue" with as he prepares a team for a World Cup quarter-final clash with New Zealand or South Africa.
The Ireland centre was red-carded in the 29th minute of the win over 47-5 win over Samoa for a high tackle on out-half Ulupano Seuteni, who had to be replaced by Tusi Pisi.
It is now likely that Aki, whose parents are both Samoan, will miss the rest of the World Cup.
"We are happy with the result and a number of things about the performance but we are disappointed we didn't manage to finish the game with 15 players," the head coach told World Rugby.
"We'll look at that and try to come up with what we believe is some reasoning behind that.
"I'll have to review it and have a really close look. I rate [referee] Nic Berry, I think he's a very good referee.
"The TMO, Rowan Kitt, is a very good operator so it's hard to argue with at the moment but it's pretty devastating for Bundee.
"He knows a lot of the Samoan players very well, they've got a lot of respect for him. For us it's a really disappointing finish to the night."
'There were elements of the performance that we're delighted with' - @irishrugby boss Joe Schmidt on #IREvSAM 'Hopeful' that Aki can play next week #RWC2019 #rterugby pic.twitter.com/06UegO6wmL

— RTÉ Sport (@RTEsport) October 12, 2019
Speaking to RTÉ Sport, Schmidt added: "I'm not really able to comment about it
"For him we'll try to have a good look at it and see what we can do and hopefully he'll be able to play again next week. It's not a case of appealing it.
"We'll now have a judicial hearing and at that hearing we will find out what they determine the sanction should be, whether a red card is deemed sufficient, particularly in the context of what's gone on in the tournament so far."
On field, Berry said: "We've got direct contact to the head so we do have foul play. There is a high degree of danger in that and for me I'm not seeing enough of a dip from the ball-carrier to mitigate it down. That being the case, red card."
He told Aki: "You've got direct to the head with a high degree of force. There's not enough of a mitigating factor there to bring it down to anything but a red."
The USA's Cork-born forward John Quill was sent off against England and received a six-week ban, which was reduced to three weeks. He was cited for a "shoulder charge"
However, Samoa's Rey Lee-Lo was banned for three games after his citing against Russia. In their ruling, World Rugby said: "The committee deemed that the incident was an act of foul play and warranted a red card in line with the high tackle sanction framework.
"There was an act of foul play (which was reckless, rather than deliberate), the act of foul play was a high tackle, there was contact with the head, there was a high degree of danger.
"The ball carrier changed height, but not sufficient to mitigate from a red card to a yellow card."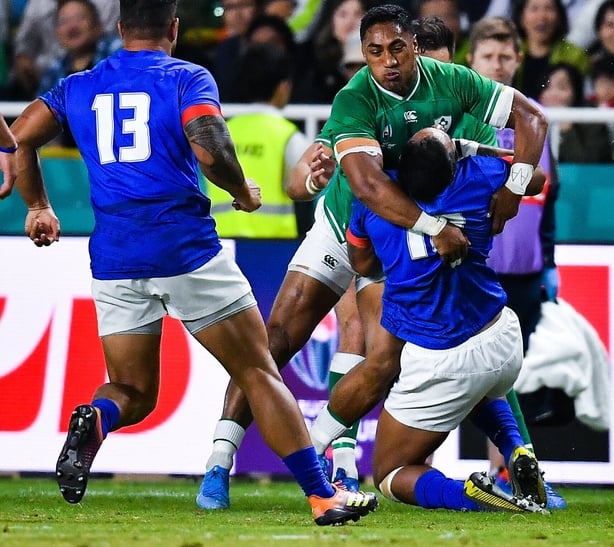 Samoa coach Steve Jackson said he hoped that the card is over-turned.
"We will do everything we can to make sure he gets on the field next week," said Jackson, a sentiment echoed by captain Jack Lam.
Speaking about the response to the sending off, only Ireland's fourth ever and first in a World Cup, captain Rory Best said: "We had to leave some defensive rucks alone, make sure we had players on feet.
"We've overcome red cards before, it's never ideal but I think it shows a lot of character about a squad, when you go down a man and how you adapt to that.
"Ultimately there was no panic and we continued to attack them."