Everyone was on message.
"Job done", "We got what we needed", "job done," said Dave Kilcoyne, Rhys Ruddock and Johnny Sexton in the aftermath of the bonus-point win over Russia.
It all means that, mathematically, Ireland are on course to qualify for the quarter-finals if they beat Samoa on 12 October in Fukuoka.
What the result says about Ireland's potential to put it up to New Zealand or South Africa is less clear.
Listen to the RTÉ Rugby podcast on Apple Podcasts, Soundcloud, Spotify or wherever you get your podcasts.
"It's very hard to say after a game like that," Sexton said when asked how much would Ireland need to improve to challenge the three-time World Cup winners or the current Rugby Championship title holders.
"After Scotland we thought we were in a brilliant place, after Japan we were pretty low. Today we did a job and we're pleased to get the job done."
What Joe Schmidt's men did today was the equivalent of filling out a form.
Yes, they move on to the next page but they do so without revealing much about their ability to emerge from the quagmire they landed in after Japan.
Did they get "back on the horse" as Sexton had said after the game?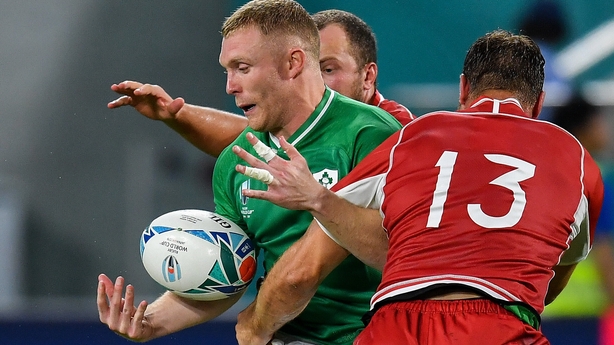 Not really because Russia were never going to provide the sort of opposition that could compare to what is coming down the tracks.
At a scrape they might have got one leg up had they handed the Russians a good whipping but the horse, if you take it that the horse is a decent performance in a World Cup quarter-final, is still cantering, if not galloping away.
Racing against a back number, Ireland hit too many fences in the Kobe Misaka Stadium.
"There seems to be something not allowing the Irish boys to put their foot on the throttle and really open up," said former Munster head coach Rob Penney on RTÉ Radio 1.
"Whether it's a hangover from that English performance [I don't know]. A performance like that can dent you. There's something not quite clicking."
Ireland missed 11 tackles, conceded six penalties and they lost the ball 23 times. This against a side ranked 18 places below them.
"You can't escape the fact that if it was New Zealand or South Africa that was out there tonight they'd be winning those games by 60+ points," said former Ireland captain Donal Lenihan.
The panel wonder whether that performance would beat Samoa #IREvRUS pic.twitter.com/tc9Wv9dHAP

— RTÉ Rugby (@RTErugby) October 3, 2019
Joe Schmidt was at his Joe Schmidt best in the post-match press conference.
Asked what most pleased him and what most concerned him he devoted the entire one minute and 41 seconds of his answer to the things that pleased him.
Later, he was asked whether he could identify any pattern, aside from the difficult conditions, in the error count across the last two games. He replied with a one minute 33 second-long answer about…the difficult conditions.
Schmidt was on message too.
So where to from here?
The master of preparation brought an unfit Joey Carbery to Japan. The out-half has just managed 20 minutes, against Japan, and pulled out of the squad with an ankle injury this morning.
"He should hopefully be fine," was the best Schmidt could offer on that front.
Robbie Henshaw got injured in training at the early stages of the trip and Schmidt opted not to call in a replacement.
Despite reassurances from Sexton after the match, there are reports that the number 10 had ice on his leg as he looked on from the sidelines during the second half.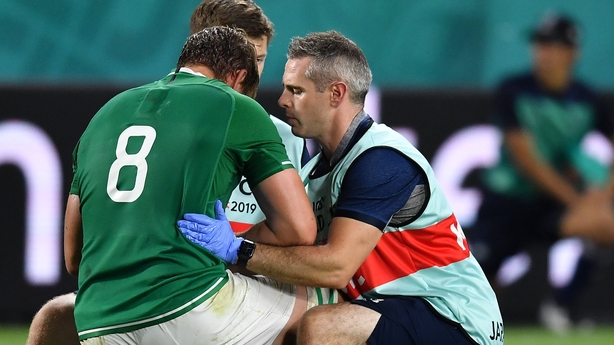 Jordi Murphy, fresh in the country as a replacement for Jack Conan, came off after 27 minutes with what looked like a painful rib injury. "He may have popped a rib," said the New Zealander.
The decision the coach has to make is what team to play against Samoa and it's an tough one.
The likes of Sexton need game-time but Ireland also need him to be on the field at all costs for a quarter-final.
"Joe has to pick his best team against Samoa," said Bernard Jackman, ex-Ireland hooker and RTÉ Rugby analyst. "Barring those with a knock, just to get some cohesion and familiarity."
He has nine days to figure out what the correct course of action in regards to team selection but he also has to address the psychological issues.
"When you get to a quarter-final everything hinges on the quarter-final itself," Schmidt said. "It becomes very much a one-off game.
"One thing I learned from last time at the World Cup is that you can be on an upswing going into a World Cup but if you've got injuries or you've got a little bit of a confidence hit because you've got a number of new guys in… we made 11 change today and got the performance that we needed.
"People will have expected more of the performance but when you look at the stats, I am really happy with the performance."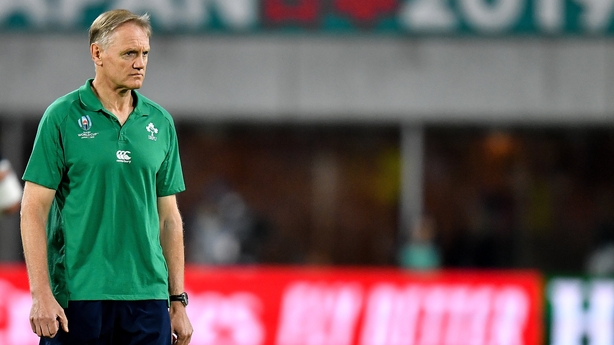 A team that constantly talks about the importance of momentum won't want to look across to the other side of the draw.
New Zealand have racked up 86 points in two games and have Namibia and Italy to come. South Africa, who made the All Blacks look ordinary for the first 20 minutes of that defeat, put 57 points on Namibia and will play Italy and Canada before the quarters.
"If we limp through against Samoa it's hard to see us pulling out a huge performance against South Africa or New Zealand," added Jackman.
"That's because of the mindset. We like to prepare really well, implement a game plan and build confidence
"France could go into a quarter-final having shown no form and play really well, but that's not how we do things.
"We are not like that, we like to build momentum and confidence and a succession of victories and that's not happening for us at the moment. It's worrying."
Bernard Jackman breaks down #IREvRUS in 60 seconds #RWC2019 @bernardjackman @RTEsport #TheGamein60s pic.twitter.com/F82UOC9TzU

— RTÉ Player (@RTEplayer) October 3, 2019
A sentiment echoed by Lenihan.
"The confidence didn't seem to be there," he said.
Ireland are playing catch-up, they are still alive and it remains a rescue mission but Schmidt has nine days to figure out how to ensure the quarter-final doesn't become simply a matter of recovering the body.
Follow Ireland v Samoa on Saturday 12 October (kick-off 11.45am) via the live blog on RTÉ.ie/Sport and the News Now App, watch live on RTÉ2 or listen to live match commentary on RTÉ Radio 1.