Early in 2018 a group of the senior players from the Ireland team approached Joe Schmidt.
They felt that the squad had the wherewithal to win the Grand Slam. And they said as much to the head coach.
"You need to go in numbers to Joe, you can't go as one," Johnny Sexton revealed later that year, in a rare glimpse behind the scenes at Carton House.
"Five or six of us said it to him and said, 'look, we have been targeting championships and that is great, but what is really special in Ireland is a Grand Slam'."
That was a good sign – the prefects coming up with an idea, broaching it with the strict headmaster and getting the plan sanctioned.
We need your consent to load this SoundCloud contentWe use SoundCloud to manage extra content that can set cookies on your device and collect data about your activity. Please review their details and accept them to load the content.Manage Preferences
For all the mentions of 'taking it one game at a time', here Sexton admitted Ireland were not only taking it five games at a time but that they had the confidence to tell the boss that's how they were thinking.
More impressively they went and got the job done.
They rounded off the year with a victory over New Zealand and had already won a Test series in Australia.
Yet here we are.
Eleven months after a comprehensive win over the back-to-back world champions, coming to terms with a seismic defeat to Japan, who had never in seven previous attempts gotten to within 16 points of Ireland.
It was the fourth defeat this year, each loss more psychologically damaging than the last.
On one level it appears Ireland are slaves to a game plan that the rest of the world's top teams have sussed.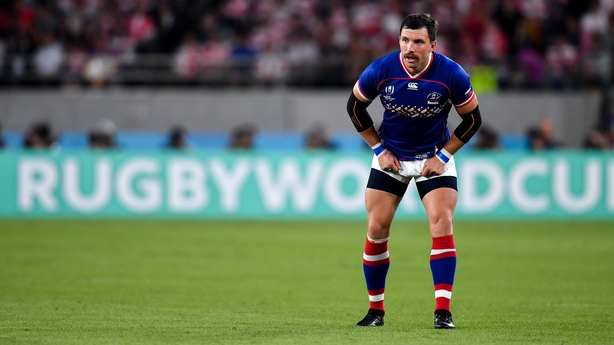 "Sooner or later the top team gets caught up and has to develop and improve their game," Russia captain Vasily Artemyev said in an interview with RTÉ Sport ahead of the World Cup.
"Everybody else watched them and saw what game plan they used in defence and attack and they try to find a way to negate the danger and that's what happened, in my opinion."
The former Blackrock College man's take is echoed by Brian O'Driscoll.
"The lack of evolution from our game plan has meant that teams know what we are going to do and that has stunted us," said the former Ireland captain on Newstalk.
"Wales play heads-up rugby. Our structures are starting to inhibit us. We've got to have the ability to have a proper cut.
"It's all a little bit too contrived; we've got to take more risks and not have to work 15-20 phases to work a score because it's tiring."
Schmidt said after the Japan match that Ireland didn't change up too much.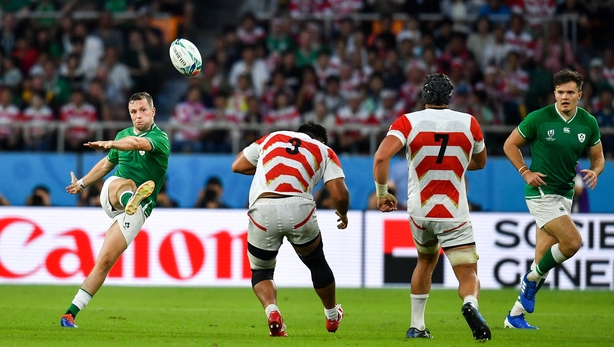 "We didn't go out with an explicit idea of playing any differently from the way we would normally play. The way that we started the game is the way that we play the game," he said but the stats show that Ireland had seven successful offloads and had another couple that didn't come off.
When you consider that they had 15 in total in the Six Nations this year then it is way above average.
As for the team's seniors going up to the coach with a new plan, O'Driscoll reckons that is a non-runner.
"You are not going to reinvent our game plan and become a different brand of team," he says, while pining for a little more creativity.
"What was really effective against a disappointing Scotland was that we won the collisions."
If there is to be no drastic measures then Ireland must just improve in the areas that have let them down.
And if there is one glimmer of hope for the game plan it's that when it is implemented correctly it's hard to stop, although at this juncture it's hard to see New Zealand or South Africa fretting.
Donncha O'Callaghan, who began life as a radio presenter on RTÉ 2fm's Game On programme on Monday, feels that having come this far under Schmidt the team must stick with it.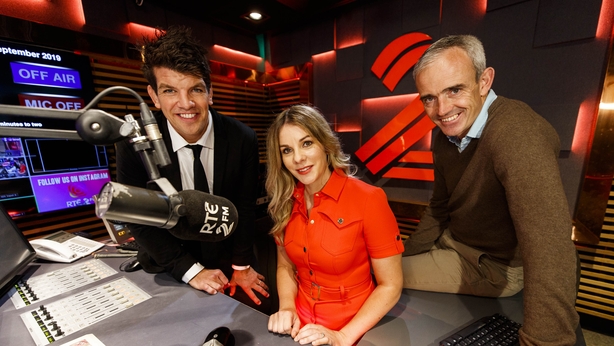 "No one in Ireland is giving Japan the credit they deserve that the rest of the world is, because they know Ireland is a good team and they know Japan put them to the sword," says the 94-cap ex-Ireland lock.
"We took the bait and tried to play Japan at their own game.
"And we went a little bit away from [our normal game] against Japan where we tried more offloads than we normally would
"We normally carry the ball into contact and set up phases or rucks and I think that suits us."
One of the big concerns is that the team have blown the chance to springboard into the quarter-final.
They may rack up the necessary scorelines against Russia and Samoa but beating opposition of that calibre doesn't prepare you for the Springboks or the All Blacks.
"I think it's media-spin about Plan A and Plan B," adds O'Callaghan.
"You don't have two plans going into a game. You work on your game and Joe Schmidt's plan for the last six years has been multi-phase, keep the ball in play, very little error rate and brilliant discipline.
"I think our players are super-fit and they are really well drilled in that type of rugby and you don't want to go away from that when you are successful at it.
"I get a kick out of the fact that everyone can be applauding it and loving it one week and six days later everyone can say they are clueless and they don't know how to adapt when they are on the pitch.
"They do and that's what makes it tough but it only takes a few moments to break that."
Listen to the RTÉ Rugby podcast on Apple Podcasts, Soundcloud, Spotify or wherever you get your podcasts.
Follow Ireland v Russia on Thursday (kick-off 11.15am) via the live blog on RTÉ.ie/Sport and the News ow App, watch live on RTÉ2 from 10.30am or listen to live match commentary on RTÉ Radio 1 from 11am.