Vasily Artemyev would not have been unlike many of the current Ireland squad in his teenage years.
Immersed in rugby culture, sports-mad, and seeking inspiration from the heroes of the day.
One can easily imagine the 15-year-old, just arrived in Dublin from Zelenograd, 23 miles outside Moscow, with his head stuck in the wondrous tale of the most spectacular comeback in sports history – that of Lance Armstrong overcoming testicular cancer to win the 1999 Tour de France.
"Pain is temporary," wrote the American in his autobiography It's not about the bike: My journey back to life.
"It may last a minute, or an hour, or a day, or a year, but eventually it will subside and something else will take its place. If I quit, however, it lasts forever."
We need your consent to load this SoundCloud contentWe use SoundCloud to manage extra content that can set cookies on your device and collect data about your activity. Please review their details and accept them to load the content.Manage Preferences
Artemyev, who studied at Blackrock College and was in the same year as Luke Fitzgerald, had the books and the yellow wristband, the symbol of the Livestrong movement, which wanted to show cancer sufferers that Lance was with them, and if Lance can overcome his disease, and work hard to win Le Tour, then anything was possible.
When the sky fell in on the Texan and his lies and egregious cheating was revealed, it hurt all his supporters, those who had believed and repeated his "never failed a test" mantra.
Among those was the Russian, watching on in disgust as Armstrong admitted to cheating in an interview with Oprah Winfrey in 2013.
"I read those cycling books back in school, the Lance Armstrong stuff," Artemyev, captain of the Russian national team that faces Ireland on Thursday in Kobe, tells RTÉ Sport.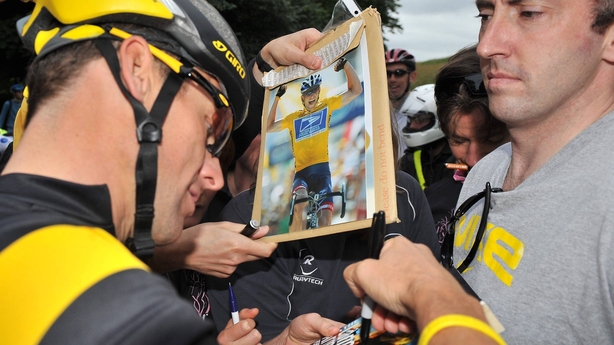 "And it was a big disappointment to me when the whole truth came out.
"It went totally against what was written in the book and the books were very inspiring to me.
"I was into the whole thing, the books, the Livestrong bands.
"I was so interested around that age, 15 and 16, but then years later the news broke and it brought back memories and you feel cheated."
That sense of being cheated by a hero, says the 32-year-old, is what informs his stance on doping.
"It hits you hard when you find out your opponent has been winning after doping," he says.
"It hits you hard when you know you haven't been beaten fairly."
And that, in a way, is how Russia, currently ranked 20th, ended up in the World Cup.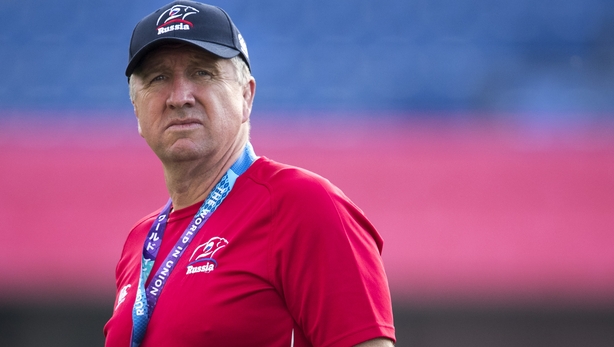 World Rugby sanctioned qualification rivals Belgium, Romania and Spain after finding that they had breached player-eligibility rules, and despite winning just four of eight games, the Russians got through and make their second ever appearance at the showpiece tournament.
The full-back, who scored against Ireland when the sides met in a one-sided affair eight years ago in New Zealand, says that he is well aware of Russia's own reputation when it comes to doping.
Rugby is far from totally clean and recently the news broke that South Africa wing Aphiwe Dyantyi had tested positive for a banned substance.
Three years ago two Russian 7s players tested positive for meldonium, the same drug which tennis player Maria Sharapova took, and were provisionally suspended before being cleared when WADA heightened the threshold.
And just last week it was announced that Russia had been given three weeks to explain alleged "inconsistencies" in data handed over to World Anti-Doping Agency investigators.
The possibility of Russia being banned from next year's Olympics remains alive.
Artemyev, whose side lost their opening pool games to Japan (30-10) and Samoa (34-9) and three warm-up games, 85-15 to Italy, 35-22 to Jersey Reds and 42-14 to Connacht, prefers to categorise his own team as part of a separate body when it comes to doping culture.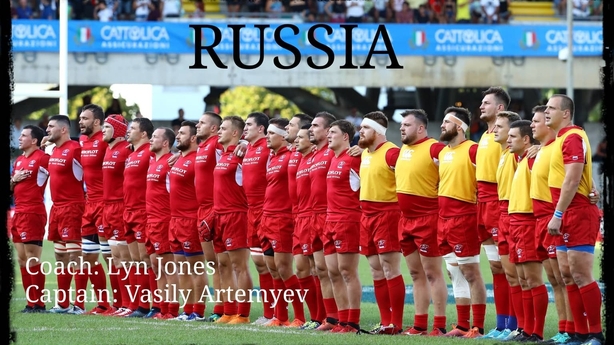 He's read all about all the scandals and knows about Icarus, the Netflix documentary, in which whistleblower Grigory Rodchenkov revealed the lengths the Russian state went to to cover up its doping programme.
"The whole story shed a very dark light on Russia sport in general but I think I would keep the team sport separate from the individual sports like athletics and weight-lifting etc," he says.
"They are quite different things and they have quite different goals as well.
"Russian Olympic sports generally stand a little bit to the side of everyone else; they get a different type of support and funding from the government than club and team sports.
"We've watched and read a lot about the scandals, uncovering some of the darkest secrets about individual sports but rugby is a totally different world.
"The Russian rugby community has the same [perception] of rugby as the West or elsewhere does, that of a fair and [largely] doping-free sport.
Artemyev, who spent two years at Northampton from 2011 to 2013, says he's no stranger to the drugs tests.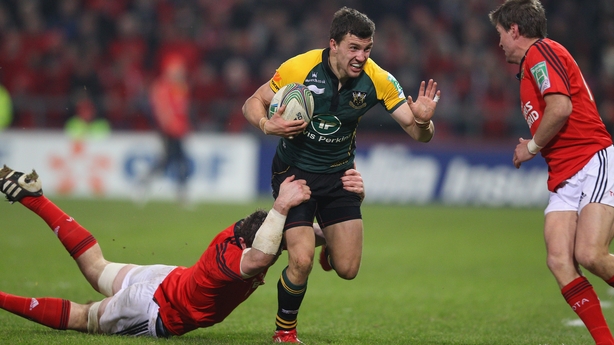 "It's been happening as long as I can remember. I've been playing for the national team for ten years and there's hardly been a month I haven't been tested.
"[Just before the Italy game] we've been tested two or three times. It was Wada (the World Anti-doping Agency, and the Russian doping, Rusada (Russian Anti-doping Agency).
"They come at different times, usually at 6am," he laughs, "they knock on your door, so yeah, it's a different world to individual sports, and individual sports in the past, I mean, hopefully things will change in the future.
"If you dig deep enough you can uncover similar stories, not just in Russia.
"I'm talking about the Olympic sports like weight-lifting, athletics and some of the other individual-type sports you will find a lot and not just in Russia. I do hope that it changes in the future.
"Being a professional sports person you want your sport, and sport in general, to be viewed in a good light in the public eye."
Artemyev misses Ireland and the friends he made here over almost seven years studying in Blackrock and UCD from 2002, although he says that the two nations do share one thing in common.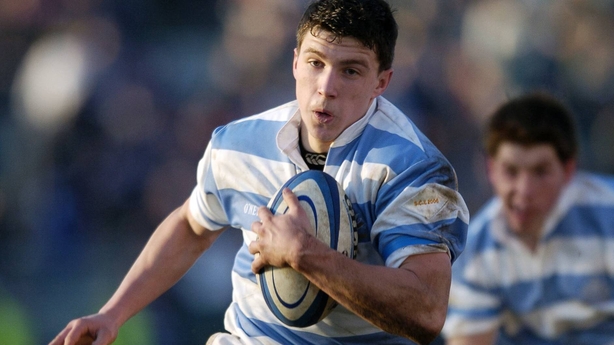 "The sense of humour of the Irish is very similar to the Russian sense of humour actually. Russians are thought to be humourless but it's a misconception."
The Krasny Yar player has a special connection to Ireland, makes it his business to watch them and the provinces when he can.
Like everyone else he struggles to pinpoint what exactly has going wrong with the national team at the moment following on from a monumental 2018.
"There's not much between the top teams," he added, speaking before Ireland's shock defeat to Japan on Sunday.
"It's fascinating to see how the battle is on-going. One team gets on top and then everyone plays catch-up.
"Sooner or later the top team gets caught up and has to develop and improve their game. There's not just one reason why Ireland underperformed in 2019.
"Everybody else watched them and saw what game plan they used in defence and attack and they try to find a way to negate the danger and that's what happened.
"That's similar to what's happened with New Zealand suffering some defeats and some draws."
ONE TO WATCH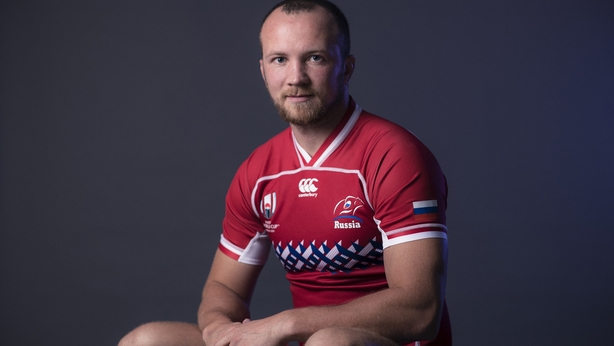 Ramil Gaisin is unlikely to get much front-foot ball in this tournament, and against Ireland especially, but the out-half has a fine boot and his 7s background means he is a lively runner. He has scored five tries his 46 caps since making his debut against Canada in 2012.
Head Coach: Lyn Jones
Captain: Vasily Artemyev
Forwards: Azamat Bitiev, Andrey Garbuzov, Kirill Gotovtsev, Victor Gresev, Bogdan Fedotko, Vitaliy Zhivatov, Evgeny Matveev, Andrey Polivalov, Vladimir Podrezov, Evgeny Yelgin, Stanislav Selsky, Nikita Vavilin, Sergey Chernyshev, Tagir Gadzhiev, Roman Khodin, Andrei Ostrikov, Valery Morozov, Anton Sychev.
Backs: Vasily Artemyev (captain), Igor Galinovsky, Kirill Golosnitsky, Vasily Dorofeev, Yuri Kushnarev, German Davydov, Dmitry Perov, Vladislav Sozonov, Dmitry Gerasimov, Ramil Gaysin, Denis Simplikevich, Vladimir Ostroushko, Sergey Yanyushkin.
Listen to the RTÉ Rugby podcast on Apple Podcasts, Soundcloud, Spotify or wherever you get your podcasts.
Follow Ireland v Russia on Thursday (kick-off 11.15am) via the live blog on RTÉ.ie/Sport and the News ow App, watch live on RTÉ2 from 10.30am or listen to live match commentary on RTÉ Radio 1 from 11am.