Japan head coach Jamie Joseph admitted the World Cup hosts need to cut out the mistakes after battling to a 30-10 victory over Russia in the tournament opener at Tokyo Stadium.
The unheralded Russians, making a first appearance on rugby's global stage in eight years, threatened to spoil the party as they led for most of the opening 40 minutes following Kirill Golosnitskiy's early converted try.
But the Brave Blossoms finally sparked into life thanks to elusive wing Kotaro Matsushima's hat-trick and flanker Lappies Labuschagne's opportunist try, plus eight points from the boot of Yu Tamura and two from Rikiya Matsuda.
Joseph was pleased his side were able to overcome stage fright but called on his troops to tighten up ahead of a much sterner test against Ireland next week.
He said: "The game was a challenge for us and the boys were nervous.
"We said before the game, it is all about expectation and the guys always prepare well but you realise just how much pressure there is on the guys and we're proud of the way they came through in the end.
"We made a lot of unforced errors. Our kicking game was pretty poor so we're going to fix it up quickly.
"But you really take your hat off to the Russians, they really took it up to us and they really put us under a lot of pressure. You've got to congratulate them."
Matsushima collected a try double before half-time and then completed his treble with 11 minutes from time, fittingly claiming a bonus point for Japan.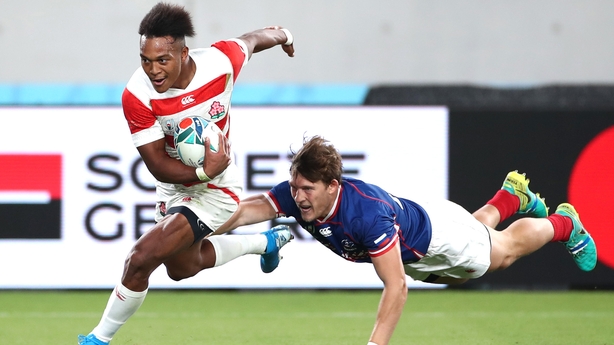 He said: "It is my first three tries as a Japanese player. We were able to connect with each other and the roar of the fans became our driving force.
"I want our strong momentum to win to carry into the next match (against Ireland on 28 September)."
Russia captain Vasily Artemyev took some heart from his side's display.
He said: "You could see throughout the game we stuck to our game plan. A few penalties and a couple of missed opportunities, those are the things that made the difference in the end.
"Everyone could see we were playing at the same intensity as Japan. We were pushing them to the edges and we were getting some dividends.
"Maybe we could have scored a couple more penalties if we went for it but we chose to apply the pressure through our set piece, but unfortunately we didn't get the result we wanted.
"It was a huge effort from our players but I congratulate Japan on their performance."
Russia coach Lyn Jones added: "They tried to go forward early and then conceded seven points, but that's just time as you can't shortcut that type of decision in the attack.
"The fellas need more composure, that just needs more time. It comes with experience and good coaching."