Luck often comes up in sporting discussions.
Were Ireland just plain unlucky? The reality is that athletes, commentators and fans are rarely comfortable taking the view that things just didn't go their way.
It doesn't fit our need for a grand narrative, something we can identify, talk about and maybe fix for the next time round. The reality is that a great many things, big and small, simply went against Ireland at the wrong time.
The first of those was the draw. When it was made three years ago, it looked as though Ireland had been handed an excellent pathway to the semi-finals.
Beat France and the idea was that a talented and extremely well-coached Ireland ought to be able to win against Argentina. There was nothing much wrong with that logic. Argentina were ranked 12th in the world last year, while Ireland had won a two-Test series away from home against them as recently as last summer, and were double RBS 6 Nations champions.
It was never going to be an easy match, but Ireland were rightly seen as favourites to win the fixture even as a variety of things began to go against them as kick-off time neared.
Crucially, given what we now know about the importance of rest and recovery in top-level sport, Ireland and France pummelled each other in the last key match of the pool stages. Ireland won well on a night of extraordinarily intense rugby in Cardiff. It was the best Irish result in the fixture in 40 years, but in breaking France, Ireland lost a huge amount of themselves.
Four key players were ruled out, but equally important was that those remaining had precious little time to recover mentally and physically for the next match.
In contrast, New Zealand and Argentina had not played a genuinely high-intensity match in almost a month. Both hit their straps and produced zippy, energetic performances against markedly more sluggish opponents.
The ultimate outcome is that Ireland went out a stage earlier than we expected, albeit they could do so with heads held high after showing huge character by mounting a stirring comeback.
Ireland v France: Punishing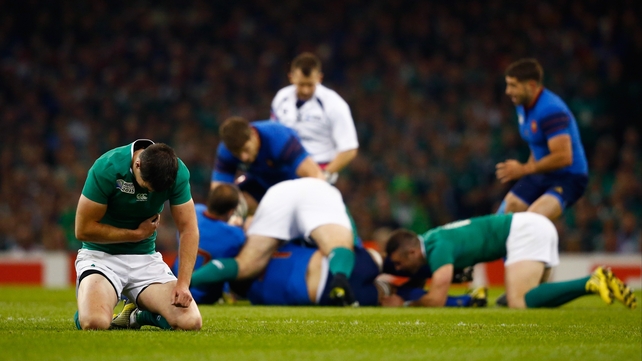 Is there anything that can be learned? Does it mean anything for the 2019 tournament?
With putting pressure on the organisers to make the draw for Japan 2019 sooner rather than later, the possibility of a repeat of the Group of Death scenario of 2015 is a live one. 
For Ireland, that means the next Six Nations and the three-Test tour of South Africa in June 2016 are important.
The lower tier among the current top eight could easily drop out - Argentina, England, France, Wales and Ireland are all potentially vulnerable if the same draw structure is used. Though it should be said that both Scotland and Wales qualified from the third tier of nations with England and Samoa missing out.
Aside from securing the best draw, Ireland might do well to add their voice to those advocating a less demanding schedule in order to improve the chances of smaller nations.
An additional week of rest between the pool stage and the quarter-finals would give those nations who are forced to play big matches on the last weekend of the pools a better chance to recover.
Could an additional two matches between the teams that finished third in the pools could be staged to fill the gap? That could then be followed by a plate decider on the Wednesday or Thursday before the 'real' final?
In this year's edition that would be England, Japan, Georgia and Italy; given that there is every chance Japan will exit before the quarter-final stage in 2019, this would also give them a means of staying involved. It is a shame that the superb squads assembled by the lower-tier nations are scattered never to gather again when the pool stages end.
Leaving aside national interest, it has to be said that a positive outcome of this Rugby World Cup has been the ascendancy of the nations who play flowing, risk-taking rugby based on scoring as many points as possible.
If the outcome of that is another nail in the coffin of the idea that rugby is solely a game of collisions – with all of the ugly imagery that particular phrase conjures – then this Rugby World Cup can be marked down as a successful one.
Hopefully, young players will try to emulate the flowing brilliance of the New Zealanders and Fijians rather than confrontational crash-bang-wallop rugby that has clearly been shown to be inferior.
Attacking rugby has prospered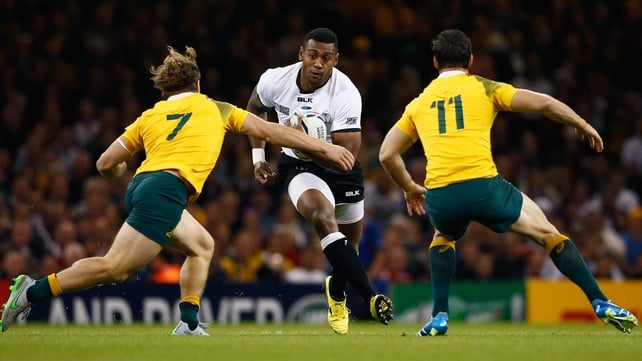 Rather than being coached out of that instinct and taught to run into tackle bags as hard as possible, younger players need to be shown how to identify situations, run the support lines, and execute those stunning creative passes at close quarters.
It's worth noting that Luke Fitzgerald and Jordi Murphy did exactly that when combining for Ireland's second try against Argentina.
Every type of pass needs to be on the table, including the side-door flips that are currently not in the coaching manual. We are seeing New Zealand props executing passes of a type that were the sole preserve of the very best backs just a few short years ago. These passes are fast becoming core skills.
Irish rugby produced Brian O'Driscoll, the most innovative, skilled and consistently creative passer in world rugby of the last 15 years.  
In retrospect, the end of his career focused too much on his being a one-off, not enough on how he did what he was capable of doing.
The message of this tournament for Irish rugby is that instead of being seen as a magician with mystical never-to-be-seen again abilities, O'Driscoll needs to be recast in our minds as the model Irish rugby player.