When Paul O'Donovan and Fintan McCarthy settle down into their boat in the Czech Republic for the World Rowing Championships, they will do so with their eyes firmly fixed on gold.
The Irish duo are aiming to successfully defend their world title, just as they did at the European Championship in Munich last month.
They travel in expectation rather than hope and over the last seven years, O'Donovan's success, first with brother Gary and later with McCarthy, has been such that it can often be taken for granted.
His Olympic gold and silver medals alone would be enough to create a lasting legacy but O'Donovan has almost casually added four World gold medal, three Europeans and the World Cup Regatta golds.
It's success on a level that is almost unprecedented not just in Irish rowing but in Irish sport on the international stage and puts him within the same kind of bracket as Katie Taylor. Rare company indeed.
All of this has been achieved for the Skibereen man while he's studying medicine at UCC and maintaining a relatively low profile for such a prolific sportsman.
Outside of competition, O'Donovan is happy to let his ability on the water speak for itself and while his post-race interviews usually contain as much gold as he ends up wearing around his neck, he also seems to have the ability to tune out the attention and hype that usually comes with the kind of glory he's already achieved.
Away from Ireland and the added focus that so much success brings in a country that can only boast of ten Olympic gold medal winners throughout history, it is perhaps easier to get a glimpse of O'Donovan's standing and status within his sporting field.
The Irishman is among the truly elite level rowers to have picked up an oar, but as rowing journalist and Row 360 writer Rachel Quarrell explains, the fact that O'Donovan competes primarily in the lightweight double sculls is both a blessing and a curse.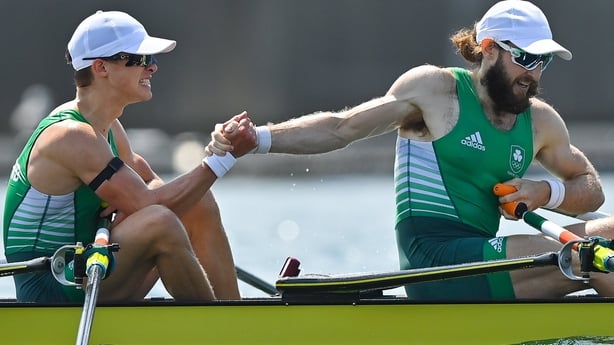 "Nobody is ever surprised when a boat with him wins, whether it's single or double," she told RTÉ Sport. "There aren't that many people that have such good records.
"It is slightly skewed by the fact that the lightweights have become such a tiny category now, with only a lightweight women and a lightweight men's double.
"In a way that focuses more attention on him, but at the same time it doesn't get quite the kudos that the singles do.
"I think World Rowing perhaps don't big him up the way they do some lesser people in singles events because the singles make it so newsworthy when it's based around one person and their personality.
"I'm afraid to say that there is a kind of prejudice towards the open weights because they're physically more imposing, they're bigger and look stronger so you're always going to get a slight bias."
O'Donovan's chosen category is on the chopping block at the Olympics with the Paris 2024 games set to be the swansong for the lightweight rowing events, which are set to be replaced by coastal rowing in LA 2028.
Indeed were it not for Covid-19, Tokyo 2020 would have been the last running of the lightweights and while O'Donovan will have another shot at Olympic glory, there is the feeling that the classification is on a wind-down now and perhaps not getting the respect it deserves.
"We know that his category will be leaving after the Paris Olympics, it won't be an Olympic event anymore," Quarrell explained. "We're expecting it to be replaced by beach sprints, which he might actually start doing because I think he'd be brilliant at it.
"But there's a sadness, because the lightweights feel like the rump of a category now and because it's a double not a single, I think that may have dented the acclaim that he genuinely deserves.
"He's right up there with some of the very biggest names that I can think of. But there is a slight tinge to it by some people, particularly the 'blazerati' who tend not to be lightweights themselves – they tend to be ex-heavyweights – there is definitely a little bit of a dent in there which is a shame.
"He ought to go down in history, he's that good and I think most people with any common sense would agree with that."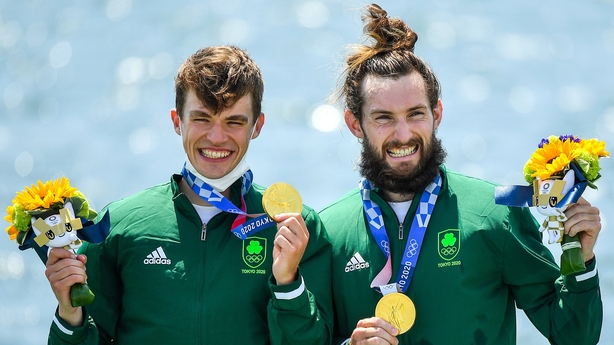 Quarrell's opinion on O'Donovan's place in the history books is one that's shared by 1984 Olympic coxless four gold medallist Martin Cross.
"I think Paul is right at the top of world rowing," Cross said recently, speaking on the Southern Star Sport Podcast.
Cross believes that O'Donovan is on a similar level to Valant and Martin Sinkovic, the Croatian brothers who have dominated rowing across three different classifications since 2010.
"I would say there are a few athletes to maybe contend for his title. If I think of male athletes there are two Croatians, the Sinkovic brothers," Cross added.
"They won the double sculls gold medal in Rio so they each have two blades, and they said 'right we're going to change back into a pair with just one blade each' and they won the pairs title in Tokyo.
"That was a remarkable achievement, and those guys are right at the top. Alongside them is Paul and in some ways they're quite similar, they're very good in terms of public relations, they have a really good outward facing look and they project a great image for the sport.
"I would put Paul up there with the Croatians as one of the top athletes in world rowing.
"Whether Paul would be at the apex, I think we'll have to see. I think Paul probably needs to make sure he wins the World Championships this year, the World Championship next year and then the Olympic gold.
"Then he would be right at the top of the pyramid, I don't think there's any doubt about that."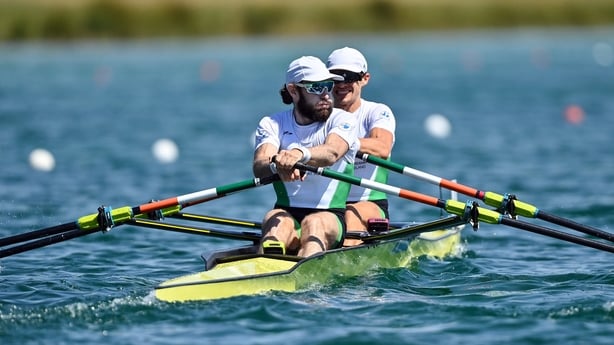 And what of O'Donovan's latest challenge and taking another major step towards a possible career defining crescendo at Paris 2024?
He has a fifth consecutive World Championship gold medal firmly in his sight, with the event returning after a two-year Covid-19 hiatus and expectations are justifiably high.
Quarrell believes that the gold medal in the Czech Republic is once again there for the taking for O'Donovan and McCarthy.
"I don't see any reason why it shouldn't be gold again," she said.
"I would back him. It's been a long time since he's sit on the start and I thought it could be anybody's.
"Other people sit on the start very similarly to how they used to go against [Steve] Redgrave and they think 'oh God he can match anything I can do and probably surpass it'.
"It's very hard to race against somebody who has that kind of reputation in your category and he absolutely does."
That reputation will certainly precede the Irish duo when they take to the water in Recice today and as always, expectations are high as O'Donovan goes in search of his fifth consecutive world gold.
Watch the World Rowing Championships on RTÉ Player next Friday, Saturday (also on RTÉ One) and Sunday.