Sanita Puspure says last year's Olympic heartbreak led her to seriously consider quitting the sport and admits she is still processing the traumatic experience.
After the disappointment of the 2016 Games, Puspure travelled to Tokyo as world champion, with European titles under her belt and harbouring realistic ambitions of gold in the single sculls.
What transpired was a world removed from that lofty goal as 11 days short of her 40th birthday, she suffered a shock exit in her semi-final.
A dreadful start proved her undoing, ultimately finishing fifth, 11 seconds behind the winner, before pulling out of the B final.
Many felt that was the end of her at the elite level. Indeed the athlete herself couldn't for a long time make her own mind up.
I'm still working with people to get through the trauma
"With last year's experience in Tokyo, I didn't even know if I wanted to come back rowing," she told RTÉ Radio 1's Saturday Sport. "It was a tough enough decision.
"It broke my heart last year. It needs time to heal.
"I'm still working with people to get through the trauma. At the moment, I am just focusing on the present. We keep doing small steps in the right direction."
The present is the World Rowing Championships in Czech Republic and for Puspure, she has swapped the single sculls for the double, partnered now by Zoe Hyde.
Why the change?
"I just got tired of being of being alone in a boat," she said.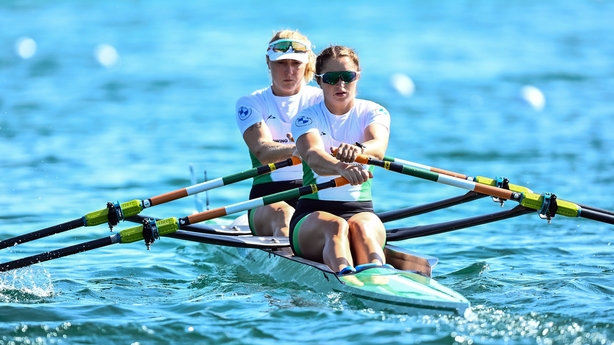 "It actually happened by accident. We got put in a boat and we were doing well from the first session. That's how we stayed together. We did well and they decided to send us to compete.
"It's an exciting project for me, something new, something different."
They will be one of 13 Irish crews involved and there is no shortage of motivation after the disappointment of failing to compete at the recent European Championships
It was thought food poisoning caused them to withdraw, "but we don't really know what it was, it was just unlucky".
Hyde and Puspure are seeded fifth in their event, but the Latvian-born rower says there is much greater unpredictability, so the rankings fail to tell the whole story.
The Irish pair have only raced in one regatta – where they finished second – while one of the regatta winners, Germany, have changed their crew.
"It's different to singles. There are a lot of unknowns. In the double, there is more of a surprise element."
Watch the World Rowing Championships on RTÉ Player next Friday, Saturday (also on RTÉ One) and Sunday.