Competition from within Team Ireland can drive the rowers on at this summer's Olympic Games.
That's according to Aifric Keogh - a member of the Women's Four - and Philip Doyle, who is part of the Men's Double Sculls.
The rowers are considered to be among Ireland's best medal hopes in Japan, with a record 13-person team heading out later this month.
The team brought a silver home from Rio when brothers Gary and Paul O'Donovan were second in the lightweight double sculls.
That was a first medal in Ireland's Olympic rowing history, but Paul O'Donovan, now alongside Fintan McCarthy, as well as double World and European single sculls champion Sanita Puspure, are among the favourites in their respective categories.
"We're all there to hopefully win a medal," Furbo native Keogh says.
"The team is going so well at the moment that if one boat wins a medal I see no reason why we all can't. We're all so competitive and performing very closely - percentage wise - at the moment that I think that is everyone's ambition and dream at the moment."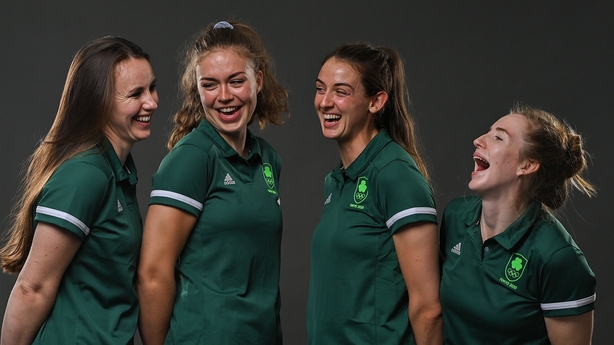 Doyle echoed these sentiments, saying, "we're not here because we're not competitive".
"We all have a drive - every athlete at the Olympics has some kind of competitive drive. If I see Aifric winning a medal one day I'm not going to rest until I get a medal the next day.
"One boat drives the next which drives the next and so on.
"You see it at World Cups - it just takes one spark. At World Cup II the Lightweights always race on the first day. Lydia Heaphey won a medal at the World Cup II and everyone was then saying they wanted one.
"The next day everybody had the goal to go out and win a medal.
"You can say you're going to win a medal but you have to have realistic expectations too. For us there's maybe 6-8 boats in our category that could win it and they've swapped around on the podium over the last few races.
"On our best day we'd like to come home with a medal. Now it's just about trying to present our best race on the day."
Banbridge man Doyle points out that while he is involved in a team sport, rowing is not like a field game where you can attempt to stop your opponent from reaching their best.
"You can't come in with a sliding challenge in the middle of the race," he jokes.
"You just have to 'do you' and hope that your best is better than theirs. We want to learn and enjoy the experience and come away with something that we're happy with.
"At this point in time a medal is what we'd be happy with so that's what we're working towards."
Japan's ongoing struggle to control Covid-19 means that fresh doubts have been raised over whether supporters will be able to attend events.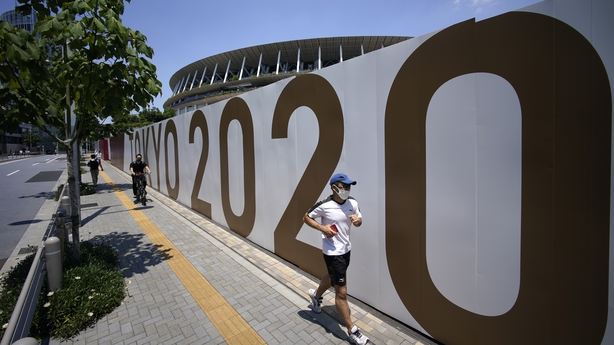 One thing that has been clear for a while is that international visitors would not be permitted at the Games, with mingling amongst the athletes also set to be greatly restricted.
Expectation often brings added pressure, but Keogh is confident that the members of Team Ireland will be able to remain focused on their respective events.
"I think it's outside noise, to be honest," she says when asked about expectant supporters back home.
"The fact that will be no spectators, and our families won't be there, will probably help us too. It will be just the same as every day for us.
"Yeah, the other teams will be there but we've had practice of that at Lucerne where there's been very small crowds. It's just been the other nations showing up and racing each other - it seems almost like a very low scale event.
"Obviously, I can't speak for what it's going to be like over there. At a world championships there are many more teams there, but at the Olympics Games only a certain number qualify.
"There are only going to be 10 boats in my event so that's actually less than a lot of the events that I've raced at this year.
"So I can't see any outside pressures coming into it."
Doyle acknowledges that the medal he won with team mate Ronan Byrne at the World Championships in Ottensheim two years ago means that there is an expectation there for more success.
But he says that being able to talk to the likes of Paul O'Donovan and Sanita Puspure has been a huge asset in trying to learn to deal with that added pressure.
"We've a great team around us with our coaching staff who've been to the Olympics before. Sanita and Paul have that experience that you can draw on to manage expectation.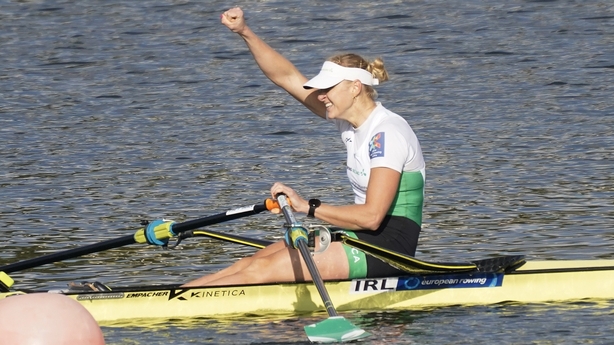 "At the end of the day bringing something home for the Irish people would be great but it's us on the start line, it's us coming home as the team, training as the team, working together as the team.
"We have to manage our own expectations before we look to see what's happening outside of the sport.
"We're good - not at isolating ourselves - but as restricting our exposure as a team.
"A few of my friends only figured out recently that I was going to the Olympics, so I'd love to see what this increased exposure to the sport is."
After so many delays, the Games finally get underway later this month and almost incredibly - after so much build up - the rowing will be all over before the end of July.
Logistics mean that the team's boats had to be sent via shipping containers back in April, while the actual athletes fly out to Japan on Monday to spend time at their pre-Games camp in Fukuroi.
"We'll be training on machines for a few days because the course isn't actually open to us until the 18th - five days before the event," says Doyle.
"We'll get into the village [first] and then we'll get use of the training course on that date. Using the machines will allow us to get rid of the jet lag and get used to the conditions."
Keogh and her team had a difficult decision to make when the boats were being sent. They still hadn't qualified back in April, only confirming their place the following month.
"We had to decide did we want our better boat to qualify or did we have the confidence to send the better boat over and race in our second boat [at the Olympic qualifying event in Lucerne].
"We had to sit down and plan it out very far in advance and make sure everything was in order."
They sent the better boat to Tokyo and thankfully it all worked out for them, and now it's a case of blocking the outside noise, driving each other on, and hopefully claiming some medals for Team Ireland over the next few weeks.
Follow all the action from Tokyo 2020 with our 24-hour coverage on RTÉ.ie/sport and the RTÉ News app, watch live on RTÉ2 and the RTÉ Player or listen to updates and live commentaries on RTÉ Radio.