Damian Browne has completed his incredible solo row across the Atlantic Ocean after 64 days and more than 4,800 kilometres at sea, describing the adventure as an unforgettable journey.
The former Connacht and Leinster lock arrived in Antigua on Thursday evening (7.40pm Irish time) after a gruelling journey that included capsizing on a number of occasions, battling high winds, blisters, head lacerations and a near miss with a cargo ship.
Last year fellow Galway man Gavan Hennigan completed the trek in an incredible 49 days and Browne set sail from the Canary Islands in December as part of the Talisker Whisky Atlantic Challenge.
Browne came into this as a novice, preparing for the journey by rowing up and down the west coast of Ireland and has had to overcome huge hurdles on his way to completing the mammoth challenge.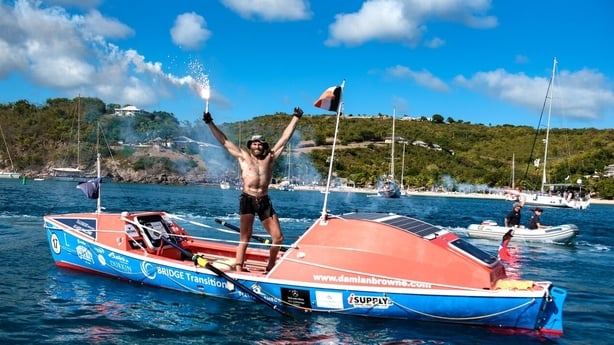 "It feels so good to finally arrive to such an amazing welcome in Antigua after nine weeks of suffering and hardship," the 37-year-old said.
"Without a doubt this is the toughest challenge I have ever taken on – but one I'll never forget."
Browne took to the waters in aid of Médecins Sans Frontieres, the Strong Roots Foundation School in Rwanda and Madra dog rescue and follows on from his Marathon des Sables entry in 2016.
Having had a close encounter with a whale, busted his eye when stormy conditions tossed his boat around like a cork in a bathtub, and been inflicted with painful sores, on Wednesday Browne described a near miss with a cargo ship as "possibly the scariest moment of the crazy journey so far".
"You look over your right-hand shoulder and see a behemoth of a cargo ship head straight at you," he posted on social media.