Damian Browne is on the home straight of his gruelling row across the Atlantic, but the enormous physical and mental challenge is taking its toll.
The former Connacht and Leinster lock is now 63 days into the Talisker Whiskey Atlantic Challenge.
Last year, fellow Galway man Gavan Hennigan completed the trek in an incredible 49 days.
Browne came into this as a novice, preparing for the journey by rowing up and down the west coast of Ireland.
He should arrive at the English Harbour in Antigua in the next few days, and will do so weathered, battered and bruised.
Having had a close encounter with a whale, busted his eye when stormy conditions tossed his boat around like a cork in a bathtub, and been inflicted with painful sores, today he had what he described as "possibly the scariest moment of the crazy journey so far".
"You look over your right-hand shoulder and see a behemoth of a cargo ship head straight at you," he posted on social media.
"A quick scramble into the cabin reveals it's three miles away and closing fast. I switched on the VHF and checked where it was again to see to my relief it had spotted me and was making manoeuvres slightly north."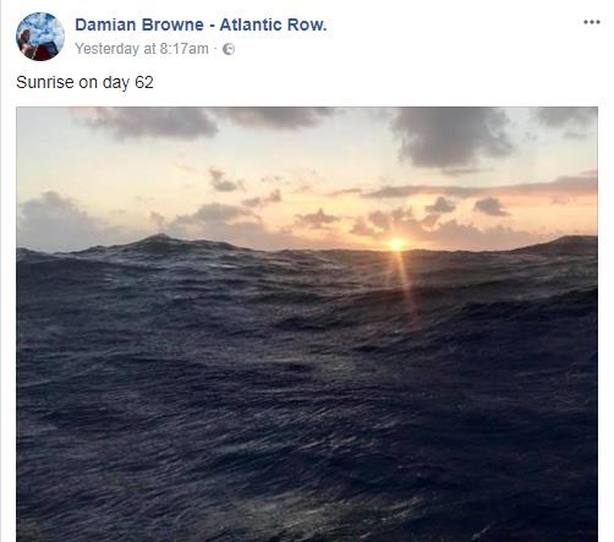 Yesterday, the 37-year-old - who has regularly been posting videos and updates along the way - admitted he was feeling the effects of life on the ocean as he entered the final 100 nautical miles.
"Last three mornings have been the hardest of the journey," he said.
"Imagine it: alarm summons you from the only semi dry place on the boat, your bed.
"You pull on soaking wet shorts, base layer and wet suit top and climb out into the craziness.
"The ever present howling wind and raging seas (are) now joined by frequent squalls and arse sores back with vengeance. It won't be sunrise for four hours ..... ignore the pain, ignore the impulses trying to weaken your resolve and just f****ng row."