CEO of Sport Ireland John Treacy has called for more investment to give the Irish rowing heroes the support they need to take Tokyo by storm in 2020.
World Championship gold medals for Paul O'Donovan in the single sculls, and lightweight pair Mark O'Donovan and Shane O'Driscoll, stole the headlines but there were strong performances elsewhere in a terrific showing in Florida.
A sport that goes from strength to strength in this country appears now to be our best hope of delivering medals at the Olympic Games in three years' time.
With so much promise and talent at Ireland's disposal, Treacy called for an injection of funds to help maintain our rowers' surge. 
"Our competitors are investing there or four times more money in high performance sport than we are."
"There's a real need to keep pace with our international competitors," he told RTÉ Sport's Evanne Ní Chuilinn.
"We haven't seen any increase in high performance or support for the NGBs (National Governing Bodies) in recent times; you'd have to go back to 2008.
"We need to invest now to ensure that we're well prepared for Tokyo, that our team is ready to go. But we do need that increase in funding going forward.
"Our competitors are investing there or four times more money in high performance sport than we are. These are nations of a similar size to ourselves, so we definitely do need to invest more.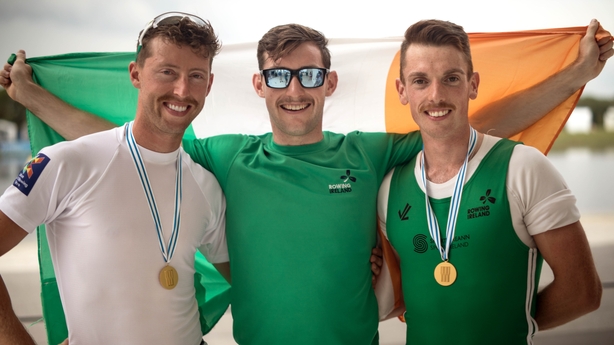 "Our rowers have done it at the highest level. They are preparing now for Tokyo in 2020. We need to support our young juniors that are coming up with sustainable programmes going forward. 
"There's real investment needed. In terms of high performance, in terms of NGBs, we need to invest more."
Treacy was full of praise for his compatriots as the championships wound down.
The 1984 LA Games silver-medallist and two-time World Cross-Country champion was bowled over by the sight of a small nation so masisvely punching above its weight.
"Any time an Irish athlete crosses the line with a gold medal at a World Championships, it's a fantastic celebration," he said.
"We all know how hard it is to win a world title. You're competing against the cream of the cream.
"It just goes to show, no matter where your from, a small parish, anywhere, maybe even Skibberreen, people can come out and win gold medals.
"That's the thing about high performance sport: they come from every walk of life."