Ireland coach Dominic Casey has reflected on a "great day" for Irish rowing at the World Championships, but has already targeted the next challenge for the national team.
On Friday Paul O'Donovan retained his lightweight men's single sculls title in Florida, while lightweight men's pair Mark O'Donovan and Shane O'Driscoll finished their dominant season in style with gold.
"It was a great day for rowing," admitted Casey, who saw Sanita Puspure narrowly miss out on a medal in the final of the women's single sculls today.
The feel-good factor around Irish rowing grows with the continued success of its charismatic athletes, though the quietly spoken Casey played down his role and that of the other coaches involved.
"We don't say much really, try to keep them as calm as possible. They have done it so many times before, they are always capable of doing it again," he told RTÉ Sport.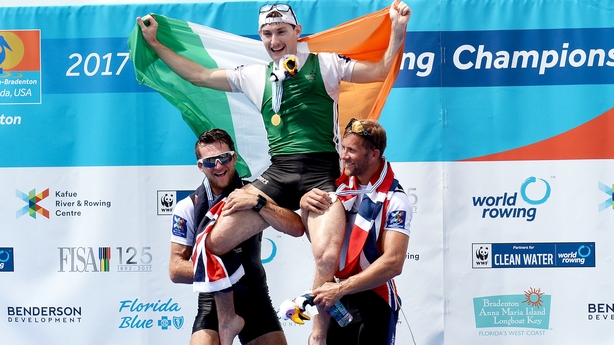 Forced into the single sculls due to the illness to brother Gary, Paul O'Donovan again exuded power and composure to power home to victory in his final.
The Skibbereen native admitted afterwards he went for gold a little sooner than normal during the race, but Casey paid tribute to 23-year-old's race management.
"The final 500 metres is his hallmark down through the years.
"With Paul, you know he's a very strong athlete and he's always going to come through. He's got great endurance and probably the strongest lightweight out there."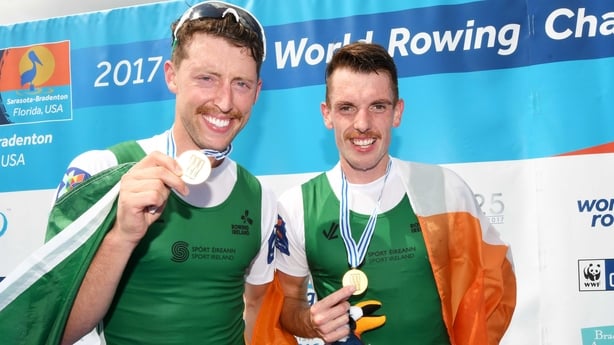 Casey also praised the temperament of the victorious Mark O'Donovan and Shane O'Driscoll, who justified their strong favourite's tag with another perfect display on the water.
The win again raises the question whether they will now challenge the O'Donovan brothers at lightweight, or move up to the heavyweight division.
The newly formed heavyweight men's pair of Patrick Boomer and Fionnan McQuillan-Tolan also competed in Sarasota (Aileen Crowley and Aifric Keogh competed in the women's equivalent), and there is the possibility O'Donovan and O'Driscoll could move up a division to add more strength in depth.
Casey says it a decision will be made in the coming months.
"It's a big decision for later in the year, to decide what they are going to do. There is a strong group of lightweights there at the moment.
"It keeps everybody training and working hard.
"The big challenge now in Irish rowing is heavyweights, to get more people involved and up to the mark."